December 2nd, 2014 // 9:52 am @ Oliver DeMille
Question:
"How much of the First Amendment would you like us to ignore?"
 Answer:
"How many lives would we want to save?"
—State of Affairs television debut
The Enemy?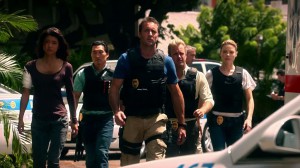 Almost every police drama and movie has a similar bad guy. The hero, usually a dedicated police officer or government agent with a painful personal past and an interesting partner or sidekick, takes on this bad guy in every possible way.
The more forcefully this great agent fights against this bad guy, the more the audience loves him/her. And the more aggressively he overcomes this bad guy, the higher the ratings.
If the bad guy were a murderer, a terrorist, or a rapist, this would be great drama. Unfortunately, however, in modern American TV and movies this bad guy is almost always the United States Constitution.
At first blush, this is surprising. But to anyone who has watched today's police dramas, it's no shock at all. According to most current producers and directors, apparently, the big roadblock to justice in the United States is the Constitution—with its "terrible justice-killing checks and balances, probable cause and warrant requirements, inalienable and property rights, etc."
Idea War
This system of checks and balances was designed by the Founding Fathers to keep the government and its agents from abusing the people, but on television the checks and balances are pesky, frustrating, justice-blocking bad guys that keep good police officers and federal agents from making everything right for all of us.
As I've discussed in earlier writings, this pattern shows up repeatedly on some of the top rated TV shows in our nation—from the Law and Order franchise to three NCIS series, and from Hawaii Five-0 to Blue Bloods, CSI, White Collar, State of Affairs, Chicago PD, and a dozen other very popular television programs.
The lesson is portrayed over and over—the best government officials are those who routinely find creative ways to ignore or circumvent constitutional rules and use government power to bring about their brand of personal justice.
If anyone is watching these programs—and millions are watching, for hours every night—then a chunk of our citizens are learning the false view that the Constitution is outdated or ill-conceived, and that real freedom and justice in society come from Constitution-breaking government agents. The Constitution is almost always portrayed as the bad guy.
This reminds me of two important thoughts. Nietzsche taught that art, entertainment, media, and ideas are incredibly powerful in society, even more powerful than government, because media, arts and ideas have huge influence on how the people see the world and what they want from their government. And, as Victor Hugo put it, "One resists the invasion of armies; one does not resist the invasion of ideas."
What It Is
This is a huge problem for the future of freedom. If the Constitution is the bad guy and these are the kind of police officers and government leaders young people are being trained to desire, imagine what kind of leaders they'll want in Washington and the White House.
Most people today have already been conditioned to want a government that is never gridlocked, meaning that checks and balances don't get in the way of government agents, bureaucrats, or top decision makers.
This is the opposite of freedom.
Period.
Where are the artists, producers, writers, and actors who will teach our generation that a good Constitution with effective checks and balances is the best chance of the regular people ever being free?
Exactly the opposite lesson is now mainstream, and its influence is growing.
Not good.
If you or members of your family watch television or movies, it's important to have a talk with them about this reality. These programs provide excellent examples of how freedom is being lost—if only we'll look for this lesson and discuss it together. Without such discussion, the wrong lessons are being internalized.
*******************
Oliver DeMille is the New York Times, Wall Street Journal and USA Today bestselling co-author of LeaderShift: A Call for Americans to Finally Stand Up and Lead, the co-founder of the Center for Social Leadership, and a co-creator of TJEd.
Among many other works, he is the author of A Thomas Jefferson Education: Teaching a Generation of Leaders for the 21st Century, The Coming Aristocracy, and FreedomShift: 3 Choices to Reclaim America's Destiny.
Oliver is dedicated to promoting freedom through leadership education. He and his wife Rachel are raising their eight children in Cedar City, Utah
Category : Blog &Citizenship &Community &Constitution &Culture &Current Events &Education &Featured &Generations &Government &History &Information Age &Leadership &Liberty &Mission &Politics &Statesmanship &Technology
June 17th, 2013 // 10:38 am @ Oliver DeMille
I frequently get asked something along the lines of, "Oliver, you talk a lot about freedom; but what, exactly, do you mean by the word 'freedom?' How do you define it?"
It's a very good question. To answer it, I first want to define "liberty." After all, the Declaration of Independence boldly affirms that among our inalienable rights are "…life, liberty, and the pursuit of happiness."
Actually, the key word in this sentence is "inalienable," and everyone should read the excellent article by Kyle Roberts on what this word really means.
Liberty and freedom are similar, but they are slightly distinct, and understanding them both is essential in a society that is losing its freedoms.
Liberty
As for "liberty," I define it as "the right to do whatever a person wants as long as it doesn't violate the inalienable rights of anyone else." Of course, in order to exercise liberty, a person needs to know what inalienable rights are—otherwise, he won't know whether or not he is violating them.
Thus knowledge and wisdom are required to maintain one's liberty, because a person who violates somebody else's inalienable rights naturally forfeits his own liberty. The extent of this forfeiture is equivalent to the depth of the violation—when this is applied well, it is called justice.
License
License, as opposed to liberty, is defined as "the prerogative to do whatever a person wants or is able to do." Note that this has often been used in history as an excuse to plunder, force or otherwise violate the rights of others. Thus license and tyranny are nearly always connected—the tyrant is tyrannical precisely because he takes license as he wills, and the person who pursues license eventually exerts tyranny of some kind.
Sometimes people pick one of the inalienable rights and use it to define "liberty," such as: "Liberty is the right to do whatever a person wants as long as it doesn't violate the property of another. Or … the life of another, etc. The problem with this type of definition is that though it is often accurate, it is also too limited. The violation of any inalienable right takes away one's liberty.
Now that we have a definition of "liberty," we can also define and compare the meaning of "freedom":
Liberty: The right to do whatever a person wants as long as it doesn't violate the inalienable rights of anyone else.
Freedom: A societal arrangement that guarantees the right of each person to do whatever he/she wants as long as it doesn't violate the inalienable rights of anyone else.
"Liberty" comes from the Latin root liber though the French liberte, meaning "free will, freedom to do as one chooses … absence of restraint" (Online Etymology Dictionary). In contrast, the word "freedom" was rooted in the Old English freodom, which meant "state of free will; charter, emancipation, deliverance" (ibid). Thus liberty could exist with or also without government, but freedom was usually a widespread societal system that required some authority to maintain it.
In most eras of history, the goal is liberty, but it is almost never maintained without freedom. In other words, it is possible to have liberty without freedom, but in such cases it seldom lasts very long and it is usually only enjoyed by a limited few.
When freedom is present, however, liberty exists for all who don't violate the inalienable rights of others.
What About Now?
This trip down memory lane has an important current application. A lot of people want liberty; in fact, nearly everyone desires liberty. But the only duty of liberty is to honor the inalienable rights of everyone else, and as a result liberty without freedom is fleeting.
In contrast, freedom requires many more duties, and therefore it musters much more from its people. It only succeeds when the large majority of people in a society voluntarily fulfill many duties that keep the whole civilization free.
To repeat: those who stand for freedom must honor the inalienable rights of all, and they must also take responsibility for standing up and helping ensure that society succeeds. No truly free government directs this free and voluntary behavior, but without it freedom decreases.
For example, one of the duties of those who support freedom is free enterprise—to take action that improves the society and makes it better. No government should penalize a person who does not do this (such penalties would reduce freedom), but overall freedom will decrease if a person has the potential to take great enterprises that improve the world, but doesn't.
Thus freedom is very demanding. If people don't voluntarily do good things, and great things, freedom declines. If they don't exert their will and take risks to improve the world, freedom stagnates and decreases.
Freedom and Morality
Another way that people voluntarily increase freedom is by choosing morality. In societies where a lot of the people don't choose a moral life, liberty may be maintained by some people but the freedom of all people eventually declines. When more people choose the path of virtuous living, freedom grows.
The same is true of charity and service. When more people choose it, freedom increases. There are a number of other ways people can voluntarily take actions that have a direct and positive impact on freedom. In the freest societies, a lot of the people choose to engage in many such behaviors.
When we pledge allegiance to the flag, we do so to promote "…liberty and justice for all." This is the role of government—liberty and justice, or in other words the protection of inalienable rights and the providing of recompense if such rights are violated.
But while in free nations government is limited to this role, the people in a free society must do much more. If they all do their best, fully living up to their potential, freedom greatly increases.
In other words, the real question isn't "What is freedom?" but rather "What is my role in freedom?"
The answer is different for each person, but the key is to not worry about how other people use their freedom. As long as they aren't violating inalienable rights, they won't hurt you. Your focus (and my focus, and each individual's focus) should be, simply, "Am I living up to my full potential, my great life mission and purpose in this world?"
If your answer to this question is "yes," you are a promoter of freedom and your efforts and projects will help increase freedom for everyone. If not, now is the time to get started…
Category : event &Featured &Foreign Affairs &Information Age &Liberty &Mini-Factories &Mission &Politics &Statesmanship &Technology &Tribes
October 28th, 2010 // 4:00 am @ Oliver DeMille
Two words that haven't shown up together very much since the 2008 economic meltdown are "austerity" and "Canada."
That's quite an accomplishment for our neighbor to the North. Austerity has been paired with Greece, Portugal, Spain, Great Britain and France in just the past 18 months.
Austerity means having your economy controlled and run by international regulators, and right now the idea of austerity for the United States is growing.
Not only is the federal government in financial trouble, but so are many of the individual states. In addition to struggles in 2008, 2009 and 2010, 31 states project major budgetary shortfalls in 2011.
Prospects are getting worse in many states, rather than improving.
Unemployment numbers are knocking on double digits (which is to say that in some places they already exceed 10 percent), and the U.S. deficit and debt promise to be major issues in the 2010 election — to say nothing of their impact on America's future for years and perhaps decades to come.
Canada's Example
But Canada faces a much smaller challenge.
Ironically, for decades U.S. conservatives have pointed to Canada's health care system as the example of what not to do — often referring to it as a failed icon of "socialized medicine."
Many liberals have idealized the nations of Western Europe, looking past Canada and preferring Britain, France and Germany as examples.
The Great Recession has changed all this — mainly because Canada avoided the worst of the global financial meltdown.
As Ken Kurson put it:
"When the worldwide system collapsed…Canada didn't have a single bank poisoned by toxic assets and not a penny of public money was used to bail out its financial institutions."
Of course, many businesses and individuals suffered, but it would have been much worse if Canadian banks followed more European-U.S. policies.
Israel, India and China all fared pretty well in the meltdown — as did Canada — while the U.S. and Britain were hit very hard. Canada's traditional liberalism and conservatism helped shield it from the worse financial collapse other nations faced.
Modern liberalism and conservatism are mostly focused on winning office and promoting partisan agendas, whereas the traditional strains of both conservatism and liberalism are more interested in ideas, values and ideals.
Traditional liberals in Canada used government to put caps and controls on the nation's financial institutions, keeping them from simultaneously posing as both lending institutions and speculators in the Japanese style that most European and U.S. banks have adopted.
And traditional conservatism kept banks and business from leveraging their resources at the high levels which brought down so many institutions in other nations.
One can argue with either the underlying Canadian liberalism or conservatism, but the results were a traditional kind of system that is too often seen in many advanced (and broke) nations as outmoded, quaint and passé.
For example, most U.S. mortgages were intended for sale while nearly all mortgages in Canada are still held by the banks where they originated.
In other words, Canadian bankers only made loans to people they intended to have as long-term customers; the happy result is that when the housing bubble burst such banks remained solvent.
Of course, all nations were hurt by the global economic downturn. Certainly, Canada, Israel, and other nations have their share of problems, but simple financial frugality and common sense are never old-fashioned.
What We Can Learn
There are at least two important lessons America should learn from this.
First, the traditional models of either liberalism or conservatism seem better for America than the modern, partisan styles of liberals and conservatives.
The commonsensical use of government combined with a free and flourishing private sector is vital to the future of freedom and prosperity. And the ideal is found in earlier American history rather than modern Canada, India or China.
Still, when China incentives free enterprise more effectively than the United States, the results are predictable. Freedom works, and when America ignores its own legacy it loses its strength and economic resiliency.
Second, technology doesn't trump wisdom.
We live in a world where checks can be deposited through cell phone cameras, current events are taught better on QRANK than the nightly news, and mobile phone applications like Avoidr "allow Foursquare users to select the 'friends' they want to avoid" (and their phones keep them abreast of where their friends are at any given moment).
Amazon sells more books on Kindle than in hardback, and online media is causing many newspapers and now book publishers to disappear.
On a macro level, nanotechnology makes surveillance, theoretically, ubiquitous — it is becoming ever-present, everywhere, always.
As Graeme Wood wrote in The Atlantic:
"If the past several years in the shadow of a war against terrorism have taught us anything, it is that, once available, surveillance technologies rarely go unused, or un-abused."
And governments are pursuing increasingly deeper rings of secrecy even though technology makes transparency possible.
All of these are ultimately the tools of human values and decisions. Indeed, the more powerful the technology, the greater the need for wisdom, limits, checks and balances.
It matters whether we learn these lessons or not. When the global economy broke down in 2008-2009, many businesses, industries and even states were bailed out by the federal government.
But the next round of major decline could easily force Washington to follow the majority of non-industrialized nations and even European countries like Greece, Spain, Portugal, and France in turning to international lenders for bailouts.
If this comes before 2012 or even 2020, as it certainly could, we will have to borrow from those who have money to lend — meaning banks in nations such as China, Israel or Canada.
Of all the possible candidates, we will most likely go hat in hand to Canada.
Revisionist History
The other option is simply to adopt fiscal responsibility on our own. A little common sense — both the conservative and liberal kinds — can go a long way.
Unfortunately, the opposite seems to be gaining momentum. After the end of the Cold War in 1989, the common wisdom seemed to be that capitalistic nations had overcome their communistic rivals.
But for many, the Great Recession has revised this conclusion. Now the theme seems to be that Soviet-style communism and Americanized capitalism are just the age-old battle between power and greed.
The emerging winner appears to be government-run industry, what The Economist called "Leviathan Inc.: The State Goes Back Into Business." Indeed, these are the models followed by nations like China, Israel, Brazil, India and Canada that fared better than most in the recession.
Some leaders in Washington are taking note:
"[F]rom Berlin to Brussels, demand for industrial policy is back. Japan's new government is responding to what it sees as the increasingly aggressive policies of foreign competitors by deepening the links between business and the state.

In America Barack Obama, the effective owner of General Motors and a chunk of Wall Street, has turned his back on the laissez-faire approach of the past: a strategic-industries initiative is under way."
Unfortunately, the politicians are ignoring the rest of this report:
"Yet the overwhelming reason for China's miracle is that the state released its stifling grip and opened the country to private enterprise and to the world…

India's wildly successful software and business-process-outsourcing industries blossomed not because of help from the government, but precisely because its [government] did not understand these nascent fields well enough to choke them off…

In the rich world, meanwhile, the record shows, again and again, that industrial policy doesn't work."
The Real Need
I'll take traditional liberalism or conservatism – either one – over the current modern Democratic or Republican models.
Commonsensical uses of government spurring a free economy, or a truly free-enterprise system with a limited government effectively taking care of the basics—either would be much better than the current reality.
Canada, Greece, Israel, China, Britain, France, Portugal, Spain, Germany, many other nations, and the United States — all could use a free-enterprise upgrade.
A constitutional, free enterprising, federal democratic republic which believes in freedom and applies its principles sounds like a utopian dream.
Or, it could just be a nation run by a truly educated, wise and active citizenry.
Without citizens who are effective overseers of the government, freedom doesn't last anywhere. Because of this, even those nations which were less hurt by the Great Recession face difficult futures.
It remains to be seen what nation (or will it be a tribe, or something else?) in the world will become the new standard of freedom.
Such leadership will naturally flow to the society whose common citizens become a new generation of great citizens—like the American founding generations.
***********************************
Oliver DeMille is the founder of the Center for Social Leadership, and a co-creator of TJEd..
He is the author of A Thomas Jefferson Education: Teaching a Generation of Leaders for the 21st Century, and The Coming Aristocracy: Education & the Future of Freedom.
Oliver is dedicated to promoting freedom through leadership education. He and his wife Rachel are raising their eight children in Cedar City, Utah.
Category : Current Events &Economics &Foreign Affairs &Government &Leadership &Politics &Technology
October 14th, 2010 // 4:00 am @ Oliver DeMille
While regulation increases and economic freedom decreases in America, other nations are going the opposite direction.
In order to remain prosperous and strong, America must revive the principles of free enterprise that made her great.
Three New Hotspots
In a two-day span, the New York Times ran two articles — "The Tel Aviv Cluster" and "Is China the Next Enron?" — on the strengths and weaknesses of China and Israel.
Written by Thomas Friedman and David Brooks, respectively, the articles arrived at surprisingly similar conclusions.
First, at the time of the articles, both nations were economic hotspots, primarily because of the high numbers of entrepreneurs within each.
Where America has become a capitol of employeeship, in Israel and China the American Dream of "making it" through business initiative and entrepreneurial enterprise is alive and well.
India could certainly be included in this.
Second, both are zones of technological growth. Of course, this stems from entrepreneurial innovation.
Where the U.S. trains most of the world's attorneys, Chinese, Israeli and Indian students dominate many engineering and technology enrollments in many of the world's leading schools.
Entrepreneurship, Technology & Progress
China has low interest rates, easy credit for private and business capital, and lots of investment money flowing.
Israel, as Brooks puts it,
"…has weathered the global recession reasonably well. The government did not have to bail out its banks or set off an explosion in short-term spending. Instead, it used the crisis to solidify the economy's long-term future by investing in research and development and infrastructure, raising some consumption taxes, promising to cut other taxes in the medium to long term."
Friedman wrote that China has:
"…a mountain of savings…China also now has 400 million Internet users [in context, the entire population of the U.S. is just over 300 million people], and 200 million of them have broadband…Now take all this infrastructure and mix it together with 27 million students in technical colleges and universities⎯the most in the world…Equally important, more and more Chinese students educated abroad are returning home to work and start new businesses."
Brooks wrote that:
"Tel Aviv has become one of the world's foremost entrepreneurial hot spots. Israel has more high-tech start-ups per capita than any other nation on earth, by far. It leads the world in civilian research-and-development spending per capita. It ranks second behind the U.S. in the number of companies listed in the Nasdaq. Israel, with seven million people, attracts as much venture capital as France and Germany combined."
Challenges Coming
Third, both China and Israel appear to be on the verge of major shifts.
The Chinese challenge ahead is to bring its political institutions up to speed with the rapid spread of economic liberties.
The Soviet Union collapsed because it tried to reform by expanding political liberty while maintaining a command economy.
Traditional Chinese communism also rejected freedom at all levels, and the attempt now is to offer economic freedom while keeping a totalitarian government.
The huge amount of savings, including "$2 trillion in foreign currency revenues" available to the Chinese government gives it a lot of power into the future.
What kind of volatility is ahead for a nation with an authoritarian and oppressive government which also has the world's largest entrepreneurial class?
As for Israel, the challenge is that increased economic and technological success further widens the gap between Israel and its already estranged neighbors. This is a huge destabilizing factor.
As Brooks says, "Israel is an 'astonishing success story, but also a highly mobile one.'" He suggests that if the region destabilizes, the entrepreneurial class already has connections and homes in Palo Alto, for example.
American Decline
Perhaps the most telling message of these articles is the contrast with the U.S.
We're cutting technology programs and increasing the regulatory, tax and red-tape obstacles for entrepreneurs.
Positive gains in U.S. social justice since 1964 have unfortunately and unnecessarily coincided with the dismantling of American incentives for entrepreneurial free enterprise.
Current levels of U.S. business regulations don't allow many American entrepreneurs to compete with their international counterparts.
Trends in China, India and Israel provide more evidence for one of the most important developments in our world: The rise of a new global aristocratic class.
Interestingly, Friedman and Brooks have both written books about the new elite (see The Lexus & the Olive Tree, On Paradise Drive, Bobos in Paradise, and others).
For example, Friedman introduced the concept of the "Electronic Herd," a new, highly mobile elite class that manages the world's capital from their laptops and lives in places like Mediterranean beach towns on the Spanish or French Riviera, Ashland (Oregon), Austin (Texas), the Bahamas, Buenos Aires, London and so on.
This group parties in Manhattan and Switzerland, reads the great classics of humanity and today's latest financials, and has little connection with or allegiance to any government.
Rediscovering The American Dream
America became known around the world for two great ideals: 1) freedom, and 2) a classless society where anybody could become whatever they were willing to earn and achieve.
Together, we often called these ideals "The American Dream."
As the U.S. regulated away our free enterprise strategic advantage — especially since 1989 — its cities become more and more like the class-based European models that many American cultural elites idealize.
Today, America's "aristocrats" are likely to be less loyal to the United States than to their corporate connections, and Americans who consider themselves patriots are likely to be dependent on job wages and living paycheck to paycheck.
Canada and various other nations are in the same situation.
The irony here is thick.
Those who care about freedom (many of whom are Independents) may have more to learn from examples like Israel, China and India than from contemporary Washington D.C. and its increasingly Europeanized institutions, dreams and objectives.
The Effectiveness of Liberty
Just like during the American founding era, freedom in our day will flourish again in any place emphasizing entrepreneurship, free enterprise initiative and major deregulation of small business and class-oriented structures.
While many nations can learn from America's current example of religious and racial freedoms and freedom of the press, the U.S. needs a healthy renaissance of economic and political freedom.
Until our leaders, institutions and laws once again lead the world in allowing and incentivizing entrepreneurial initiative, our freedoms and prosperity will decrease.
It is time for America to import its most valuable resource: A widespread belief in free enterprise.
The world needs less of a growing elite class and more nations where freedom is adopted and applied.
Learn More:
To learn more about the current state of geo-politics and economics, and how to revive freedom, read The Coming Aristocracy: Education & the Future of Freedom and listen to The Four Lost American Ideals by Oliver DeMille.
***********************************
Oliver DeMille is the founder of the Center for Social Leadership, and a co-creator of TJEd.
He is the author of A Thomas Jefferson Education: Teaching a Generation of Leaders for the 21st Century, and The Coming Aristocracy: Education & the Future of Freedom.
Oliver is dedicated to promoting freedom through leadership education. He and his wife Rachel are raising their eight children in Cedar City, Utah.
Category : Aristocracy &Economics &Entrepreneurship &Foreign Affairs &Liberty &Technology
September 16th, 2010 // 4:00 am @ Oliver DeMille
The rise of Independents isn't an accident. It is the natural result of both major parties emphasizing politics over principle and ideology over pragmatism.
A third reason for the rise of Independents is the widespread loss of blind faith in man-made institutions (like government and corporations) as the answers to society's challenges.
These institutions have failed to perform, over and over, causing many of even the staunchest state- and market-loyalists to feel skeptical.
Fourth, the e-revolution has created a technological power of the citizenry, at least in the ability to widely voice views that diverge from the mainstream parties.
The Internet gave Independents (and many others) a voice. People who believed in common-sense pragmatism and principled choices over party loyalty have been around for a long time, but the e-revolution was needed to give them group influence.
But all of these reasons are really just after-the-fact justifications for why so many people are no longer channeled politically through one of the top parties.
They explain why people aren't Republicans or Democrats, but they don't explain why Independents are Independents.
Some Independents are actually from the far right and just anti-liberal, and others are leftists who are Independents because they are anti-conservative. Some are one-issue Independents, emphasizing the environment, feminism, race, the gold standard, etc.
A growing number of Independents, however, are Independents because they believe in a shared new ideal.
They have faith in both government and the market, but only to a certain extent. They are truly neither liberal nor conservative, but moderate. They want government and markets to work, and they want to limit both as needed.
Still, they are not just moderates, they are something more.
Three Versions of Management
What makes these Independents tick? They are motivated by a new focus, a set of goals surprising and even confusing to anyone who was taught that American politics is about right versus left, conservative versus liberal, family values versus progressivism, religious versus secular, hawk versus dove, and all the other clichés.
Independents are something new.
Daniel Pink argues that business is going through a major shift, that the entire incentive landscape of employees, executives and even owner-investors is changing.
Our ancestors were motivated mostly by "Management 1.0," Pink says, which was a focus on physical safety and protection from threats.
"Management 2.0" came when people learned to produce things in a routine way, from planned agriculture to industry.
People became more motivated by a "carrot-and-stick" model of "extrinsic motivators." Managers, teachers, parents and politicians created complex systems of rewards and punishments, penalties and bonuses to achieve results in this new environment.
In this model, conservatives are 1.0 because they want government to limit itself to protecting its citizens from external threats, to national security and legal justice.
Liberals support a 2.0 model where the role of government is to incentivize positive community behaviors by people and organizations, and also to enforce a complex system of punishments to deter negative behavior.
In education, 1.0 is the one-room schoolhouse focusing on delivering a quality, personalized education for each student.
In contrast, 2.0 is a conveyor-belt system that socializes all students and provides career rewards through job training, with benefits doled out based on academic performance.
The problem with 1.0 is that education is withheld from some based on race, wealth and sometimes gender or religion.
The 2.0 version remedies this, ostensibly providing democratic equality for students from all backgrounds; but the cost is that personalization and quality are lost, and a de facto new elite class is created by those who succeed in this educational matrix.
On the political plane, 1.0 promoted freedom but for an elite few, while 2.0 emphasized social justice but unnecessarily sacrificed many freedoms.
Version 3.0 combines freedom with inclusion, and this is the basis of the new Independents and their ideals.
It may seem oxymoronic to say that pragmatic Independents have ideals, but they are actually as driven as conservatives and liberals.
Independents want government, markets and society to work, and to work well. They don't believe in utopia, but they do think that government has an important role along with business, and that many other individuals and organizations have vital roles in making society work.
They aren't seeking perfect society, but they do think there is a common sense way in which the world can generally work a lot better than it does.
Mr. Pink's "Management 3.0" is a widespread cultural shift toward "intrinsic motivators." A growing number of people today (according to Pink) are making decisions based less on the fear of threats (1.0), or to avoid punishments or to obtain rewards (2.0), than on following their hearts (3.0).
This isn't "right-brained" idealism or abstraction, but logic-based, rational and often self-centered attempts to seek one's most likely path to happiness.
Indeed, disdain for the "secure career path" has become widely engrained in our collective mentality and is associated with being shallow, losing one's way, and ignoring your true purpose and self.
This mindset is now our culture. For example, watch a contemporary movie or television series: The plot is either 1.0 (catch or kill the bad guys) or 3.0 (struggle to fit in to the 2.0 system but overcome it by finding one's unique true path).
Settling for mediocrity in order to fit the system is today's view of 2.0.
In contrast, the two main versions of 3.0 movies and series are: 1) Ayn Rand-style characters seeking personal fulfillment, and 2) Gene Rodenberry-style heroes who "find themselves" in order to greatly benefit the happiness of all.
Where the Greeks had tragedy or comedy, our generation finds itself either for personal gain or in order to improve the world.
Whichever version we choose, the key is to truly find and live our life purpose and be who we were meant to be.
And where so far this has grown and taken over our pop-culture and generational mindset, it is now poised to impact politics.
Few of the old-guard in media, academia or government realize how powerful this trend is.
Generations
Independents are the latch-key generation grown up.
Raised by themselves, with input from peers, they are skeptical of parents' (conservative) overtures of care after years of emotional distance.
They are unmoved by parents' (liberal) emotional insecurity and constant promises. They don't trust television, experts or academics.
They don't get too connected to any current view on an issue; they know that however passionate they may feel about it right now, relationships come and go like the latest technology and the only one you can always count on is yourself.
Because of this, you must do what you love in life and make a good living doing it. This isn't abstract; it's hard-core realism.
Loyalty to political party makes no sense to two generations forced to realize very young the limitations of their parents, teachers and other adults.
Why would such a generation give any kind of implicit trust to government, corporations, political parties or other "adult" figures?
Independents are more swayed by Google, Amazon and Whole Foods than Hollywood, Silicon Valley or Yale.
Appeals to authority such as the Congressional Budget Office, the United Nations or Nobel Prize winners mean little to them; they'll study the issues themselves.
Their view of the experts is that whatever the outside world thinks of them, they are most likely far too human at home.
Officials and experts with noteworthy accolades, lofty credentials and publicized achievements make Independents more skeptical than star-struck.
They grew up with distant and distracted "corporate stars" for parents, and they aren't impressed.
Having moved around throughout their formative years, never allowed to put down deep roots in any one town or school for long, why would they feel a powerful connection to country or nation?
If the government follows good principles, they'll support it. If not, they'll look elsewhere.
They understand being disappointed and having to move on and rely on themselves; in fact, this is so basic to their makeup that it is almost an unconscious religion.
If this all sounds too negative, consider the positives. The American founding had many similar generational themes.
Raised mostly by domestic help (parents were busy overcoming many out-of-the-home challenges in this generation), sent away to boarding schools or apprenticeships before puberty, the founders learned loyalty to principles over traditions, pragmatic common sense over the assurances of experts, and an idealistic yearning for improving the world over contentment with the current.
Today's Independents are one of the most founders-like generation since the 1770s. They want the world to change, they want it to work, and they depend on themselves and peers rather than "adults" (experts, officials, etc.) to make it happen.
Independent Philosophy
There are many reasons why Independents don't resonate with the two major parties, but this is only part of the story.
Most Independents aren't just disenfranchised liberals or conservatives; they are a new generation with entirely new goals and views on government, business and society.
This is all hidden to most, because the latch-key generation isn't vocal like most liberals and conservatives.
Trained to keep things inside, not to confide in their parents or adults, growing numbers of Independents are nonetheless quietly and surely increasing their power and influence.
Few Independents believe that there will be any Social Security monies left for them when they retire, so they are stoically planning to take care of themselves.
Still, they think government should pay up on its promise to take care of the Boomers, so they are happy to pay their part. Indeed, this basically sums up their entire politics.
They disdain the political debate that so vocally animates liberals and conservatives, and as a result they have little voice in the traditional media because they refuse to waste time debating.
But their power is drastically increasing. The latch-key Independents raised themselves, grew up and started businesses and families, and during the next decade they will increasingly overtake politics.
Like Shakespeare's Henry V, they partied through the teenager stage, leaving their parents appalled by generational irresponsibility and lack of ambition, then they shocked nearly everyone with their ability and power when they suddenly decided to be adults.
Now, on eve of their entrance into political power, few have any idea of the tornado ahead.
***********************************
Oliver DeMille is the founder of the Center for Social Leadership, and a co-creator of TJEd.
He is the author of A Thomas Jefferson Education: Teaching a Generation of Leaders for the 21st Century, and The Coming Aristocracy: Education & the Future of Freedom.
Oliver is dedicated to promoting freedom through leadership education. He and his wife Rachel are raising their eight children in Cedar City, Utah.
Category : Business &Culture &Current Events &Generations &Government &Independents &Politics &Technology