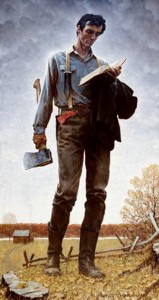 Subscribe to Oliver's mailing list to receive his blog – packed with insights and motivation on freedom, education, leadership and more. Click here to view the archives so you see what we're talking about.
Subscribers also receive the following free gifts:
"The Freedom Crisis," an hour-long recorded speech by Oliver DeMille
"The Future of American Education: 8 Trends Every Parent Should Understand," a 40-page essay by Oliver DeMille
How to Subscribe & Get Your Free Gifts

After inputting your information in the form below, a confirmation email will be sent to you. You will not be subscribed until you click on the confirmation link in the email. This ensures that we never send out unsolicited email.
If you do not see the confirmation email in your inbox, kindly check your spam folder, then add od[at]oliverdemille[dot]com to your address book.
Your personal information is never shared and it's easy to unsubscribe.
More Free Downloads
Click the links to download the documents automatically: