April 3rd, 2014 // 6:01 pm @ Oliver DeMille
After the Storm
What happens when a nation crashes? This is a fascinating question.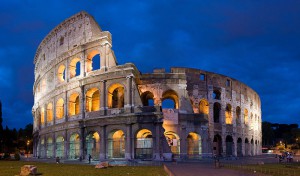 As people discuss the decline of nations comparisons are drawn to the fall of the Roman Empire or the fall of the Ottoman Empire, and so on.
But what happened in the years after these falls?
Of course, the first answer to this question is: that it depends on the severity of the crash or fall.
Every recession or depression, every big war or other calamity is, in a sense, a crash. In this way, 9/11 was a crash, as was the economic crisis of 2008-2010.
In setbacks like these, nations and people suffer, but they eventually get back on their feet.
After the stock market crash of 1929, the nation thought it was getting back to normal, slowly, for over a decade. Today we call this era the Great Depression, but at the time it didn't look like the whole society had crashed. It hadn't, though it certainly went through a very difficult time.
It wasn't until Pearl Harbor, 12 years later, that the nation realized that almost everything and everyone would change.
The Three Types of Crash
After World War II, many things truly were different. We lived in a new nation, so to speak, with permanently altered values, economy, institutions, and vision for the future.
Some changes were arguably good for the nation, others not so much. The same kind of major fall/crash had occurred during the Civil War era and earlier at the time of the American Revolution.
Thus we have "serious" crashes of the Vietnam, Watergate, 9/11, and Great Recession variety, and also even more "major" crashes at the level of the Civil War and World War II.
If either type of crash comes at any point in the next decade, it will have a drastic influence on our lives, families, and national future.
When people speak of "the coming crash," or "the crash," in contrast, they usually seem to mean something more along the lines of the fall of Rome or the Ottomans—a truly world-shattering change, with the big powers almost shut down and other world players stepping up to fill the vacuum of power.
This third kind fall or crash is a Black Plague event, where a third of the population dies, or equivalent, and everything about the politics, economy and culture suffers drastic changes.
The Answer
So, now that we've defined three levels of crash events, how do we answer the original question? What will happen if we experience a crash or fall during the next decade? Answer:
If we have a Minor crash event (e.g. recession, or 9/11 level), we will see an economic downturn, lots of layoffs and fewer jobs, many full-time jobs downgraded to part-time, less buying power due to inflation. The middle class will continue to shrink, and the lower classes will grow. Much U.S. capital will flee to international markets with better returns and less government red tape. Government programs and dependency will expand, and the gap between the wealthy and the rest will widen.
If we witness a Major crash event (e.g. a great depression, a major war, etc.), we'll experience everything in the list above, but two to five times more severe. It will be like a minor crash event but with a lot more impact.
If we live through a Cataclysmic crash event (e.g. a Pompei-style natural disaster or a fall of Rome level collapse) it could go a number of directions. The results might be kept to major crash event levels with the right leadership, or they could be truly apocalyptic, where everyone goes back to farming and trading, or marauding, as their daily occupations.
Cycles and the Next Decade
It is interesting how many people—though still a minority—feel strongly that a Black Plague-level crash is coming soon to America. And of the people who reject this, who think this idea is extreme, it amazing how many of them fail to seriously consider how sure a Minor or even Major crash event is in the next ten years.
At the very least, a Minor level crash will happen. At least one such event will occur during the decade.
Why am I so sure? Because such an event occurs at least once during every decade. This is just the passage of history.
A Major level crash event might happen during the next decade—it is more likely than at any point since Pearl Harbor—but it might not.
If no such event transpires, the cycles of history predict that it will certainly happen sometime not too far in the future.
The third level, a true Cataclysm, is much harder to predict. Forecasters will call it highly unlikely right up until it happens, then it will seem obvious that it was coming all along. This pattern has repeated many times.
Part II
How does any of this information help us?
To begin with, it is at the very least interesting that when a Cataclysmic crash comes it turns everyone into farmers, entrepreneurs, or marauders. Maybe these are really the three ways of making a living, after all – in any society – even during peaceful times like ours.
This would mean that engineers, accountants, attorneys, teachers, and every other career are really one of the three—right now. Very enlightening, when you think about it.
Which is your focus? Which do you support in your daily efforts? This is extremely valuable information, because it helps you see what changes are needed now, before an upcoming crash event at any level.
Preparing for the Storm
Next, there are certain things we can do to prepare that will be extremely helpful in all three scenarios. This is where our focus should be, at least for most of us.
First, great education will help anyone think like a leader. This is hugely helpful in every possible scenario for the future. Those who have read the great classics, who understand the Great Conversation, who have cultivated the skills (mental, emotional, relational, and physical/practical) will know how to lead and what to do—whatever comes.The worse the crash, the more important the emotional, physical and practical skills.
Second, successful entrepreneurialism creates resources, builds connections and relationships, and fosters an environment where more people think and act like leaders.In difficult economic times, it will be those with effective entrepreneurial experience who help create jobs and products that turn things around. This is a proven law of history.
Third, getting involved at the local level, making connections with local leaders, is helpful in preparing for times of economic downturn or other potential disaster.When societies turn more to local leadership, your involvement and relationships can have a significant influence. Just attending city council, chamber of commerce, or other meetings of this kind can start this process. People nearly always underestimate their influence on a local level.
All three of these things will be much more effective if we start doing them before times of trouble. Those who wisely take action prior to difficult eras are the natural leaders when any level of crash/fall/downturn comes.
Winston Churchill called the time before World War II the "Calm Before the Storm." Such a calm, like the world we now live in, doesn't usually seem very calm at all.
But compared to what comes later, it is a time to prepare.
Are you taking advantage of this time? Specifically, how have your reading of great classics, your entrepreneurialism, and/or your community involvements increased in the last few months? How will they increase in the months ahead?
Leadership and wisdom are all about foresight, and taking action.
Whatever the future brings, these three ventures will make you a better leader, parent and friend in the times ahead.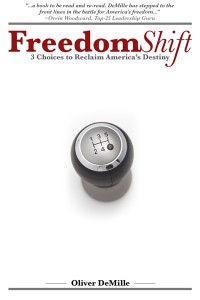 For more on how "regular citizens" can preserve freedom, see Oliver's book FreedomShift:
Americans who are so demonstrably willing to labor and sacrifice for the benefit of their posterity can only allow the destruction of the forms that protect our freedoms if they do not understand what freedom is, nor how to maintain it.
A FreedomShift is needed today; and to accomplish it, Oliver DeMille proposes The 3 Choices to Reclaim America's Destiny.
Can it be possible that such a peaceful revolution can be accomplished by three simple choices made by a relative few? 
Click here for more information >>
To get a whole new level of great leadership education, join our Mentoring in the Classics course, taught online twice monthly by Oliver DeMille. To learn more, click here >>
*******************
Oliver DeMille is the New York Times, Wall Street Journal and USA Today bestselling co-author of LeaderShift: A Call for Americans to Finally Stand Up and Lead, the co-founder of the Center for Social Leadership, and a co-creator of TJEd.
Among many other works, he is the author of A Thomas Jefferson Education: Teaching a Generation of Leaders for the 21st Century, The Coming Aristocracy, and FreedomShift: 3 Choices to Reclaim America's Destiny.
Oliver is dedicated to promoting freedom through leadership education. He and his wife Rachel are raising their eight children in Cedar City, Utah.
Category : Blog &Community &Current Events &Government &History &Leadership
March 20th, 2014 // 3:00 pm @ Oliver DeMille
Two Avenues of Destruction
Why does government keep growing, no matter who we elect, no matter which party is in charge?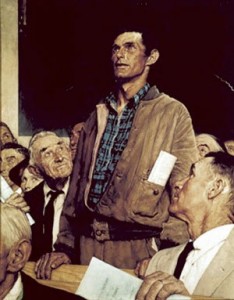 Why do freedom lovers, those who truly want limited, Constitutional government, continue to lose the battle?
There are two answers. First, the freedom battle loses—year after year, election after election, decade after decade—because it is poorly funded. The political parties are well funded, mind you, but neither party truly stands for freedom. Freedom lovers lose because they are underfunded, pure and simple. More on this below.
Second, those who stand for freedom lose the battle to bigger government because the regular people can't see what is happening. We don't see armed troops in jackboots marching daily through our streets, entering our homes, and stealing our property and lives.
When the people can't see this happening, it's hard for them to get too excited about it. They don't know what to fight against. They don't know who the enemy is. They aren't sure who to fight, or how to fight them.
The Paper Sword
We don't realize that Soft Power attacks (certain licensing requirements, regulations, agency policies, commercial codes, revenue bills, statutory changes, executive orders, secret agency procedures, exemptions, ex post facto decisions, and court cases) are as dangerous to freedom as Hard Power attacks (invading armies, armed rebellions, political officials with their own armies, or government use of force against its own people).
In history, the regular people often respond to Hard Power attacks on freedom, but they seldom even notice Soft Power attacks until their freedoms are too far gone to recover.
Citizens of nations almost never realize it when Soft Power is attacking them. The biggest irony of this is that throughout human history Soft Power has taken away more freedom than Hard Power. In fact, Hard Power is seldom used until Soft Power has weakened a nation.
Today, we are witnessing a wholesale reduction of our freedoms—nearly all through Soft Power attacks that few people notice.
To See and Understand
As one insightful friend wrote to me in an email: "We don't know who or what to fight against. I still believe the majority of Americans value freedom… We, as a culture, do not know how to defend freedom in this new age of information, nor do we know who or what to defend it from. All the average citizen sees—or is supposed to see—is things going a little darker, a little dirtier, a little more crowded, each day. There is, for most Westerners in any case, no force-of-state brutes-in-boots and uniforms…. We see only the results of class stratification and economic divergence…. The most dangerous enemy is the one you can't see."
Americans would stand up and vote to get their freedoms back, if only they understand how much they are under attack.
If they could see their freedoms being stolen by Hard Power attacks at the level that they are truly under siege from Soft Power, they'd change things—and fast.
But the regular people don't see, because Soft Power is used behind-the-scenes, on paper.
How to Win It
This is why only a nation of voracious readers can maintain its freedoms. This brings us back to the first reason freedom is losing: underfunding.
Not only do we need a nation of voracious readers, we need a lot of successful businessmen, professionals, entrepreneurs, and others of means to fund freedom—to fund those things that help the regular people see and understand the impact of Soft Power.
This is the current battle for the future of freedom.
1. Will people of means fund effective responses to Soft Power attacks on our freedom?
2. Enough to win the battle?
3. ill enough regular people take entrepreneurial action and become people of means?
On these three questions turn our future.
Which of these three battles are you helping fight?
*******************
Oliver DeMille is the New York Times, Wall Street Journal and USA Today bestselling co-author of LeaderShift: A Call for Americans to Finally Stand Up and Lead, the co-founder of the Center for Social Leadership, and a co-creator of TJEd.
Among many other works, he is the author of A Thomas Jefferson Education: Teaching a Generation of Leaders for the 21st Century, The Coming Aristocracy, and FreedomShift: 3 Choices to Reclaim America's Destiny.
Oliver is dedicated to promoting freedom through leadership education. He and his wife Rachel are raising their eight children in Cedar City, Utah.
Category : Aristocracy &Business &Citizenship &Community &Constitution &Current Events &Economics &Entrepreneurship &Government &Leadership &Liberty &Mini-Factories &Mission &Politics &Statesmanship
February 3rd, 2014 // 2:02 pm @ Oliver DeMille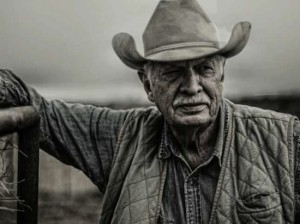 The more I watch the news, the more I wish we had more farmers in modern America. I grew up in a small town, and when I was a boy there were lots of farmers still left in the county.
The town was small enough that I knew, at least by face and name, pretty much every man and woman — and I noticed something different about farmers. They didn't accept the "official line" on anything, and they never tried to impress or fit in. They seemed secure in who they were, not worried about whether they were popular or not. This gave them immense strength.
For example, one day while walking to school, I noticed water spouting high into the air from a broken fire hydrant. A local grocer I knew pulled over, watched it with me and a few other kids, and then said, "I'll call the city office and tell them to come fix it."
We all kept walking to school — crisis averted. Later in life, while traveling in a big U.S. city, I noticed a similar spouting hydrant. This time people just walked around it and kept going, as if they had never really noticed it. "No calls to city hall here," I remember thinking.
But the really amazing thing happened back in my hometown the same day I saw the leak. I'm not sure whether the grocer ever called the city office, but on my way home from school the hydrant was still spraying water. It was hot, so my friends and I cooled off in the free entertainment provided by the leak. In a town this small, this provided high adventure.
While we were there, an old farmer pulled up in an old pickup truck. He got out, looked over the leak, then went and puttered around in the back of his truck. He returned with several tools, and twenty minutes later the leak was fixed. The man walked back to his truck, and I asked him if the city sent him.
I'll never forget the truly shocked look on his face. "No," he said. "I was just driving by. The hydrant was broke, so I fixed it." Then he got in his truck and drove away.
I hauled hay a few times for this farmer, earning some spending money during high school. Neither of us ever mentioned the incident again. It was as normal as sunrise. The hydrant was broken, so the man fixed it. He didn't work for the city. But he lived there — and a broken hydrant needs fixing.
At least, that's the logic for a farmer. In many modern cities today, he'd probably be issued a ticket and have to pay a fine.
That's modern America. When we don't encourage initiative and innovation, we naturally get less of them. When we punish self-starting entrepreneurialism, jobs go overseas. When we reward "leaving solutions to the government," we get fewer solutions. No wonder we're in decline while China and Brazil, among other places, are on the rise.
I once told this story to a group of students, and two of them later served as interns at a state legislature. On the last day of the session, they sat in the seats high above the legislative chamber, reading through the session program and circling the names of the legislators who had become their heroes.
They said something like, "These were the leaders who never, ever caved in on principle, who always stood firm for what they believed — never playing politics or trying to fit in, just doing their level best to serve the people who had elected them."
After they finished, they noticed something very interesting. Next to the picture and name of every legislator was their profession — teacher, accountant, attorney, businessman, etc. Every single one of the legislators they had circled was a farmer.
The two young interns were duly impressed. They remembered my story about farmers and fire hydrants, and they shared their experience.
Not every American can be a farmer. But every citizen can be an American — one who thinks independently, takes action when it is needed, and always takes a stand for the right.
Washington will get some things right and some wrong in the years ahead, but the future of America doesn't depend on Washington. It depends on regular people: will they think independently, will they spend their lives trying to fit in, or in standing up for what is right?
Standing up for the right things isn't always popular. But people who do it anyway are the only ones who keep a nation free. So, sometimes I ask myself a very important question: Are you really an American? Really?
That old farmer was. If you are too, prove it.
*******************
Oliver DeMille is the New York Times, Wall Street Journal and USA Today bestselling co-author of LeaderShift: A Call for Americans to Finally Stand Up and Lead, the co-founder of the Center for Social Leadership, and a co-creator of TJEd.
Among many other works, he is the author of A Thomas Jefferson Education: Teaching a Generation of Leaders for the 21st Century, The Coming Aristocracy, and FreedomShift: 3 Choices to Reclaim America's Destiny.
Oliver is dedicated to promoting freedom through leadership education. He and his wife Rachel are raising their eight children in Cedar City, Utah.
Category : Blog &Citizenship &Community &Entrepreneurship &Leadership &Liberty &Mission &Producers &Prosperity &Service &Statesmanship
June 17th, 2013 // 12:01 pm @ Oliver DeMille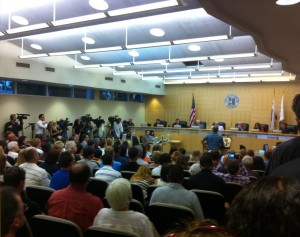 Local government is increasingly the place where things are getting done.
As the party system has created gridlock in Washington, less is getting accomplished on Capitol Hill.
In a funny way, this has created a situation that is more like the American Founding era than anything we've experienced in over a century—the real place to get things done in government is at the local and state levels.
The bad news is that Washington continues to spend, borrow, inflate the currency by printing money, and over-regulate in nearly every facet of modern life.
Its growth is slowed by partisan conflicts, but it hasn't started shrinking.
Not by a long shot.
Another piece of bad news is that the national parties and their teams are pushing their agenda even more vigorously at the local levels.
This means that the party controlling the White House will have a much larger budget and ability to promote national goals in each city, county and state.
The good news is that regular people can have more influence and make more of a difference at the local and even state level.
Most citizens have long felt they can't really do much to improve Washington—the national government is just too big, too far removed, too immune to change.
But at the local level it's a different story.
People who really want to get involved can make a major impact on local government.
The key is consistency.
Those who keep at it will eventually learn how to be effective, and as they involve their friends and colleagues they can become a real force for good.
This system, with a lot of citizen involvement at the local level, is what the American founding fathers envisioned.
In a strange way, it is now becoming more of a reality.
As David Brooks wrote in The New York Times, "The happiest people these days are those who leave Washington and get elected mayor or governor. The most frustrated people are people who were mayor and governor and get elected in the Senate. They end each day knowing they were busy. They're just not sure they accomplished anything."
Local government is the new power center, and regular people who want to make a real difference can now do so at levels not seen for over a century.
Get involved.
It's unclear how long this new reality will last, but for now there is a window of power for concerned citizens.
***********************************
Oliver DeMille is the chairman of the Center for Social Leadership and co-creator of Thomas Jefferson Education.
He is the author of A Thomas Jefferson Education: Teaching a Generation of Leaders for the 21st Century, and The Coming Aristocracy: Education & the Future of Freedom.
Oliver is dedicated to promoting freedom through leadership education. He and his wife Rachel are raising their eight children in Cedar City, Utah.
Category : Blog &Citizenship &Community &Constitution &Current Events &Featured &Government &Independents &Leadership &Liberty &Mini-Factories &Politics
November 17th, 2012 // 10:36 am @ Oliver DeMille
by Oliver DeMille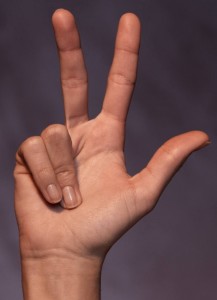 In the aftermath of the 2012 election, there have been numerous emails, posts, articles and blogs by business owners who say they are planning to sell or close their businesses, or just lay off enough workers that they can afford Obamacare for the employees who remain.
One summary listed the following announced layoffs—all attempts to deal with the new costs of Obamacare:
Welch Allyn, 275 layoffs
Stryker, 1170 layoffs
Boston Scientific, between 1200 and 1400 layoffs
Medtronic, 1000 layoffs
Smith and Nephew, 770 layoffs
Hill Rom, 200 layoffs
Kinetic Concepts, 427 layoffs
Coviden, 595 layoffs
Abbot Labs, 427 layoffs
St. June Medical, 300 layoffs
There are many, many others.
One email dated November 7, the day after the election, read:
"Time to sell our business. We can no longer afford to provide a living for 14 employees as soon we're forced to pay for their healthcare. So sad, too bad. On to new ventures."
After responses about how sad this is and others pointedly blaming the Obama Administration, the same person continued:
"We are all Americans and need to find common ground and make this country great together. I'm not mad at anyone for voting different than me. They love their president, don't lose friends over calling him a dictator. I'm excited to sell our business. We are adventurous!"
That's the entrepreneurial spirit that made America great.
Not: "Oh no, we're losing our job. Will the government help us?"
But rather: "Hey, change happens. We're excited. This is going to be an adventure!"
That's the American spirit.
And while rumors abound about how much Obamacare will cost each small business and which won't have to make any changes at all, there are a lot of employers right now who are very concerned.
Those with under 50 employees aren't supposed to be hurt, but smaller employers are still worried about exactly how the new laws will be enforced.
Sadly, we will likely see a lot of change in small business in the months and years just ahead.
More regulation, higher taxes and drastically increased costs of employing people will make things more difficult.
An exception may be in network marketing companies or compensated communities.
I've long considered them among the top entrepreneurial opportunities in free nations, and with the current changes and policies this is even more true.
"My son is a doctor," Marge said proudly.
"Wow," Betty said with a concerned voice. "How is your son dealing with the new regulations coming into effect under Obamacare?" she asked.
Marge nodded and her face grew serious. "He's very concerned, to tell the truth."
"Fortunately, my son is building a huge network marketing company, and the regulations aren't hurting him much," Betty said. "Maybe your son would like to meet with mine about an opportunity?"
This kind of conversation is taking place a lot right now, and all indications are that it will increase.
Some parents are recommending that their college children put school on hold and start a network business, and I know two medical doctors who have gotten out of the profession in order to build networking businesses.
One of them talked two of his sons into quitting college and doing the same, though the three of them all ended up building networking organizations with entirely different companies.
II. The Party of Small Business
All of this got me thinking today, and as I pondered I realized something. Something big.
Something we really need right now in America.
We need a third party.
Actually, we need a new party that becomes more popular than the Republican Party and the Democratic Party.
There are more independents than members of either big party, so this shouldn't be too much of a stretch.
Here's the problem: The Democratic Party is now the unabashed party of big government, the welfare state, rule from Washington D.C., and everything that goes with these values.
The Republican Party touts itself as the party of freedom, limited government, free markets and business, but in fact it is the party of big business and a big-spending government at the same or just slightly lower levels than Democrats.
We have a party of Big Government (with big business as its co-pilot), and another party that emphasizes Big Business (with big government as its co-pilot).
The first is the Democratic Party, the second the GOP.
Neither is now effectively serving the needs of our nation.
As a result, we get bigger government regardless of who gets elected, and big business grows (to the frequent detriment of small businesses) regardless of who is in power in Washington.
In all of this, small businesses, families, communities and the middle class are the losers.
The solution? We need a party of small business.
We need a party whose top priority is the needs of families and small businesses.
This new party needs to reject the big-government and anti-free enterprise values of the Democrats and simultaneously the big-business and anti-immigrant attitudes of Republicans.
It needs to embrace toleration, diversity, reduced government regulations, lower taxes, decreased government spending, incentives for entrepreneurship, a charitable safety net, and incentives for more immigrants to bring their capital, businesses, labor and families to America.
It needs to get rid of the barriers to hiring (such as the increasing required health care costs) and drastically reduce government red tape for small businesses.
It needs to allow more innovation, shrink requirements on licenses and permits and other unnecessary costs that decrease entrepreneurship and growth, and create an environment of seamless partnerships between schools and businesses.
It needs to promote, encourage and incentive a lot more initiative, innovation and entrepreneurialism.
It also needs to push for more creative and independent thinking in the schools and less that is rote, conveyor-belt, and pre-scripted.
It should change the way schools are run, replacing an environment where administrators and bureaucrats feel comfortable to one led by proven innovators and others who have been successful in the real economy, the FOR-profit economy.
Forget teacher certification and unions—if we want to compete in the global economy we need innovators leading our classrooms.
As an example, principals and teachers should be hired who have excelled at implementing successful business plans rather than writing resumes.
And funding should flow to schools that excel in a true free market.
To ensure to that no child is left behind (for example in less-advantaged neighborhoods), even larger premiums should go to innovators who successfully turn dumpy schools into flourishing institutions whose graduates thrive.
The new party should apply similar principles to other kinds of organizations, from health care and community governments to every other sector of the economy.
Small businesses bring the large majority of growth in the economy, and the new party needs to begin with the specific needs of small businesses in mind.
It needs to identify things that hurt small business and repeal them, and find out what helps small businesses succeed and introduce more policies that encourage these things.
It needs to rewrite the commercial and legal code to create an environment where innovation is the norm, along with the values of growth, calculated risk, leadership, creativity, and entrepreneurialism.
It needs to be not the party of jobs, but the party of successful business ownership—and the jobs they naturally create.
III. A Bright Future?
We need a third party. The party of Big Government (with big business as co-pilot) and the party of Big Business (with big government as co-pilot) simply aren't doing what our nation needs anymore.
It's time for new thinking and new leadership.
There is an old saying that you can't pour new wine into old bottles, because the residue of past wine always taints the new.
This is where we are in America.
The current parties, as much good as both have done at times, have peaked and are in decline.
New leadership is needed, along new values untainted by the baggage of two parties whose time has come and gone.
It is perhaps possible to reform one of the parties to get better results, but it is likely that only a new party with an entirely new focus and fresh thinking is going to take America where it needs to go.
Democratic nations are notorious for refusing to change until crisis forces their hand, and I suspect this is what we'll witness in the 21st Century.
At some point, probably after major crisis and a superhuman American response, we're going to need a new party.
Those who love freedom should start thinking about what it should look like.
One thing is clear: When it does come, it needs to be a party of small business.
Free enterprise and the entrepreneurial spirit made America great, and it will do so again if we let it.
Whatever comes in the economy, we want to be led by those whose attitude is, "It might sound bad, but this is an exciting adventure! Let's get started…"
***********************************
Oliver DeMille is the chairman of the Center for Social Leadership and co-creator of Thomas Jefferson Education.
He is the author of A Thomas Jefferson Education: Teaching a Generation of Leaders for the 21st Century, and The Coming Aristocracy: Education & the Future of Freedom.
Oliver is dedicated to promoting freedom through leadership education. He and his wife Rachel are raising their eight children in Cedar City, Utah.
Category : Blog &Business &Citizenship &Community &Constitution &Culture &Current Events &Economics &Entrepreneurship &Family &Featured &Government &Independents &Leadership &Liberty &Mission &Politics &Producers &Prosperity &Statesmanship