July 11th, 2011 // 11:40 am @ Oliver DeMille
A Review of Henry Kissinger's On China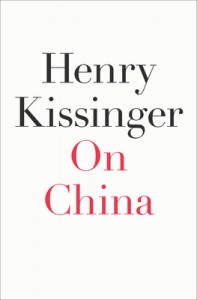 America is interested in China. Intellectuals have long criticized the citizenry of the United States for being self-absorbed and comparatively uninterested in world affairs. Many Americans have only given close attention to international events that directly impact them. In the case of China, it seems that Americans are deeply concerned not about what has occurred, but rather about what may come.
Henry Kissinger's book On China is an excellent primer for any person who wants to know more about China.
There is much here for the beginner, and also a number of items of personal interest for the scholar of modern Sino-American relations.
Here are thirteen ideas from the book which sparked my thinking:
1- Exeptionalism and Singularity
Americans often talk about exceptionalism, the things that make the United States different from other nations. For the Chinese, the foundational concept is singularity. This may sound similar to exceptionalism, but it is almost the opposite.
Where America sees its founding coming after long millennia of human history, benefiting from the experiences of historical civilizations and rising above all of them, the Chinese notion of singularity stems from the view that China has no founding—that it has existed longer than written history, that it maintained a long set of traditions from before recorded annals to the present, and that it is the only modern civilization to have done so.
While many Americans claim universal principles of freedom that all nations should adopt, China claims universal principles of society that it has always used.
2-Language
The Chinese language is as old as written history.
According to Kissinger, its characters were developed at about the time of ancient Egypt.
While the Western nations have used and then moved beyond ancient Egyptian, Greek, Latin, and the numerous European languages, China kept and deepened its language.
Only Hebrew, of all the Western languages (if Hebrew can even be considered Western), is as old, and its spoken form had to be resurrected in the twentieth century.
While the culture of Western Civilization has used many languages, the Chinese Civilization has used basically one written language. Our Western classics, myths, and major political documents are mostly translations from a host of languages.
Chinese classics are nearly all studied in the original.
The result in China is a profound sense of continuity with the past and a closer connection to its traditions than experienced in any Western nation. It is hard for Westerners to even grasp the lasting significance of this reality.
3-Dynastic History
The Western political experience includes a long cycle of declining current powers eventually replaced by rising new powers—Egypt, Israel, Greece, Rome, Spain, France, Britain, and the United States, to mention a few.
Each rises, leads the world for a time, then declines. A new power seems to arise every couple of centuries.
In China, where history goes back past the time of the Egyptian dynasties, the cycle is different, and the differences drastically impact the way Chinese leaders view the world.
The Chinese cycle includes a period of internal division and inner conflict, then an era of unity and dynastic rule, then another time of division and conflict.
This cycle in China usually takes three to nine hundred years to run its course, and today's Chinese see themselves just sixty years into a new dynastic rule that will once again put China at the center of world power—for the next five hundred years or more.
4-The Center of the World
Until the nineteenth century, China never had to deal with a civilization or nation of "comparable size or sophistication….As late as 1820, it produced over 30 percent of world GDP—an amount exceeding of Western Europe, Eastern Europe, and the United States combined."
It has historically always considered itself the center of the world and felt deeply humiliated by its loss of dominance to Western powers in modern times.
5-Secular Empire
According to Kissinger, China has always been a secular empire.
Unlike the West, religion, religious wars, and conflicts between major religious views have played little part in China's political history. Spirituality has historically centered on restoring the principles and ideals of a Confucian-style past "Chinese Golden Age."
Learning was seen as the key to this objective, and also to personal advancement. The goal of Confucian-Chinese spirituality, learning, and politics has usually been "rectification, not progress."
The main principle in this order was to "know thy place."
The pinnacle of society was the Emperor, who was both a political leader and a spiritual-religious symbol. He was considered "the Emperor of Humanity" on earth and "Son of Heaven" as man's "intermediary between Heaven, Earth and humanity."
This tradition of the great Emperor above all mankind, his bureaucracy to maintain order in all things, and each person fulfilling his proper place in society created a certain kind of culture that has lasted for a very, very long time through various outward governmental structures and forms.
Most Americans disagree with the basics of this model, but we must not discount the power of its history and tradition.
Kissinger wrote:
"If the Emperor strayed from the path of virtue, All Under Heaven would fall into chaos. Even natural catastrophes might signify that disharmony had beset the universe. The existing dynasty would be seen to have lost the 'Mandate of Heaven' by which it possessed the right to govern: rebellions would break out, and a new dynasty would [eventually arise to] restore the Great Harmony of the universe."
Government was supreme.
6-Monarchy and Aristocracy
Where the West was dominated by aristocrats in nearly all countries, with a host of peasants and occasionally powerful kings, China was run by an Emperor and his army of bureaucrats (mandarins).
The provinces (cantons) were likewise ruled by the mandarins, and the outlying (non-Chinese) nations were considered tributaries to the central Emperor.
Kissinger doesn't mention that these are the two great types of historical governments:
Monarchy ruling through bureaucratic management
Aristocracy ruling through class dominance.The American founding created a third system:
The Federal Democratic Republic ruled by constitutionally separated branches and levels of government all limited by checks, balances and periodic elections.
7-Sino-centric World History
Many modern Chinese see the history of the world as three distinct eras:
China's world prominence until the nineteenth century
A "century of humiliation" from the early 1800s until the communist revolution in the 1940s
A rebirth of China's proper world role beginning in the 1940s and still developing today
8-China's Grand Strategy
China's grand strategy has traditionally revolved around playing foreign powers against each other.
During the modern era, Britain, Russia, France, the United States, Japan, the Soviet Union, Korea, Vietnam and India have all been impacted by the Chinese strategy of "using barbarians against barbarians."
Through it all, China has held mainly to its traditions rather than joining the West (or attempting to join it) like most nations have done.
For example, while most Westerners might agree that with three superpowers during the Cold War an alliance of two would be the strongest position, China followed its traditional non-Western approach by keeping the U.S. and USSR strongly pitted against—and focused on—each other rather than China.
9-The Communist Era
The pain of the communist era in China is felt by nearly every family and person in China. All suffered. Communism united China under central control, leading to increased power. But the pain of totalitarian communist rule created a modern generation hungry for freedom and economic opportunity.
This era also changed the Chinese psyche from "fit your place in the system" to one of regaining China's place in world prosperity, power and leadership.
10-Leadership through Symbolism
Chinese leadership often operates with an emphasis on making impressions rather than literality.
This tactic includes attempting to make things seem a certain way as a means of influence—regardless of whether or not the reality actually resembles the perception.
In short, symbol is often more highly prized and utilized than the literal reality in Chinese culture and diplomacy.
Western leaders and citizens who don't understand that most Chinese leaders assume the symbolic over the literal frequently misunderstand Chinese motivations, actions and words.
11-Contemporary Chinese Literature
Two current Chinese-written bestsellers (in China) include China is Unhappy: The Great Era, the Grand Goal, and Our Internal Anxieties and External Challenges by Song Xiaojun (2009) and China Dream: Great Power Thinking and Strategic Posture in the Post-American Era by Liu Mingfu (2010).
Kissinger comments:
"Both books are deeply nationalistic. Both start from the assumption that the West is much weaker than previously thought, but that 'some foreigners have not yet woken up; they have truly not understood that a power shift is taking place in Sino-Western relations.' In this view it is thus up to China to shake off its self doubt and passivity, abandon gradualism, and recover its historic sense of mission by means of a 'grand goal.'"
Liu advocates a Chinese return to a 'martial spirit' and a military rise along with its economic rise.
Liu wrote:
"If China in the 21st century cannot become world number one, cannot become the top power, then inevitably it will become a straggler that is cast aside."
Kissinger writes that these books:
"…could not have been published or become a national cause célèbre had the elites prohibited publication. Was this one ministry's way of influencing policy?"
He notes that official government views differ from the tone of these books, but doubts that this debate is over in China.
12-War on the Economic Front
Still, Kissinger says:
"A country facing such large domestic tasks is not going to throw itself easily, much less automatically, into strategic confrontation or a quest for world domination….The crucial competition between the United States and China is more likely to be economic than military."
After the Great Recession, this may be exactly what has so many Americans deeply concerned.
As for the rise of China, Kissinger wisely suggests that America has the ability to substantially determine its own future regardless of what China does.
We should worry less about China than about how to overcome our own nation's challenges.
Peace and cooperation between these two cultures and nations is, as Kissinger puts it, "inherently complex." It is important to the future of both nations that our citizens and leaders approach relations wisely and in principled fashion.
13-A War of Ideals
Kissinger suggests:
"The United States bears the responsibility to retain its competitiveness and its world role. It should do this for its own traditional convictions, rather than as a contest with China. Building competitiveness is largely an American project, which we should not ask China to solve for us."
I agree. Our biggest problem is Washington, not Beijing, and if we as the American citizenry handle Washington correctly, China will never be the threat it could become if Washington is insolvent or weak.
As I said above, Kissinger goes into depth on a number of additional topics, all of which are valuable to the American citizenry.
These thoughts are just a few of the many covered in On China.
As a group, we don't know enough about China. Kissinger's analysis is astute and timely, based on both research and long personal experience. This is an important book, and it is a valuable addition to the prudent citizen's reading list on China.
***********************************
Oliver DeMille is a co-founder of the Center for Social Leadership, and a co-creator of Thomas Jefferson Education.
He is the co-author of the New York Times, Wall Street Journal and USA Today bestseller LeaderShift, and author of A Thomas Jefferson Education: Teaching a Generation of Leaders for the 21st Century, and The Coming Aristocracy: Education & the Future of Freedom.
Oliver is dedicated to promoting freedom through leadership education. He and his wife Rachel are raising their eight children in Cedar City, Utah.
Category : Blog &Book Reviews &Current Events &Economics &Featured &Foreign Affairs &Government &History &Politics &Statesmanship