March 13th, 2013 // 11:37 am @ Oliver DeMille
Two Books Reviewed by Oliver DeMille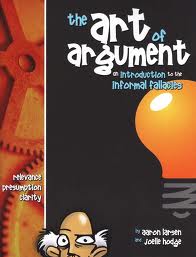 People often ask me if I'm going to write a book called Thomas Jefferson Education for Adults.
They usually say this after reading my books A Thomas Jefferson Education or A Thomas Jefferson Education for Teens, or both.
They get excited about getting a truly great education, not settling for anything less than the highest quality of learning for themselves and their children, and they wonder how to really get that kind of education themselves.
My answer is always, "Start reading the classics."
When people follow this suggestion, many of them soon realize they're not getting as much out of their reading as some people seem to.
When they ask how they can get more from their reading, I frequently tell them to study the logical fallacies.
Too many classrooms and schools today teach students what to think rather than how to think, and even many professional and graduate schools focus on when to think.
Teaching students how to think (deeply, broadly, creatively, innovatively, etc.) seems to be a lost art in too much of our modern educational system.
Two books on fallacies are an excellent response: The Art of Argument by Aaron Larsen, Joelle Hodge, and Chris Perrin, and Joseph Spider and the Fallacy Farm by David Grant.
Read these books together, since the first is an excellent workshop on how to think and the second is a fun story that will pull in younger students.
These books not only teach readers how to think, they inspire them to engage thinking.
In short, to think.
A lot.
Specifically, these two books teach a number of fallacies of thinking—in an interesting and effective way.
I highly recommend them for any youth, parent and teacher who wants to boost their students' thinking ability.
In fact, both books are a great read for any adult.
When people know the fallacies, they automatically start thinking more deeply and they get a lot more out of everything they read—especially the classics.
So if you're reading important books and want to significantly increase your rate of learning from them, check out these two books.
It'll make a huge difference for your students and, even more importantly, for you.
***********************************
Oliver DeMille is the chairman of the Center for Social Leadership and co-creator of Thomas Jefferson Education.
He is the author of A Thomas Jefferson Education: Teaching a Generation of Leaders for the 21st Century, and The Coming Aristocracy: Education & the Future of Freedom.
Oliver is dedicated to promoting freedom through leadership education. He and his wife Rachel are raising their eight children in Cedar City, Utah.
Category : Blog &Book Reviews &Education &Featured