May 30th, 2014 // 1:13 pm @ Oliver DeMille
The Big Picture
Every once in a while it's important for parents and mentors to step back from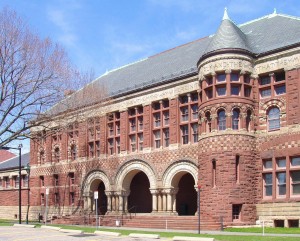 the day-to-day work of teaching children and youth and look at the big picture of education in America—from elementary learning to high school and college, and beyond.
In that vein, Marie Clarie magazine recently ran an interesting article about the declining value of attending college. The name of the article was, bluntly, "Generation Debt."
Here are a few of the highlights from this important article:
"It used to be that college was the ticket to the top. Now graduates are starting from the bottom—buried by student-loan debt that has skyrocketed to a collective $1.2 trillion. Welcome to the student-debt crisis." Because college graduates now start out with high debt, and with a smaller likelihood of jobs in the current economy, they are well behind their peers who spend the four years getting settled in jobs or starting businesses—without huge student debts hanging around their necks.
The $1.2 trillion dollars of student debt held by Americans is "more than all credit card debt."
"Tuition prices are increasing at about twice the rate of inflation, while state governments are slashing billions from their higher-education budgets, leaving students to foot more of the bill."
In the new economy, ever since the recession of 2008, student loan debtees "are less likely to own a home, take out a car loan, or even make rent payments." And they are paying almost nothing in taxes, thus increasing the tax burden on the older generation. They also aren't spending money in the economy, and according to Harper's, around half of them are moving back home with their parents instead of getting jobs and moving on with their lives.
Many graduates are amassing $600 or more of additional debt each month just in interest on their student loans. Without jobs, they are getting buried deeper and deeper in economic problems.
As one person Marie Claire interviewed, who was lucky enough to hold a job, told them: "I work with brilliant people who don't have college degrees. My degree has never come up—not even in my job interview—so I don't think I needed it. My brother, who has no degree but is more entrepreneurial, makes twice what I do and doesn't carry the burden of being in debt." While some graduates do believe that their college degree helped them get a job, many simply can't find a job in this economy.
Another graduate wrote: "'I made it!' read my Instagram caption under my law-school graduation photos. A year later, I'm 32, nearly $200,000 in debt, sitting on a couch in a 900-square-foot apartment…dreaming of the house I thought I would own by now. My situation is not unique."
Losing Later for Now
This is the reality now for many graduates, and as the report stated, "It's time to adjust expectations." It also noted that while a $29,400 student loan ends up costing $53,862 on a 20-year repayment plan, a person investing the same $29,400 at 7% annual return for forty years would end with $440,249.06.
Or as one interviewee, a newly practicing deputy district attorney, put it: "I love my job, but I still feel like I'm an indentured servant. You practically have to rob a bank to pay back these things."
An article in The Atlantic summarized the problem:
"The Great Recession may be over, but this era of high joblessness is probably just beginning. Before it ends, it will likely change the life course and character of a generation of young adults….It could cripple marriage as an institution in many communities….Ultimately, it is likely to warp our politics, our culture and the character of our society for years come…The economy now sits in a hole 10 million jobs deep…[and] we need to produce roughly 1.5 million jobs a year—about 125,000 a month—just to keep from sinking deeper. Even if the economy were to immediately begin producing 600,000 jobs a month—more than double the pace of the mid-to-late 1990s, when job growth was strong—it would take roughly two years to dig ourselves out of the hole we're in….But the U.S. hasn't seen that pace of sustained employment growth in more than 30 years…"
Outdated Promises
College can still be a great place to get a great education, but only if students stop thinking in terms of "hire education" and find great mentors, read the greatest books, and really seek quality learning rather than mere career prep. Career prep still may help them if they avoid any student debt. But spending four years increasing one's debt at college is no longer a good path for most people in the current economy.
Grads just aren't getting jobs like they were promised—the "college will get you a job" promise mostly worked from 1950 to 2008, but it's not working now.
*******************
Oliver DeMille is the New York Times, Wall Street Journal and USA Today bestselling co-author of LeaderShift: A Call for Americans to Finally Stand Up and Lead, the co-founder of the Center for Social Leadership, and a co-creator of TJEd.
Among many other works, he is the author of A Thomas Jefferson Education: Teaching a Generation of Leaders for the 21st Century, The Coming Aristocracy, and FreedomShift: 3 Choices to Reclaim America's Destiny.
Oliver is dedicated to promoting freedom through leadership education. He and his wife Rachel are raising their eight children in Cedar City, Utah.
Category : Blog &Current Events &Economics &Education &Generations