July 25th, 2014 // 7:38 am @ Oliver DeMille
What Some Entrepreneurs Are Missing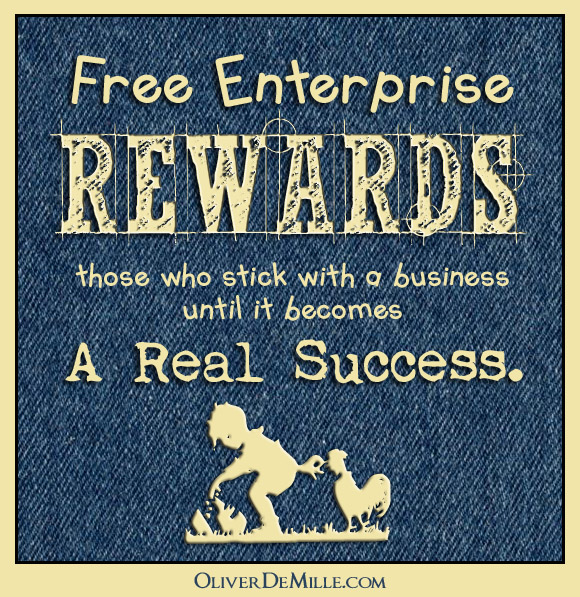 I write a lot about entrepreneurship, even though my main focus is freedom. The reason for this is simple: free nations are always nations with a strong entrepreneurial sector. There are no exceptions in history.
Put simply, the great free nations of human experience had a flourishing free enterprise. This was true in ancient Athens and ancient Israel, the Swiss free era and the Frank golden age, the free periods of the Saracens and also the Anglo-Saxons, the American founding era and the modern free nations of Britain, U.S., Canada, Japan and Europe, among others.
Take away free enterprise, and a nation's freedom always declines. Shut down the entrepreneurial spirit, and liberty rapidly decreases.
The main reason freedom rises or falls with entrepreneurialism is simple: 1) to succeed as an entrepreneur, a person must exhibit the character traits of initiative, innovation, ingenuity, creativity, wise risk-taking, sacrifice, tenacity, frugality, resilience, and perseverance, and 2) these characteristics are precisely the things that through history have proven necessary for free citizens to stay free.
 The Hidden Problem
The large majority of responses when I write about entrepreneurship are thoughtful, insightful, and even wise. But once in a while when I write an article pointing out the importance of free enterprise and entrepreneurship to freedom, I get a strange response. I call it "strange" because it shows that some people don't quite understand what I mean by entrepreneurship. Such comments go something like this:
"I'm a born entrepreneur, and I've started dozens of businesses, so I understand that…"
"I have a list of ideas for successful entrepreneurial projects—could you suggest which of these might be the best options…"
"My spouse is constantly starting entrepreneurial ventures and using up our capital in such schemes, and your article made him want to do several more of them…"
These types of sentences are a real head-scratcher. Why? Because this isn't what successful entrepreneurship and free enterprise is all about. Not at all.
Successful entrepreneurs typically start 2-4 businesses during their life, not dozens, and at least one of them becomes an important enterprise. The free market just doesn't reward people who start dozens of businesses, frequently jumping around from business to business.
People who are constantly engaged in their latest "start-up" aren't really following the entrepreneurial path. They're just endlessly repeating the first part of it. Free enterprise rewards those who stick with a business until it becomes a real success, or who learn from the mistakes of the past and then stick with the next venture until it truly prospers.
A lot of successful entrepreneurs have had a failure or two, but not many of them have spent their years working on dozens of businesses. They soon learn to pick one and do what it takes to succeed. They buckle down and go through the process of turning their company into something.
In fact, many successful owners have suggested that it takes about 10,000 hours, or even more, to become good enough at a business or economic sector to make it profitable. Those who are constantly jumping around just can't ever get there.
 The Real Thing
When people talk about an entrepreneurial attitude or viewpoint of always starting another business, that's one thing. But it's not the same thing as tenaciously persevering until one business flourishes—and then tenaciously persevering as it keeps thriving.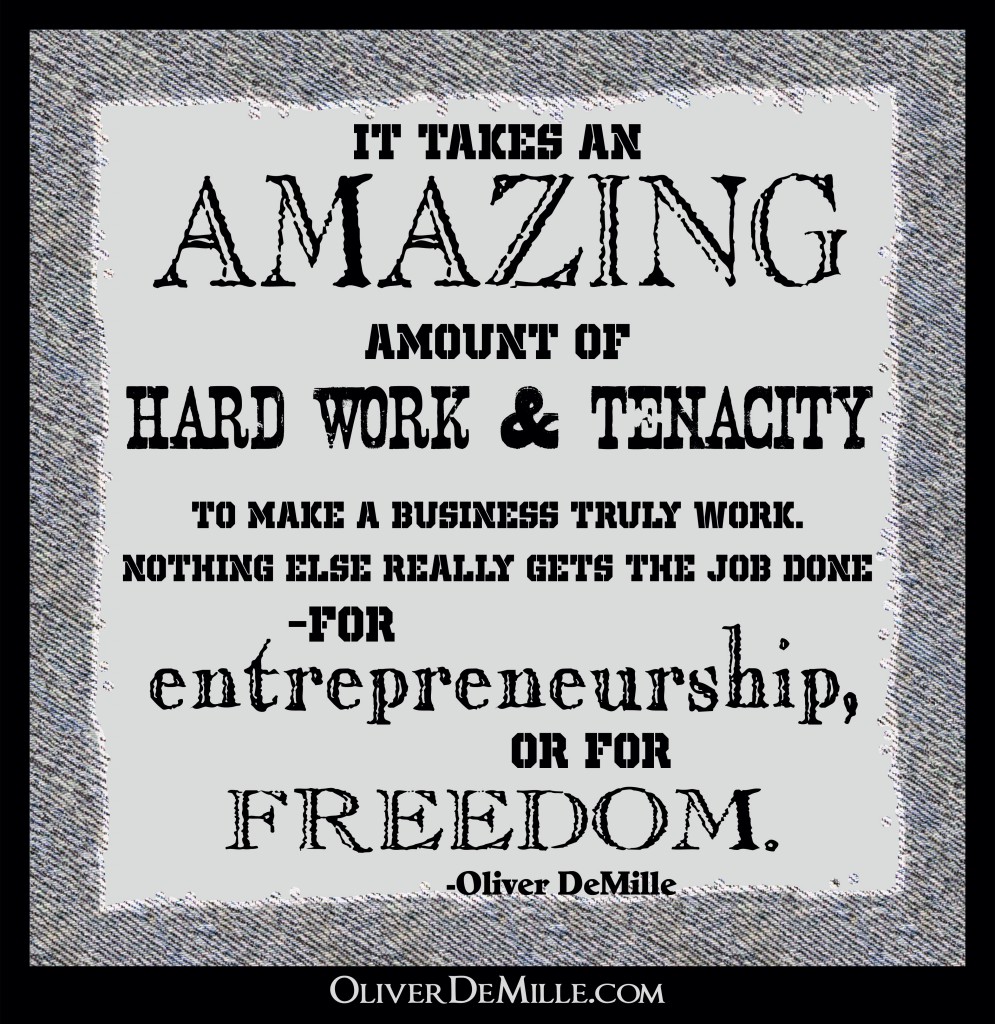 This latter approach is the kind of entrepreneurship that builds a nation. It's more than just a posture or a habit of starting a bunch of businesses. It's more than liking the idea of business ownership. It's more than talking about being your own boss.
It takes an amazing amount of hard work and tenacity to make a business truly work. Nothing else really gets the job done—for entrepreneurship, or for freedom.
This might seem like a little thing, like a meaningless play on words, but it isn't. It is huge! Entrepreneurship doesn't spur liberty in a society just because some people have an independent, "I'll do it myself" or "I'd rather be my own boss" attitude. That's part of it, but there's more.
Free enterprise is great when the enterprises work. This happens only when the small business owner pays the price to become a successful leader and make the enterprise blossom and grow.
Again, this might not always occur—and it never comes easily—but the leaders who build a free nation are those who hunker down and do the hard work to make it happen. Even if they fail, they make it happen the next time. One dedicated day at a time. Through all the hard times and challenges. Even when everyone else would have given up.
A nation with a lot of such entrepreneurs has a real chance at freedom.
A nation without them never does.
*******************
Oliver DeMille is the New York Times, Wall Street Journal and USA Today bestselling co-author of LeaderShift: A Call for Americans to Finally Stand Up and Lead, the co-founder of the Center for Social Leadership, and a co-creator of TJEd.
Among many other works, he is the author of A Thomas Jefferson Education: Teaching a Generation of Leaders for the 21st Century, The Coming Aristocracy, and FreedomShift: 3 Choices to Reclaim America's Destiny.
Oliver is dedicated to promoting freedom through leadership education. He and his wife Rachel are raising their eight children in Cedar City, Utah
Category : Blog &Business &Citizenship &Community &Culture &Current Events &Economics &Entrepreneurship &Leadership &Liberty &Mini-Factories &Producers &Prosperity