July 2nd, 2014 // 12:57 am @ Oliver DeMille
Rewriting the Future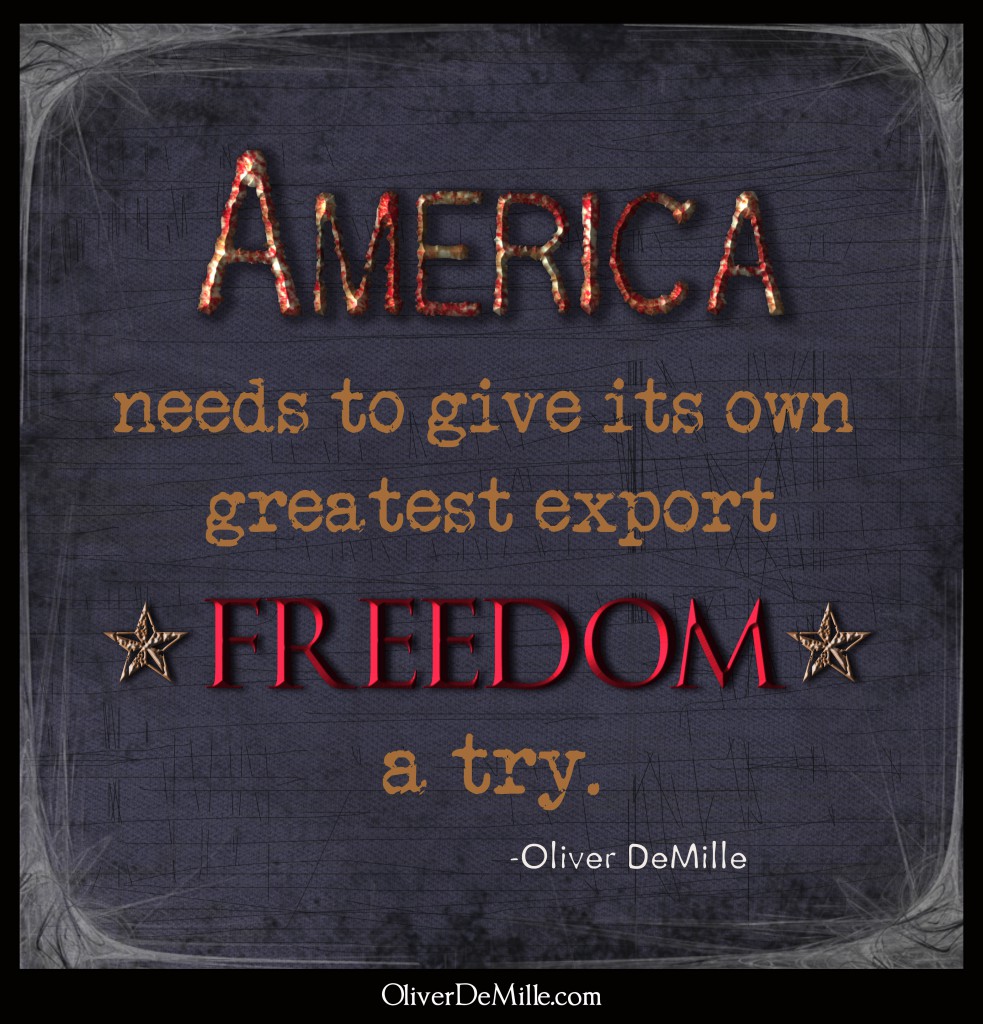 There are at least three great political-economic changes that have occurred in the United States in the last twenty years. Each is rewriting what our world and future looks like, and each is causing a decline of freedom. But none of them are inevitable.
The first trend is the huge growth of government, including government size, spending, and regulation in so many parts of our lives. The second is the major decline of success and opportunity for the middle class. The third is the increasingly important rise of China.
Put these three together, and the future seems bleak to many Americans—even if they aren't sure why.
The irony is that the first two trends are, in fact, related. Despite what many in Washington say, the massive growth of government is at least contributing to—and may be the main cause of—the growing middle class squeeze.
Breaking the American Dream
Sadly, too many in government don't see it that way. For some reason, a lot of people witness the deepening plight of the middle class and, inconceivably, think that the only solution is bigger and bigger government. More programs, more spending, more intervention, more regulation.
Yet the historical record is clear. Every major growth of the U.S. government has been followed by a decrease in the middle-class standard of living. Today, after over sixty years of unprecedented expansion of government, the average adult American worker can no longer provide a quality standard of living for a family. In fact, two working adults in a family seldom make ends meet.
Families are smaller, the American Dream of home ownership is switching to a European model of rentals, and more people are joining the lower classes—where family debt or government money, or both, are necessary to get by.
In fact, home ownership, once a staple of middle class lifestyle, is increasingly a financial burden on many people (see "Americans think owning a home is better for them than it is," The Washington Post, April 21, 2014). In an article entitled "The American Middle Class Is No Longer the World's Richest" (April 22, 2014), The New York Times reported that the U.S. middle class is getting poorer and as a result "most American families are paying a steep price for high and rising income inequality."
Middle Going Down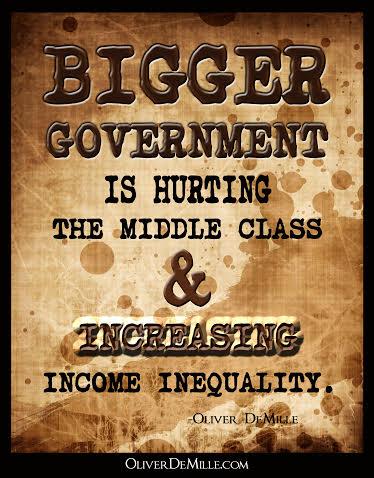 The middle class young are being hit especially hard. Over 40% of today's Millennial Generation young people move back home after leaving for college or work. As a group, they are the first generation since World War II to be significantly worse off financially than their parents. They aren't buying cars, they aren't buying houses, and they aren't getting married; they're living at home, hoping something will change in the economy to bring more opportunity (see Paul Taylor, CBS This Morning, April 26, 2014).
Speaking of the American middle class, Harvard's Lawrence Katz wrote: "In 1960, we were massively richer than anyone else. In 1980, we were richer. In the 1990s, we were still richer." Today we aren't (op cit. "The American Middle Class…").
A simple comparison of low regulation in 1960 to increased but still (by today's standards) low regulation in 1980, then increasing regulation in the 1990s and massive regulatory increases between 2000 and today show a clear pattern: when we raise regulation and grow government, we hurt the middle class and grow the lower class.
Yet many experts suggest that the solution is more, not less, government intervention, programs, spending, and regulation (see ibid). This mirrors the old quip that "the beatings will continue until the morale improves," except in this case "economy- and innovation-killing regulation will increase until the economy improves." In reality, the opposite is occurring—bigger government is hurting the middle class and increasing income inequality.
The Choice
Whatever the experts think, the American people have a deep sense that something is wrong. Approximately 70 percent don't believe America is on the right track (ibid).
This doesn't translate directly to elections, however. A lot of people think that government is the solution to our economic problems, not the cause of some of our deepest challenges.
If current trends continue, China's increasingly competitive economy will make a reality of what many in the American middle class now believe: that our children and grandchildren will face a declining standard of living while the same generations in China will see major economic increases.
Like a George Orwell satire, we continue to do exactly what causes more problems. Yet perhaps the greatest American contribution to history—a deep belief in and commitment to moral freedom and free enterprise—goes mostly unheeded. America needs to give its own greatest export (freedom) a try.
Freedom works, as we have shown for over two centuries. Whether America declines or flourishes in the 21st Century will be directly attached to whether we choose bigger government or increased freedom. And it's up to the middle class to make this decision and make it stick.
*******************
Oliver DeMille is the New York Times, Wall Street Journal and USA Today bestselling co-author of LeaderShift: A Call for Americans to Finally Stand Up and Lead, the co-founder of the Center for Social Leadership, and a co-creator of TJEd.
Among many other works, he is the author of A Thomas Jefferson Education: Teaching a Generation of Leaders for the 21st Century, The Coming Aristocracy, and FreedomShift: 3 Choices to Reclaim America's Destiny.
Oliver is dedicated to promoting freedom through leadership education. He and his wife Rachel are raising their eight children in Cedar City, Utah
Category : Aristocracy &Blog &Citizenship &Community &Current Events &Generations &Government &History &Leadership &Liberty &Mission &Politics &Statesmanship