October 21st, 2014 // 2:15 pm @ Oliver DeMille
"I'm going to serve on jury duty," my daughter told me. "Any thoughts?"
A Problem and A Solution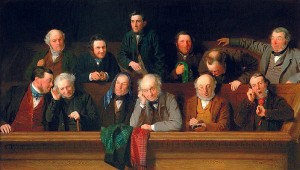 This will be short. Share it with anyone who might serve on jury duty. Save it to reread whenever you get called to jury duty. It is powerful information about freedom and being a leader in our society.
First, the American framers made juries a central part of the judicial system because they didn't trust anyone else to keep the government in check.
Think about it. Nations with no juries still have judges, lawyers, and court cases. They arrive at verdicts and mete out punishments. But they do it all with two entities: the government and the accused.
The founders wanted something different. They didn't trust government. "Power corrupts, and absolute power corrupts absolutely," as Lord Acton put it.
The founders had seen what the British government did with its judges and courts. They had read about judicial abuses in Rome, Greece, Israel, the German principalities, and nations down through history. They knew that in almost all judicial systems, throughout history and around the globe, an accused person had very little chance for justice.
Their solution? Juries.
Specifically, juries made up of regular citizens like the accused, who would naturally be on the side of the accused "regular" citizen if the government tried anything pushy, or at the very least not automatically choose the side of government.
They established the jury system for one reason: to keep the government in check, to keep the government from being abusive, to keep the government from having too much power.
Checks and Responsibilities
Juries, the founders felt, were the last line of defense for a person falsely accused (or rightly accused, with extenuating circumstances), or even just to keep the government from having too much power in too many ways.
If juries don't let the government get away with too much power, the whole nation will be more free. This was the reason the framers gave us the jury system.
Second, jurors do have two roles:
Keep the government in check
Provide a just determination of guilt or innocence
Both of these are important, but #1 is more important than #2. Indeed, keeping the government in check is the reason the founders established the jury system.
Sadly, most modern jurors believe that their main (and only) purpose is #2, to determine guilt or innocence.
The truth is that jurors generally do #2 better than judges, if for no other reason than that they aren't jaded by facing criminals and lies day after day. They typically have a more healthy, balanced view of people.
Jurors should of course do a good job at #2, and in many cases this won't conflict with #1. But if it ever does, good jurors choose #1 above #2.
Why? Because it's more important to keep the government (with its massive resources and power) from abusing power than from stopping one accused person. That one person may hurt people, badly, and deserve real justice – it's true. But an abusive government will hurt many, many more people—and hurt them a lot worse.
Founders and Authorities
To be a good juror, keep your eye on #1. Keep the government in check. This is your first purpose. Your first duty. Clearly #2 is important, but it is secondary to #1. If possible, do both; but always do #1.
By the way, this is a key message of the great classical movie 12 Angry Men with Henry Fonda. Every prospective juror who wants to prepare for serving should watch and consider this movie. Some of the lessons:
Keep the government in check—with the use of your vote about innocence and guilt.
Think on your own—don't be a victim of "groupthink" or peer pressure from members of the jury. Be polite, respectful, participative, and friendly—and don't be swayed by anything except your own careful thinking. Listen, analyze, and think on our own.
As a juror you are using real power. You are using force. Your vote will impact the accused just like a gun with bullets would. Be careful, and wise. Use this power reverently, and with a cautious eye on keeping government power from pushing through things that aren't truly proven.
Don't see the judge or lawyers as the teachers or experts and the jurors as the students or employees. This isn't how the founders set up the jury system, even though many people are in the habit of seeing it this way. Instead, get it right by seeing the judge, lawyers and witnesses as students or employees putting on presentations and the jurors as the experts or bosses who learn from the others but make the final decisions.
Remember that in our current system, victims and their families aren't allowed to directly seek justice through fights, duals, or retaliation. You are the hand of their justice, so if a defendant is guilty, it is essential to respond in a just way.
Be polite and calm, even when standing up for your view.
Do your best to see that justice is done, and that the government is kept in check. To reiterate: If you must choose between the two, keeping the government (with its immense power and resources) in check is more important than keeping one defendant in check.
How to deal with the judge: Treat him with respect and obey whatever he says, except when he tells you how to think. Remember, judges are a major part of the government the founders wanted juries to protect against. If he tells you how to think, at all, use your own brain. The founders put you on the jury, not the judge.
Treat this prospect with respect. The founders gave you the jury power because they trusted you more than anyone else—including any government official or judge—to keep the government in check, seek real justice, think independently and wisely, and do the right thing.
Your choices will have real impact on real people. As stated above: You are using real power as a juror. Don't let this power corrupt. Use it with honor. Be proud of how you used it—for the rest of your life. As a juror, you are using force. Use it well.
*******************
Oliver DeMille is the New York Times, Wall Street Journal and USA Today bestselling co-author of LeaderShift: A Call for Americans to Finally Stand Up and Lead, the co-founder of the Center for Social Leadership, and a co-creator of TJEd.
Among many other works, he is the author of A Thomas Jefferson Education: Teaching a Generation of Leaders for the 21st Century, The Coming Aristocracy, and FreedomShift: 3 Choices to Reclaim America's Destiny.
Oliver is dedicated to promoting freedom through leadership education. He and his wife Rachel are raising their eight children in Cedar City, Utah
Category : Blog &Citizenship &Community &Constitution &Current Events &Education &Featured &Generations &Government &History &Leadership &Liberty &Mission &Politics &Statesmanship