October 2nd, 2014 // 1:00 pm @ Oliver DeMille
From the desk of John Q. Public….
Dear Next President,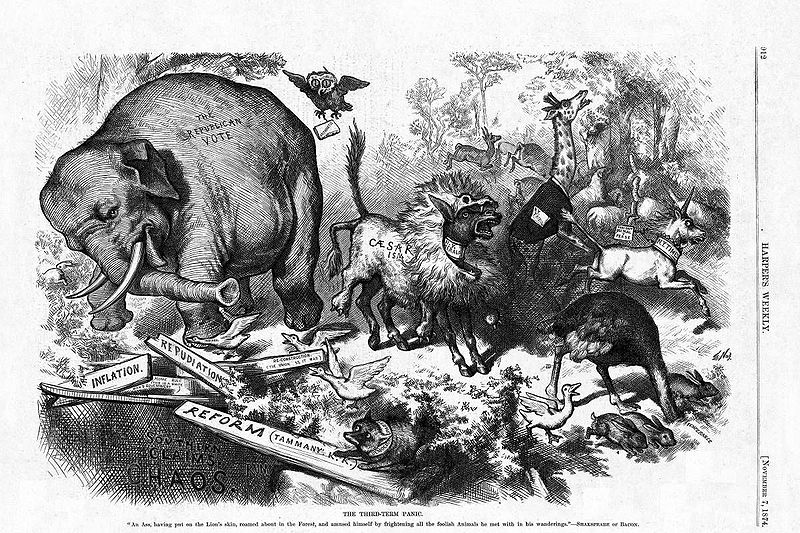 Taking the White House is a tall order, and twice you've failed to win the day. But this time can be different.
It will have to be different. Political operatives like to believe that the electorate is rational. "Blue states, red states, electoral votes, do the math." But this is a foreign language to most voters.
The pundits are sure: "Swing voters in the swing states, especially Hispanics, women, and independents. The metrics tell the story."
No they don't. The voters aren't following this. "It's the machine, the people and organization on the ground," the experts assure us. Actually, it isn't.
Here's what happened in the last two presidential elections. Conservatives and Republicans, as well as Right-leaning independents, really only had one choice. It was "Republican, I guess…"
That's the problem.You tried to win. You tried to play the game. You hired the best and the brightest and listened to your advisors. But the operatives were wrong. Twice.
They told you how to win, when the American people don't want a winning candidate.
The Key Word
The American voters want something very different. They want to feel a certain way. They want to be inspired. They want to look at you on their screen, with the sound off (or even on), and feel something special.
They don't want to feel like you're another candidate who wants to win. This doesn't connect. You have to not want to win. You have to want something a lot more important. Something big. Something the whole nation needs.
The voters know you're a great administrator. You balanced budgets. You upgraded education. You've led in your career field. You have character.
And yet, the voters just don't care. Knowing all these things, they voted for the other side. Twice in a row.
You gave us, at least in the TV optics, more Bob Dole or John Kerry. Not on policy, of course. But the feeling was the same. Tall. Trim. Dark suit. Distinguished. Accomplished.
This approach doesn't make enemies, but most Americans don't vote for it. Yes, they want trustworthy and capable. You've got that. But they want something more.
They want "cool." They want exciting. They want genuine. They want authentic. They want you to clearly and boldly stand for something great. They want sparks to fly when you address them!
Those on your side already agree with you, and those against you have already made their plans. But a bunch of voters, more than enough to change the election, are waiting to see who makes them feel something great about their vote. That word "great" is the key.
Still Freedom
In the last two campaigns the biggest vision most people got from Republicans was "Not Obama." If the next Republican presidential campaign is just "Not Hillary," we'll see the same results.
Whoever is telling you how to play to win needs to be off the team. You can seize this moment. Don't play to win. Don't be a candidate. Americans don't like candidates.
They like leaders. Take this opportunity to be a teacher. A persuader. A symbol of a future America that is more. Better. Great. Stand for something that moves us. Make us care.
This will shock the voters, and they'll perk up and take another look. Reagan won because he promised to bring freedom back to America, and to stand boldly for freedom around the world.
Freedom is still the quintessential American idea, much more than policy and talking points.
That's what was missing in 2008 and 2012. "Republican, I guess…" is the professional politician's path. "How can we win? Okay, experts, let's do it that way."
Wrong approach.
What about doing it your way? If it feels like the professionals are running things and the candidate is, well, a candidate, you've already lost.
It has to feel like you are doing it your way, because you are a great leader and your nation needs what you have to offer.
And it will feel that way when it is that way.
Lead us in a powerful direction, like you couldn't care less whether or not you win but you'd give anything to get America back on the path to freedom!
That's moving.
"Care Less" to Impress
The path is hard. Those who haven't walked it can't possibly hope to understand. They criticize and armchair quarterback. The one bloodied in the arena has to weigh the options and make tough decisions.
But Republicans now have two strikes.
Trying to win isn't working.
Time to lead. Forget winning.
Tell America what it needs to hear, and let the chips fall. "Damn the torpedoes, full speed ahead." We need a rebirth of freedom, and we'll vote for the man or woman who we believe will take us there.
That's incredibly moving. It's what voters yearn for. And running against Senator Clinton, who already looks and feels presidential, it's the only chance. If the voters are tentative, it's because you are.
Take an unequivocal stand for freedom. And don't back down. Don't try to win the primaries, just try to bring freedom back to the center of all American dialogue. Make it about freedom!
Own it. Fire the air traffic controllers. During the primaries, burn the boats. Stand for what really matters. Don't impress anyone. Just take a stand and lead. That's the true way to win support.
Also, forget the other candidates. Ignore them.
Show America why you are the one to support—because your vision for the nation is so moving. Teach them your vision, connect with them by being boldly true to yourself. Ignore polls. Ignore trying to impress.
Nothing impresses like not caring if you impress.
Have real confidence, the genuine confidence of knowing that your principles are true and that the nation desperately needs to apply them.
The economy is in dire straits, and eight more years of current policies will be a disaster.
In fact, truly free economic policies haven't been Washington's focus for almost three decades, regardless of which party was in the White House. Foreign policy is in the same messed up boat. This upcoming election is vital.
What America Needs
But we don't need another politician. We need a leader. We don't need another candidate. We need a voice for freedom, one that gets the nation to collectively sit back and listen.
You can be that voice.
But only if you're a voice for something a lot greater than elections, winning, education, energy reform, etc. These things are part of it, of course, but only a true voice for freedom can speak the genuinely American dialect.
People are of tired of politicians.
They want someone to lead a rebirth of freedom and help make America great again.
This is the voter's heart. It is also the way to put the United States back on the right path.
Oh, and by the way, this letter is addressed to whoever decides to take up the torch for real change, for an America rededicated to the main thing that made this country great—real freedom and the people who work and sacrifice to make it great.
Senator Paul, Governor Romney, Congressman Ryan, Senator Rubio, Governor Christie, Governor Perry, Senator Lee, Governor Huckabee, or someone else—whoever the next great leader is—this is the blueprint.
We have to feel like you really care about the right vision and direction for the nation, and that your vision is big enough and bold enough to truly make us care as well. Freedom is the message that will win.
And that means you've got to ignore the experts and transcend the politician, the candidate, the one who wants to impress, and you've got to show us that it's not about you.
It's about something a lot bigger.
Having a Vision
When you show us that it's genuinely about our future, and give us something that really, finally, resonates, we'll be with you—not just on election day, but for the years ahead.
One thing is for certain, Senator Clinton's campaign won't make the mistake of trying to impress everyone or just tear down her opponents.
They'll be out in force promoting big ideas for the years ahead. Not just any ideas, mind you. They'll be advancing Mrs. Clinton's ideas, in a big way.
There will be lots of mudslinging—there always is—and answering the critics. But ultimately the American people will elect the individual who ignites their passion and interest.
The "cool" leader will win, the one with the most epic and resonate vision for our future.
Senator Clinton is hugely popular, with a strong list of accomplishments, but she isn't invulnerable.
She can be gaffe prone, and her vision of further social reform will look weak when compared to someone with a great vision of American rebirth in the economy, leadership, and freedom.
A vision that captures our passion will sway the election. Nothing else will.
How to Win It
If the Republican candidates play small ball, even in the primaries (and no matter what the experts tell them), they're going to lose. Your only chance is to aim for the fences.
It's got to be about a decisive, moving vision of a truly greater America.
And it's got to be centered on a future where freedom once again becomes the watchword for every American, and every government policy and program.
We yearn for this, from coast to coast, and only this is going to hit the home-run that is needed to get our nation back on track.
That a refocus on freedom can sweep a different president into the White House is incidental. It's about recapturing the idea of freedom and the conviction that America's role is to stand for it in a truly great way.
This is who we really are. It is who we truly want to be. Nothing else comes close.
Whenever we stray from this, America goes into a period of decline. When we get it back, we flourish. Freedom really is our lifeblood. Our essence. It is Americanism at the core.
It is time to get it back, and we'll vote for a leader who effectively makes this our generation's opportunity to shine. We're all hoping that 2016 is the time.
Don't play politics. Don't try to win. Instead, lead a true rebirth of freedom!
*******************
Oliver DeMille is the New York Times, Wall Street Journal and USA Today bestselling co-author of LeaderShift: A Call for Americans to Finally Stand Up and Lead, the co-founder of the Center for Social Leadership, and a co-creator of TJEd.
Among many other works, he is the author of A Thomas Jefferson Education: Teaching a Generation of Leaders for the 21st Century, The Coming Aristocracy, and FreedomShift: 3 Choices to Reclaim America's Destiny.
Oliver is dedicated to promoting freedom through leadership education. He and his wife Rachel are raising their eight children in Cedar City, Utah
Category : Citizenship &Community &Culture &Current Events &Featured &Government &Leadership &Liberty &Mission &Politics &Producers &Statesmanship