January 30th, 2015 // 5:42 pm @ Oliver DeMille
Some (Widespread) False Traditions about College, Grades, and Career
A Good Plan?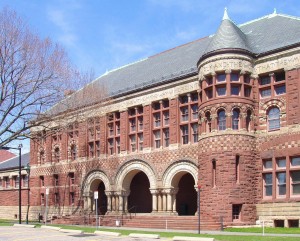 President Obama proposes making two years of community college free for everyone. As The New York Times reported ("Expanding Community College Access"), the Administration's "preliminary plans…call for an estimated $60 billion in new spending over ten years…" That's right. Just throw more money at it and things will get better, right?
Actually, no. What if, instead, we didn't raise taxes $60 billion for the program (plus the extra funds necessary to administer it) and left these resources in the hands of the private economy?
This gets to the crux of one of our deepest and most pressing problems today. When we see a need in society—almost any need, it turns out—someone proposes a government program. The costs of such programs, and the regulations of implementing them, make our economy less inviting for investors and innovators. Naturally, jobs, capital, and opportunities go to other nations.
The result? The economy struggles even more. And, behold, a politician in Washington takes note of the increased struggles and suggests yet another economy-killing government program.
This downward cycle is literally fueling our national decline. These types of government programs have had real results: Where one wage earner in a household made enough for the family to live on in the 1950s, today it takes two wage earners plus a steadily increasing amount of debt for households to pay for a lesser standard of living.
Cause and Effect
Such government programs are touted as real benefits, but the more of them we implement in society, the wider the gap grows between the rich and the rest.
If this new community college program is adopted, the results are predictable:
The quality of community college education will decrease (just as high schools did when government made them free and ubiquitous)
More community colleges will be built (requiring tax increases)
Fewer educational entrepreneurs will offer true educational innovations
More people will get two years of college
Two years of college will become much less beneficial
More young adults will live in their parent's basement—for longer
S. citizens will lose more jobs to international competitors
The U.S. standard of living will further decline
There will be a few good community colleges, and a lot more poor ones, and national leaders will talk incessantly about "solving the community college crisis"
The quality of education in most high schools (not just community colleges) will further decrease
"But how can you say these things?" the proponents of the new program will ask. "More jobs today require some college education, so how can free community college be anything but a great plan?"
Actually, more jobs require a higher level of education. But calling it "college education" is just labeling. The level and quality of education students received in four years of high school in 1930 or 1953 was higher than nearly all college juniors have today.
Why did high school education decline? Mostly because of the many government programs that got in the way of market forces and educational quality.
So why are we proposing more of them? We shouldn't be.
Part II: The Real Issue
But let's go deeper into college education. Specifically, let's deal with the real issue. The true concern. It is right in front of us, but only a few people are talking about it. This is vitally important.
Sometimes our most common beliefs in society turn out to be wrong, or at least different from the reality. For example, a lot of young people today are told that the key to a successful life is a good career, and the way to ensure a good career is getting into a good college, picking the right major, and getting good grades.
Many high school and even elementary students busily study each night to prepare for the SATs and such life success—based on this oft-repeated promise. They spend years sure that good grades will lead to promotions, wealth and status.
But the truth is often very different. A report from the Chronicle of Higher Education showed the reality of what employers look for when hiring:
"Health care companies care most about your major"
"White-collar companies care the most about your GPA"
"Media and communication companies are gaga for internships and…indifferent toward your classes"
This is not what most young people are told—by teachers, school administrators, academic counselors, even parents. How can they make good career-prep choices when most of what they are told about the relationship between schooling and career success is inaccurate or at best incomplete?
The Scale
I've long taught that schooling should focus on great education, not the growing trend of "hire education," but this view is in the minority. Many people believe the main purpose of education is career prep, and students are often frustrated when the reality turns out to be something different.
In an economy where many graduates are already without jobs, these false traditions (e.g. "the key to a successful life is a good career, and that comes from attending a prestigious college, picking the right major, and getting good grades") take on increased importance. Many young people believe in these ideas as promises, not urban myths.
The Chronicle of Higher Education report showed the following (ibid.):
On a scale of 1 to 100, the importance of your college's reputation to prospective employers is 5.
Not 85. Not 55. Not 50. Not even 15. Just 5. How can 5 out of 100 be worth all the focus people give it?
Using the same scale, the importance of your GPA is 8.
That's right, 8. All the work, the effort, the tears and struggles to get top grades, and they're only an 8 to employers? Not 8 out of 10, mind you, but 8 out of 100! As top students know, the difference in work and effort required between A- and A is about the same as between C and A-. So, it's no surprise that students are stunned to learn how little employers actually think or care about grades.
Even your college Major only scores 13 on this scale.
But it gets worse. This score of 13 is actually driven up by the health care industry. If your career is in health care, it's quite a bit higher, but if you're in a different industry, it's much lower.
In short, for most people, the gatekeepers that bring you in to (or keep you out of) a great career don't care about what school you went to, your GPA, or your major.
The Forgotten "Why"
So what do prospective employers look at? Again, according to the Chronicle report:
The number one thing is internships.
Number two is employment experience.
Really? Then why are so many young people counseled to avoid work and put all their time into getting good grades? And why are they told to put most of their efforts into admittance to the most prestigious schools?
The focus should be on internships and work experience. Amazing.
This is a major departure from what most educators tell their students. It's very interesting, and something any parent should consider.
It also brings me back to my original view. Use schooling, reading, and other learning to get a great, truly excellent education. That's why schools were invented, after all. The rest is, literally, minor. The research now proves it.
The Real Solution
The solution—unless you work in the health care field—isn't two more years of government-funded schooling, but better education in the years before college. Followed by the same increased quality during college, or even instead of college. We don't need more mediocre schooling—we need a drastic improvement in what we already have. Seriously.
Get a great education before you turn 18 by reading, studying, digging into the classics, etc.—and then continue it in college or working directly with great mentors instead of college—and don't let 5%, 8%, and <13% things like the "right" school, GPA, and the "right" major determine (or get in the way of) your education.
And, along the way, get some great experiences with internships and work experiences. Include a number of important classics in your reading. This will bump your whole education to a higher level, and with a better education and better experiences, your career options will only improve.
This is the real solution, regardless of whether or not the government adopts some costly new education program that won't help very much and will in fact send a lot more capital, innovation, and jobs abroad. The program will only make things harder—for education, and for the economy.
Washington, please keep this plan to yourself. Literally: Put your kids through it if you want. Leave the rest of the economy alone.
Oh, and parents, pass this along to young people. A great education will greatly boost your career prospects, and for most careers a great education is not the same thing as your college, major, or GPA. Not at all. Whatever you do about these things, do what it takes to get a great education.
******************
Oliver DeMille is the New York Times, Wall Street Journal and USA Today bestselling co-author of LeaderShift: A Call for Americans to Finally Stand Up and Lead, the co-founder of the Center for Social Leadership, and a co-creator of TJEd.
Among many other works, he is the author of A Thomas Jefferson Education: Teaching a Generation of Leaders for the 21st Century, The Coming Aristocracy, and FreedomShift: 3 Choices to Reclaim America's Destiny.
Oliver is dedicated to promoting freedom through leadership education. He and his wife Rachel are raising their eight children in Cedar City, Utah.
Category : Blog &Citizenship &Community &Current Events &Education &Entrepreneurship &Featured &Generations &Government &History &Leadership &Liberty