February 13th, 2015 // 9:27 am @ Oliver DeMille
Measles, Vaccinations, Common Core,
and the Deeper Issue We're All Experiencing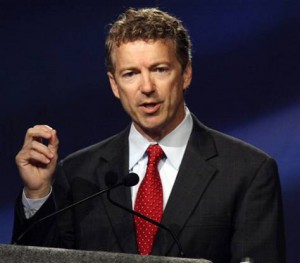 The disconnect right now is tearing our nation apart. Over and over, people engage in the Surface argument, while the Deeper issue is actually a lot more important.
For example, consider the national discussion of whether the government should mandate vaccinations against measles and other similar diseases. The Surface issue is whether vaccinations are safe, or whether in some cases they are hurtful to a child. But the Deeper issue is much more important: Who should make the decision about vaccinations for your children? Government? Or you as the parents?
I recently watched two interviews with U.S. presidential hopefuls that clearly illustrate this point. In the first interview, Ben Carson was asked about measles and vaccinations. He stated that vaccinations should be firmly mandated by government for all children. Period.
Rand Paul took a slightly different approach. He said that vaccinations work and that children should be vaccinated, but that the more important issue is this: Government doesn't own such decisions about children, parents do. Parents should have the final say.
Both of these men are medical doctors, and both have a history of commitment to the principles of freedom. But in this case, one called for government mandates and the other called for sticking with freedom. Very interesting.
Force and Reason
Ben Carson went on to say that the idea that vaccinations are widely damaging has been debunked, but then he added an interesting point. He said that of course a few children are allergic or otherwise react poorly to vaccinations, but overall the benefits of widespread vaccination are worth it.
That's reasonable. But, if reason is to be our guide, which of the following is more reasonable:
1-Educating the populace about the scientific facts, then using government force to mandate what parents must choose for their children?
2-Educating the populace about the scientific facts, then letting parents make choices for their children?
This illustrates the current growing division between those who generally trust the government and those who usually distrust it. This disconnect is now a major feature of our nation. It shows up in numerous important issues, including:
1-The government should mandate Common Core across the nation to raise standards for schools and students.
   Vs.
2-Parents should have the final say on whether or not Common Core is good for their specific children.
Or:
1-The police are justified in using deadly force as needed, because law enforcement is paramount and force is frequently necessary—and police and government agents are nearly always in the right.
   Vs.
2-The community should be very vigilant about any use of force by the police to ensure that it was truly justified, because police forces and governmental agencies sometimes overstep their bounds and aren't held accountable.
To Trust or Not to Trust
America is split, more each year, by these two major perspectives: "We almost always trust the government to do the right thing," versus "We don't usually trust the government to do the right thing."
Through most of the 20th Century, by the way, an average of 78% of Americans held the first view (trust), while today only 23% of Americans believe the government will do the right thing most of the time. That's a huge change.
And clearly the disconnect isn't partisan. It divides both major parties, and it also divides independents. Just look at Common Core, for example. Rand Paul and Ted Cruz are strongly against it, while Jeb Bush is a firm supporter. Bobby Jindal and Mike Huckabee supported it at the state level and then opposed it when it became a federal program. And all of these men are leading Republicans.
Or look at the vaccination issue. Some of the strongest supporters of government mandates are top Democratic politicians, while many of the communities with the lowest rates of vaccination (and highest levels of anti-vaccination activism) are university neighborhoods dominated by progressive faculty and administrators.
On the Right, many Republican voters demand that everyone get vaccinated, while a vocal opposition calls mandatory vaccination a socialistic plot. Ben Carson versus Rand Paul, so to speak, but spread through the population regardless of party.
Now, change the Surface issue, from, say, vaccinations to police use of deadly force in Ferguson, Cleveland, or New York, and the sides quickly shift.
Bad Comparisons
Here's another example:
1-The government should regulate and then force the education of all children ages 5-16.
   Vs.
2-Parents should have the right to make the final educational decisions for their family.
This one clearly hits very close to home, but the divide is still there. Ben Carson said something really interesting while he was making his case for mandatory vaccinations. He compared them to seatbelt laws and also laws against texting while driving. I like Ben Carson, so this surprised me because these two things shouldn't be treated the same. (He probably would have clarified this if he had time to elaborate.)
The main intent of "don't text while you drive" laws is to protect other people from bad driving, while the focus of seat belt laws is to protect the driver.
In the case of Common Core, supporters often speak as if their major goals are to improve society, while many parents who dislike Common Core care mostly about the education of their own children. And pro-vaccinators often cite public health statistics at the same time that anti-vaccination parents point to anecdotal examples where specific children were harmed.
Simplicity and Standards
This all makes sense, if we take the time to really consider it. In short, those thinking in terms of the mass population naturally overlook the specific, individual cases ("they're just anecdotal") while many a concerned parent logically ignores the statistical tables ("my son isn't just a number") and focuses on the potential danger if her child just happens to be one of those who is harmed.
Both views have merit. Both are reasonable. Both make sense. But back to our original question: To whom are we going to give the final say?
The answer depends on what level of society is best equipped to deal with each specific situation. Consider:
If it's a question about nuclear attack or foreign invasion, the federal government was designed to deal with it.
If it's a question of crime or direct danger to everyone, it's a state or provincial issue.
Or, if anything in level B can be handled more effectively at a local level, it should be.
If it's about what's best for an individual's education, prosperity, or health, let the individual choose. This is the essence of freedom. If it's about children, let's trust the parents.
This simple little system is essential to freedom. Without such standards, freedom is quickly lost.
The Level
So, let's get specific. Do the measles meet the "danger to everyone" level in B or C above? No. So leave such health decisions to the parents. Same with Common Core. Of course, if Ebola is the issue, level B kicks in because it truly is a "direct danger to everyone." It may even be level A, depending on the circumstances. But Common Core and the measles are nowhere near level A. Not even close.
In fact, this system of doing things at the right level, and only at the right level, is the key to maintaining freedom and applying wisdom on nearly every issue. For example:
-Seat belts? Level D.
-Drunk driving or text-driving? Level B. (It would be level C if people didn't travel very much, but in our current world conditions, if every local area has a different law, far too many drivers will be confused and the laws will be ineffective at protecting the life and liberty of others.)
-Police using deadly force? Level B.
-Oversight of any use of deadly force? Levels A-D.
-Compulsory school laws? Level D only. Seriously, leave to families those things best handled by families.
-Dedicated study and wise oversight of all laws? Level D.
This isn't just the Deeper level; it is the bedrock of freedom.
******************
Oliver DeMille is the New York Times, Wall Street Journal and USA Today bestselling co-author of LeaderShift: A Call for Americans to Finally Stand Up and Lead, the co-founder of the Center for Social Leadership, and a co-creator of TJEd.
Among many other works, he is the author of A Thomas Jefferson Education: Teaching a Generation of Leaders for the 21st Century, The Coming Aristocracy, and FreedomShift: 3 Choices to Reclaim America's Destiny.
Oliver is dedicated to promoting freedom through leadership education. He and his wife Rachel are raising their eight children in Cedar City, Utah.
Category : Aristocracy &Blog &Citizenship &Community &Constitution &Culture &Current Events &Economics &Education &Featured &Generations &Government &Leadership &Liberty &Politics &Prosperity &Science &Statesmanship