August 19th, 2015 // 2:36 pm @ Oliver DeMille
 Steps to Freedom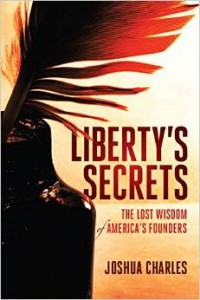 I read another great book today, and it rekindled my sense of hope for the future. If you care about freedom, you've got to read it! This new classic is Liberty's Secrets by Joshua Charles, and it is…
But I'm getting ahead of myself. There's a story here, an important one. And I need to tell it in order to do justice to this book. In a world of brief sound bites and too frequently shallow media and educational conversations, a great book is easily overlooked. Such greats all too often go unnoticed because we live in an era of constant—aggressive—distraction. So to introduce a genuinely great book, we need to get this right. Here goes…
I. The Great Books
I was a young boy when first it happened, old enough to ride my bicycle to the library on hot summer afternoons and find interesting books to read, but young enough that high school sports and summer trainings weren't yet part of my daily routine. One day under the memorable breeze of the town library's large swamp cooler I came across a long shelf of books that boldly called themselves "The Great Books". I stopped and stared. I re-read the title, then pondered.
"These can't be the only great books," I reasoned to myself. "There must be others." Intrigued, I pulled out a volume and perused the title page, then skimmed through several chapters at the beginning of the book. I was impressed by the small print, the columns and footnotes, and the sheer quantity of big, unfamiliar words. They were downright intimidating.
I marveled a bit, rubbing my fingers along the cloth-covered bindings. I knew I would read these books some day. I just knew it.
I remember nothing specific about which volumes I investigated that day, but I skimmed many of them, reading a sentence here and another there. The afternoon passed, and I eventually returned the last volume I'd removed to its place on the shelf and went to the front counter to check out the L'Amour novel I'd selected for the week's reading.
We lived in the desert, and it was a very hot summer, so during the exertions of my bike ride home I forget about the "Great Books". But each time I returned to the library, I noticed them again. It seemed like none of them were ever checked out, and I could well believe it. They were truly daunting, with their gold foil lettering, fancy author names, and massive domination of shelf space.
II. Fast Forward
Today I just finished reading a truly great book on freedom, and I smiled widely as I completed the last few lines and closed the book. I removed the dust jacket and ran my fingers over the sleek black hardcover with the red foil print. "I was right, that day," I thought to myself.
Then I realized I had been right on both counts. I would, in fact, come to read the whole set someday. I couldn't have known at the time that I would re-read The Great Books many times, teach them extensively in multiple university, high school, and graduate level courses, and spend many hours discussing their content with colleagues, business executives, students, professionals, family members, and friends. The Great Books volumes have become dear friends over the years, and I have returned to them often for heated debates with their authors or to rehash unfinished questions in the "Great Conversation".
But I was right about the other thing as well: there are great books beyond those in Britannica's 54 volume set. And when I encounter an additional great book, I always feel a sense of excitement. Great books are great because they are important. That's the major criterion. They have to be truly significant, to add meaning to our world—to innovate something that wasn't there before the book brought it to life.
III. What Makes "Great"?
Over the decades I've experienced several great books beyond those from the "official list," and they always leave an impression. Like The Closing of the American Mind by Allan Bloom, The Third Wave by Alvin Toffler, or The Five Thousand Year Leap by W. Cleon Skousen. Such books, like those by Bastiat or Austen, simply must be added to list. Along with Solzhenitsyn's works.
In recent years I've come across several additional great books, like Andy Andrew's The Final Summit, Chris Brady's Rascal, Stephen Palmer's Uncommon Sense, Orrin Woodward's Resolved, Judith Glaser's Conversational Intelligence, or Henry Kissinger's On China. I also studied an old great book I hadn't ever read before, The Early History of Rome, by Livy, and found greatness in its pages as well. When you read a book that is truly great, it's a moving experience.
Such books come along rarely, so when they do it is important to pay attention. But what makes a book genuinely great? After all, greatness is a very high standard. It can't just be good. As Jim Collins reminded us, good is too often the enemy of great.
Nor can it simply be well written. It can't merely be accurate, detailed, beautiful, or interesting. More is necessary. It can be one, a few, or all of these things, but to be truly great, it must be also be transformational. It must change you, as you read.
IV. A New Great Book!
When I started reading Joshua Charles' book a few days ago, I didn't know I was in for such a treat. I had already enjoyed his earlier bestselling work, so I was ready to learn. I got my pen and highlighter out, and opened the cover. But as I read I realized that this book is truly very important. Needed. And profound.
Then, as I kept reading, I noticed that I was feeling something. A change. A different perspective. A re-direction. I was experiencing…the feelings that always accompany greatness.
Charles notes in several places that as a member of the Millennial generation he felt compelled to share this book with the world. Why? Because, in his words: "I wrote this book for one reason, and one reason only: to reintroduce my fellow countrymen to the Founders of our country and the vision of free society they articulated, defended, and constructed, in their own words."
As a member of Generation X, I was thrilled to see a Millennial take this so seriously—and accomplish it so effectively. Even more importantly, as I read I noticed something very important, subtle but profound. Charles doesn't make the mistake of so many modern authors who write to the experts and professionals in a field. His scholarship is excellent, and he goes a step further. He has a more important audience than mere political or media professionals. He writes to the people, the citizens, the voters, the butchers and bakers and candlestick makers—the hard-working people who make this nation go, including the artists, scientists, teachers, executives and leaders.
In so doing, he is a natural Jeffersonian, speaking the important principles of freedom, culture, economics, and leadership to a nation of people—not merely to politicos or aristos, but to everyman. To underscore this (and I doubt it was a conscious decision on his part, but rather his core viewpoint), his word choice refers not to "the American voter" but rather to "we the people." He considers himself not merely the expert, but one of us, one of the people.
I could have hugged him for this, had he been here in person. We have far too few freedom writers today who see themselves truly as part of the citizenry. When they do come along, albeit rarely, I feel a sense of kinship and I know that their hearts are in the right place. Jefferson would be proud. For example, Charles wrote:
"We no longer know where we came from, the grand story we fit into, and the great men and women who inspired the noble vision which birthed the United States of America, the first nation in history to be founded upon the reasoned consent of a people intent on governing themselves….
"Additionally, few of us are well-read enough (a problem our educational system seems blithely unconcerned with) to discuss the lessons of the human experience (often simply called 'history')…"
Freedom, the classics, voracious reading, leadership, and the future—all rolled into one. "This is my kind of author," I realized, once again. "These are the themes I emphasize when I write." So did Jefferson. And Skousen, and Woodward. No wonder I love this book.
The Current Path
More than profound, Charles' book is also wise. Belying his Millennial generation youth, he speaks like an orator or sage from Plutarch when he warns:
"Liberty is difficult work. It is fraught with risks, with dangers, with tempests and storms. It is a boisterous endeavor, an effort for the brave and the enterprising…"
These latter words have stayed with me since I read them several days ago. I keep remembering them. Boisterous. Brave. Enterprising.
These are the traits of a free people. In classical Greece, among the ancient Israelites, in the Swiss vales, the Saracen camps, the Anglo-Saxon villages, and the candlelight reading benches of the American founders—wherever freedom flourished. Yet today we train up a nation of youth to be the opposite. To fit in (not boisterous). To avoid risk (not brave). To focus on job security above all else (not enterprising).
If this trajectory continues, our freedoms will continue to decline.
Where and When
Speaking of freedom, Charles calls us to immediate action with his characteristic humility, depth, and conviction: "We either pass it [liberty] on to our posterity as it was passed down to us, or it dies here and now."
Here and now? Really?
Is it that immediate? Is it truly this urgent? Is it really up to us?
The answer is clear: Yes.
Yet, it is.
"He gets it." I smile and take a deep breath. Then I whisper to myself: "Another great book!"
I hold the book sideways and look at the many pages where I have turned down the corners. Dozens of them. Just for fun, I open one of them and read:
"…we have every reason to be doubtful of, skeptical about, and disdainful toward the notion that Caesar [government] can solve all our problems."
I nod. When freedom is under attack, leaders rise up from among the people. This book is part of that battle.
"The Great Books indeed." I grin as I say the words.
I turn to another page with a dog-eared corner and read Charles' words:
"'Society is endangered not by the great corruption of the few, but by the laxity of all,' Tocqueville had noted, and on this he was in complete agreement with the Founders."
And now, I note, with at least one Millennial.
I feel a sense of building hope for the future. "The Millennials are beginning to lead," I say with reverence.
"This is big. And if this book is any indication of what's to come…
"It's about time," I say aloud.
Then, slowly, "Everyone needs to read this book."
*Liberty's Secret by Joshua Charles is available on Amazon
Category : Aristocracy &Blog &Book Reviews &Citizenship &Community &Constitution &Culture &Current Events &Economics &Education &Featured &Generations &Government &History &Leadership &Liberty &Mission &Politics &Statesmanship