November 17th, 2015 // 9:53 am @ Oliver DeMille
After Paris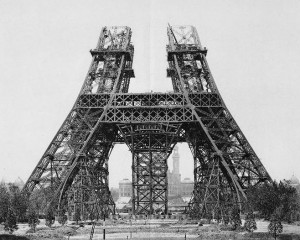 In the aftermath of the terrorist attacks in Paris, here's what we know:
ISIS is cheering the Paris massacres, and vowing that this is only the beginning. They promise that more such attacks on Europe and the United States are ahead.
One of the terrorist attackers in Paris had a passport on him that showed he came into Europe with the Syrian refugees on small boat through Greece. (It may or may not have actually been his, but whoever put it there must have been sending a message.)
The terrorists were highly trained, well equipped, and functioned in a way that requires additional support beyond the known attackers.
ISIS isn't content to focus on gaining territory in Syria and Iraq. It is a key part of their strategy to take the war to Europe and the U.S. This has been true for a long time, but it is finally hitting home to most Americans.
Another part of ISIS strategy is to create a Western backlash against Muslims in Europe and the U.S. ISIS wants to create a situation where all Muslims are pushed to choose between the West and ISIS—with no middle ground.
According to numerous reports on the news, ISIS is calling for supporters who live in Europe and the United States to take initiative and make terrorist strikes on people without waiting for top-down orders.
If ISIS is in fact behind the Paris attack, ISIS has killed over 400 people in less than 10 days—including the Russian airliner, the Beirut bombings, and the 6 coordinated attacks in Paris. Even if ISIS isn't behind some of these events, they all play directly into the ISIS strategy.
The U.S. Response?
But where does the United States stand on ISIS? Just hours before the Paris attack, President Obama announced that ISIS has been "contained." The timing couldn't have been worse for such a statement. After Paris, Obama spoke in strong terms of supporting France, but said little about any response to ISIS.
In contrast, just the night before, Donald Trump announced that his plan for ISIS was to bomb the s%&t out of it. News reports the next morning featured experts pointing out why Trump's extreme words were out of touch and bad for America. By that very evening, after events in Paris, some of the same channels put on experts saying exactly the opposite. Other candidates spoke strongly of the need to stop ISIS.
The Big Debate
In all this, there is a big debate about what the U.S. should actually do about ISIS. After all, ISIS isn't likely to just go away.
What should we do? Before Paris, the debate was mainly about whether or not to put American boots on the ground in Iraq and Syria. After the Paris attacks, it's a whole new world.
Here's how the debate is now developing:
View A: Airstrikes will never beat ISIS. To seriously stop them, we must put a lot of ground troops into Iraq and Syria-enough to really destroy ISIS once and for all. We've waited too long, and President Obama hasn't been truly committed. Now, with Paris, we know that the terrorists are coming after us in our own nations. It's time to go destroy them, and that means real ground troops and a "win at all costs" strategy. Find our Patton and go win.
View B: Hold on a minute. Slow down and think. Every time we intervene in the Middle East, we make things worse. Just look at how we armed Saddam Hussein to fight against Iran, and then he turned on us. We eventually intervened to stop Saddam, and most of the weaponry from that war is now in the hands of ISIS. And Iran is still a major problem. Also, look at Libya, which is arguably much worse off than before we intervened. Likewise, Afghanistan is another nation that our intervention made worse in some ways. Let's stay out of the Middle East.
View A: We disagree. The reason Iraq went to pieces is that we moved our troops out. If we had stayed, the region would be stable. Same with Libya—we intervened but didn't keep troops there to stabilize things. Same with Afghanistan: it's only getting bad again because we keep reducing troop levels. As for Syria, if Obama had followed through on his "red line" promise and taken out Assad, Syria would be stable and ISIS would be a minor group with little or no power. That's the reality.
View B: Really? You actually wish the U.S. had lots of ground troops right now in Iraq, Syria, Libya, Yemen, Afghanistan, and probably Iran? You think that the Middle East can only be stable if the U.S. intervenes in all these nations—and any others where terrorists gather to train and plan—and kills the bad guys, then posts troops in those nations for decades to keep the peace? This is your strategy? U.S. troops in half a dozen nations for the next six decades, like we are in Korea? And the same in any other Middle East nation that has problems? Really? That's a horrible plan.
View A: ISIS is a new and more modern kind of terrorist group, and its strategy is to take the war to France, Britain, Germany, the United States, etc. It plans to ramp up Paris-like terrorist attacks far and wide in Western Europe and North America. We are at war with these people! Whether we like it or not, they are waging war on us, and this will not only continue but actually escalate as long as we don't entirely destroy them in their home base—Syria, and even Iraq. What choice do we have? If we don't destroy them, they'll keep waging terrorist attacks in Europe and the U.S. They'll kill hundreds, then thousands. Then they'll keep killing our people until we absolutely destroy them in their home base. And air strikes won't do it. Ground troops are essential.
View B: Actually, after four years with ground troops in Iraq and Afghanistan, we still haven't solved the problem of terrorists coming from those places and attacking Western nations. Ground troops don't seem to be a real solution. We need something better.
View A: Like what? Ground troops is what works.
View B: But it hasn't worked. Seriously.
View C: Can I join this debate? I have something to interject here. What about literally bombing them back into the stone age? Bomb their oil. Bomb their buildings, where they might be on computers running their huge financial resources or posting their online recruiting videos. Bomb all their buildings. Flatten them. Leave nothing but dust. We know what areas ISIS controls. Let's flatten them. Period. It's us or them. Let's win this war before it gets much, much worse. Let's don't be like Chamberlain appeasing Hitler, hoping ISIS will start being nice. Bomb them until they're all destroyed.
Views A and B: That's so barbaric. That's not the kind of country we are. Think of all the women and children we'll kill or maim.
View C: The women and children are either slaves of ISIS or supporters of ISIS. For the ones who are slaves, our actions in ending the slavery would be merciful. Just look at the way ISIS treats such people—repeated rapes and maiming and torture and slavery. It's unspeakable brutality. THAT'S the barbarism. Bombing will create chaos and free a bunch of them, and the ones who are casualties will at least be released from the ongoing torture. On the other hand, those who aren't slaves are nearly all supporting ISIS. Cut off their support. Destroy them. It's us or them, and they're getting stronger. If we let them keep spreading, they'll eventually gain an air force, missiles that can reach Europe and America, and probably even nukes—given how much money they'll have. Stop them now.
View A: We can do this humanely, if we get serious about this war and put enough ground troops into Iraq and Syria, and leave them there long enough to really turn things around.
View B: But that might mean a thirty-year war, or more. We've already been in Iraq and Afghanistan for fifteen, and we haven't made much progress. Let's rethink this. What if we put all our resources into protecting the United States? Let's protect our borders and protect our cities and states. Let's focus on our national defense, not on the security of the Middle East.
View A: That sounds good, and we should certainly do that too, but it won't work if that's all we do. Just look at the nation of Israel. It is so much smaller than the U.S., with only a few cities and populated areas to protect—like the U.S. trying to protect New Jersey, or to make the point, even New York. Yet in Israel, with armed soldiers on every corner in times of terror threats, and with a huge portion of the adults trained in the military and prepared with weapons to fight, hundreds of terrorist attacks still occur. The U.S. cannot stop a committed ISIS (and other groups like it, of which there are many) that finds ways to recruit homegrown American terrorists online. Nor can Europe do it effectively.
Moreover, if we give ISIS a free rein in the Middle East, by just pulling out all U.S. involvement, it will drastically increase its funding, and its online influence around the world. The number of terrorist attacks in Europe and the U.S. will significantly increase. In fact, if the U.S. pulls out of the Middle East, ISIS will take over more oil, territory, and gain intercontinental missiles and naval and air power.
Make no mistake. ISIS intends to weaken and eventually take over the United States. That's what the Caliphate is all about—taking over the whole world, starting with anyone who stands in their way. That's their plan, as many experts on ISIS have been telling us for months.
If the U.S. pulls out of the Middle East, ISIS will grow, strengthen, gain more funding, and eventually attack us with missiles, warships and nukes. We must stop them now. Not barbarically by wiping them out with bombs, like View C wants, but humanely, with ground troops.
Specifically, put enough U.S. and allied troops into Iraq to push all ISIS fighters back into Syria. Then Assad and Putin and Western air strikes can get rid of ISIS. But it starts with ground troops.
View C: No. Let's not send another generation of our young men and women into a Middle Eastern war zone. Bomb ISIS into oblivion. ISIS doesn't even have an air force. At least not yet. Let's do this now, before they expand and gain an air force, missiles, even nukes. Bomb them into the dust. Right away. France will help. Britain will help. Russia might even help. We might even get Saudi Arabia and other moderate Arabic nations to help. Flatten ISIS. Now. It will save more lives and ultimately be more humane—with fewer dead and injured—than any other strategy.
View B: Wait. Think this through. There's got to be a better way.
Conclusion
This is basically where the discussion in Washington stands right now. What do you think? Ideas?
Do you have any great alternatives to these three main viewpoints? If so, share them.
This is worth thinking about deeply.
Category : Blog &Culture &Current Events &Featured &Foreign Affairs &Generations &Government &History &Information Age &Liberty &Mission &Politics