January 20th, 2016 // 7:52 am @ Oliver DeMille
The New Myth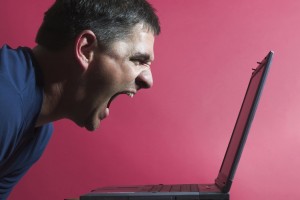 Something significant has occurred during the 2015-2016 election cycle. The mainstream media has effectively portrayed "anger" or "being politically angry" as bad. "Good" citizens, in this context, are those who aren't upset, frustrated, or angry about…well…anything.
Indeed, the media has created an interesting picture of what politics should be (in their opinion). This is multifaceted, but actually quite simple. With careful camera shots, and a clear agenda in the editing room, the media has portrayed two Americas–both of them far from accurate.
On the one hand, Donald Trump, Ted Cruz, Chris Christie, and Carly Fiorina have become the faces of American anger. When the media shows clips of these candidates, they are animated, usually upset about something, and speaking in strident tones with extreme words.
Their supporters are portrayed in nearly all of the video images as rowdy, unthinking, and a bit star-struck. The clips are carefully selected to show middle- and lower-class-looking Americans waving flags, wearing campaign t-shirts, and sporting sweats, jeans, un-manicured hair and waistlines that are larger-than-normal (at least on television).
In contrast, Bernie Sanders is portrayed as an apostle of decorum. Like other candidates, he waves his arms, speaks in extreme terms, and jabs his finger repeatedly at the crowd—but this is nearly always aired without actual audio. We often don't hear what Sanders is saying; instead a reporter or commentator uses moderate tones while these pictures run in the background.
We are left with the soft, soothing and studied commentaries of professional journalists, while Sanders' visual antics communicate energy, passion, and political strength. The juxtaposition of these cues and messages is subtle, but effective: "Sanders has great passion and momentum, and his ideas are credible and intelligent."
Behind the Curtain
When we are allowed to actually hear Sanders speak, he is usually sitting in a one-on-one interview, conversational, and politely direct. No finger-jabbing, no waving arms. His hair may be a throwback to an episode of Back to the Future, but he looks confidently and humbly into the camera and speaks like an economics professor. "He is just the messenger. Hear his truth…"
Most clips of his audiences emphasize trim, handsome, young people (many of them students), often with jackets and ties. Indeed, they are exact replicas of Ron Paul crowds from past elections. The older participants mostly look like academics… Once again, the message is clear.
In contrast: When Trump or Cruz are interviewed in person, the cameras invade their personal space and close in on the face. Every "angry" wrinkle is visible. The camera backs off for Sanders and Clinton, showing the whole body—dressed for an episode of Mr. Smith Goes to Washington. The message is obvious: "This is a genuine man, or woman, of the people." Clips of their intellectual discourses-of-the-day are played and replayed. As for Trump and Cruz, the sound bites are sensational and extreme.
But watch the full videos, where they are available. In reality, all four of these candidates have moments of extremism and other moments of intellectual depth. The same is true of Christie, Fiorina, Carson, and O'Malley, for that matter. Yet ask most TV viewers, and the word "intellectual" will apply to the Democratic candidates, while the Republican candidates are "extreme."
A lot of artful and conscientious camerawork reinforces these stereotypes.
To be clear: Sanders' stump speeches are every bit as "angry" as Trump's. His rhetoric is patently extreme. "Wall street is ruining it for everyone else. Greed controls our nation. The 1 percent must pay their fair share, including free college for everyone. A much higher minimum wage is absolutely necessary—anyone who disagrees is part of the lies and greed."
Likewise, Cruz is every bit as intellectual and studied as Hillary.
Anger Management
Perhaps the most interesting thing in all this: The typical ways the mainstream media portrays the Democrats are also applied to Marco Rubio. Not to Huckabee or Rand Paul. Not to Santorum or Kasich. Not to Christie or Carson. Just to Rubio.
The media has so far portrayed him as intellectual, credible, wise—like the Democratic candidates. Also, Rubio doesn't wear the typical Republican uniform (suits and ties that scream "Mr. Smith Owns Washington."). He frequently wears a sweater-like casual jacket with a zipper down the front. Very pedestrian. Very academic. Again, the mainstream media frequently portrays him like it does the Democratic candidates.
Fascinating.
[Why is that, do you suppose?]
By the way, the same thing occurred with John McCain during the 2007-2008 primaries. Later, once he was the nominee, the media shifted its approach and portrayed him the same way it had other Republican: extreme, out of touch, slick around the edges, uncaring, silver platter.
Romney didn't get this stylized media treatment in 2012, and no other Republican is getting it now. Just McCain and Rubio. Interesting…
And, again, the real message of the 2016 election, if you accept the cues and innuendos of the mainstream media, is that:
"Anger is bad!"
and
"The Republicans are all angry."
Let's consider this idea seriously. If anger is bad for politics, then we must of course be happy with everything President Obama has done. "No anger. Just smile. It's all good."
Steps to Solutions
The problem is that it isn't all good. In his last State of the Union address, the President painted a rosy picture of a more prosperous and safer American than when he took office. Both are false. The national debt has ballooned from $10 trillion when he entered the White House to $19 trillion today. ISIS is a real threat, along with Al-Qaeda, the Taliban, other terrorists, North Korea, Iran (much worse than before), China, Russia…etc. We aren't a bit safer.
There is much to be concerned about—very concerned. Calling such concern "anger" and equating it with being unintelligent or uninformed is, in fact, totally out of touch. It's also ignorant. False. And insulting.
The economy is still facing serious problems, and the last seven years have only made things worse. Are many voters "angry?" Yes, in both parties. And with good reason.
A smug, arrogant media isn't helping. Let's be honest. The mainstream media are at least as responsible for today's widespread American "anger" as the White House.
Anger isn't the ultimate solution, to be sure. But it actually is a reasonable first step. Or, perhaps, the second step, after first recognizing that something has gone wrong. There's a lot to be angry about, and only people who aren't paying attention—or actually like the status quo—feel great about the country's current path.
Determination and Change
Being angry about the bad directions Washington is taking doesn't mean voters are unintelligent, uninformed, or unsophisticated. It means they care. It means they're watching, and they expect Washington to do its job—a lot better than it has recently.
It means they're still part of a democratic republic and they still believe democracy works. They take their citizenship seriously, and they're gearing up to take action on election night.
The truth is that this is what scares the mainstream media. They label it "angry" because they don't want to admit that the majority of voters disagree with the elite media and want a lot more government "of the people, by the people, and for the people."
If you're an elitist, freedom scares you. So you call it names, like "angry" or "uninformed." In truth, it is angry, but it's actually very well informed. It's the power of the people focused on an election with an intensity not seen in a lot of years.
The people want real change, like they did in 2010 and 2014. And they're determined to make it happen. But this time, their intensity is pointed at a presidential election.
The mainstream media knows what's coming, but they're going to try to stop it if they can. This approach will make a lot of voters even angrier—and even more determined.
**************************************
The following offers valid through 1/31/16:

Click on a title for offer details:

Category : Blog &Citizenship &Community &Culture &Current Events &Education &Featured &Generations &Government &History &Independents &Information Age &Leadership &Liberty &Politics