January 7th, 2016 // 9:09 am @ Oliver DeMille
Where America Is Right Now
Whatever the President says in the State of the Union address early next week, here's what really needs to be said.
A Real State of the Union: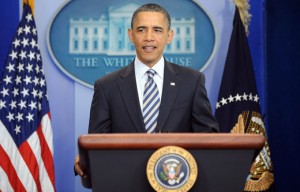 Sometimes things just don't add up. They don't make sense. There's no way to reconcile them with…well, reality. They are square pegs in a world of round holes.
I recently came across five such troubling facts and questions in current events, and, to make them even more ridiculous, they're all coming from basically the same place: The current White House.
So here they are. I'll give a little commentary on them, but not much. They're pretty self-explanatory. Or, maybe a better way to say this is that they're all amazingly ridiculous and commentary won't help.
1. According to the bipartisan Congressional Budget Office, Obamacare (the Affordable Health Care Act) will reduce the number of full-time workers in the U.S. by 2 million over the next ten years.
Seriously?
Yes.
Just think of it: That's 2 million full-time jobs that are going to be lost simply (and specifically) because of Obamacare.
This begs the question: "Then why do we keep it?"
The next three items come from an unattributed note circulating on social media. I think they're worth reading:
2. "We are advised to NOT judge all Muslims by the actions of a few lunatics, but we are encouraged to judge ALL gun owners by the actions of few lunatics."
The White House couldn't be more inconsistent on these two issues.
(By the way, I side with not judging any group by the actions a few bad apples.)
3. "Why are we cutting benefits for our veterans, no pay raises for our military and reducing the size of our army (too expensive to maintain), but we are not stopping payments or benefits to illegal aliens, or cutting federal aid to foreign countries?"
Cut the foreign aid and massive welfare (across the board, not just to immigrants) and rebuild our security.
4. "Seems we constantly hear about how Social Security is going to run out of money. But we never hear about welfare or food stamps running out of money? What's interesting is the first group 'worked for' their money, but the second didn't."
Did government use the money paid for the first group to cover the second?
The last one is just plain jaw dropping:
5. Over the course of many months our President and the White House have repeatedly assured us of two things: (A) ISIS, Al-Qaeda, and Islamic terrorists aren't much of a threat, and (B) the most pressing priority for our national security is to get more nations to sign environmental treaties.
Talk about fiddling while Rome burns…
The Real Concerns
Together these five amazing attitudes give us a pretty good indication of how our current national leadership is thinking.
What about terrorism? What about the struggling economy? What about the massive over-regulation of business? What about the huge amounts of capital and jobs that are fleeing to other nations? What about serious unemployment (hidden because of the way Washington calculates its statistics)? What about China, Iran, and Putin? What about North Korea, and Syria? What about our skyrocketing national debt? What about…
"Don't worry," we're told. "It's under control."
Really?
Where?
Certainly not here in the real world. The truth is that these things are far from "under control."
I'm an optimist, and I still believe that America's best years are ahead. But we need to make some major changes—and fast.
Category : Blog &Citizenship &Community &Constitution &Culture &Current Events &Featured &Foreign Affairs &Generations &Government &History &Independents &Leadership &Liberty &Politics