July 22nd, 2016 // 2:49 am @ Oliver DeMille
Loyalties and Addictions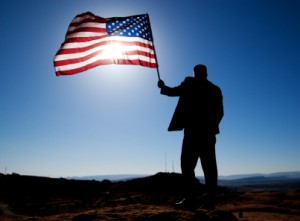 Many nations, and the global market as a whole, are moving from the Loyal Economy to an On-Demand Economy. (See Klaus Schwab, The Fourth Industrial Revolution, 2016, 72) This is just what it sounds like. Our societal focus is increasingly on what we want–not what we need, should want, or have already agreed to.
This shift is impacting work, business, management, leadership, professions, and even families, churches and communities in massive ways. It has already taken a significant toll on relationships in our modern society. Indeed, almost no part of human life has remained untouched by this momentous change.
Just think of all the ways damage can be caused by a shift away from loyalty, and changed to whatever someone wants instead, and you've got a pretty good indication of the problem. For example, as a society we have historically been known for being loyal customers—we either love or hate the Yankees, Cowboys, Lakers, etc., and many people have traditionally been very passionate about Ford or Chevy, West Coast or East Coast, City or Farm, New York Times or Wall Street Journal, Prada or Gucci, and so on.
As for Republican and Democrat, these attachments were often multi-generational, and as zealously maintained as one's religion. For a number of people, these labels (GOP or Democrat) defined "who they really were as people" more than any other feature.
But in the Digital Age we're losing many of these connections. A lot of people now switch allegiance to sports team based on how the best clubs are playing this season, and we change "favorite" recording artists or television shows almost as often as we change our socks nowadays. We press "Like" one day, and don't press it the next. Just follow the Twittersphere—changing loyalties is new a national hobby. Or addiction.
The Line
With the endless options of the Internet constantly streaming in front of us, it's not surprising that many customers—most customers in fact—consistently try out new options. Why not? Maybe the next one will be better.
The same is true of many companies. It used to be that good employees were given numbered pins each year or decade—to show how long they'd been at the company. The ideal was once to work your whole life with one organization, move up the ranks a little or a lot, and retire in the same company and town where you started your first job. The whole company threw a party, and you were presented with a gold watch, an engraved silver pen, or another memento of your long-term loyalty.
Today few companies exhibit such loyalty. Some, in fact, routinely purge upper-level management in order to replace more expensive employees with cheaper, younger models who are decades from earning a pension. The laws have made it much easier to carry your retirement savings with you from company to company, and a lot of people are constantly on the lookout for a better job elsewhere. There are popular apps dedicated to this habit.
Given today's technology, and the nimbleness big organizations must somehow try to exhibit in order to remain relevant, such changes aren't surprising. In fact, they may simply be the new way of things, the new normal. The old is always being replaced with the new. This week. In fact, in the news cycle Monday's "crises" and "tragedies" often go unmentioned by Thursday.
Thus it isn't shocking that our political leanings are going through an era of upheaval as well. During modern periods of economic and cultural stability, a majority of voters stick with the parties. Whether you like this approach or not, it's usually the reality. Such majorities may be "silent" most of the time, but on election day they vote like the experts knew they would. They toe the party line.
Parties or Menus
We have seen this kind of stability erode a great deal since 2006. The iconic memory of 9/11, followed by the failure to find weapons of mass destruction in Iraq or win the wars in Iraq or Afghanistan easily and quickly, threw the electorate for a loop, and the Great Recession that followed moved us decisively away from political stability—at least for a while. China, Russia, the Middle East, North Korea, fluctuating prices, an economy that never seems to recover, and so many other things contribute to a growing sense of chaos, and of things getting worse.
Indeed, elections seem to get crazier and crazier. Predictions by the top experts, and the masses of talking heads, are now routinely wrong.
This isn't driven by a cycle, however, meaning that we can't chalk it all up to "a phase" the nation is going through before it reverts back to its traditional, normal behaviors. Cycles and trends do sometimes explain things that happen, but this time something more is going on. The rise of nearly-ubiquitious digital mobility is still in its infancy, and it is quickly restructuring politics (along with marriage, family, community, education, career, business, the economy, etc.).
Voters are less and less likely to be Loyalty Voters, emotionally attached to one party that stands for their culture, their beliefs, their family traditions. Indeed, in a world where more and more people are routinely questioning their birth culture and family traditions, they're not likely to let loyalties based on these things get in the way of change.
Specifically, we are entering a Pragmatic Era in politics, where people want on-demand government. They want a menu of options to choose from, not a political party and its bureaucracy. They don't really want to choose between candidates. They want a little of what one candidate has, but without the rest of his ideas. They want some of what another candidate promotes, minus his personal views, or his stand on [fill in the blank…]. They like what they hear from one candidate on one day, but disagree with what she says the next.
Response Government
It's not so much a targeted electorate where the candidates try to win over the biggest special interests—like it has been for the past two decades. What's emerging now is, to repeat, a growing clamor for on-demand politics. Voters want to unbundle government. They want to be able to select "yes" items and "no" items from every candidate running for high office.

In other words, they want Washington to live in the Digital Age. They want to directly email—or, better still, text—presidential candidates and have an on-going dialogue with them, and then continue the dialogue after the president is elected.
"I liked your speech yesterday at Georgetown, except for the part on naval upgrading. What actually needs to happen is…"
Moreover, they want the President to answer their email.
"Thanks, Amy. I see your point. I'm meeting with the Joint Chiefs later today and I'm going to tell them your recommendation—and order them to do it. They really need it. Good thing you're on our side and sent me that email."
Today's voters want the government to respond the way Amazon does. Immediately. In fact, they want to be able to sign up for the President's  Prime service—free answers within the hour, and nearly-immediate government implementation of whatever you tell the Oval Office to do.
"Get your policy implemented by Tuesday at 8 p.m., if you order it in the next 8 hours and 41 minutes. To get it by Monday at 8 p.m., pay an extra $3.99 and click here…"
As a result of this shift in voter expectations from their government (and the fact that government is still stuck in the 60s–or maybe the 70s–ways of doing things), hardly anyone is truly happy with any election anymore. Presidents Bush and Obama may well be the last loyalty-backed presidents. Indeed, barring a major military threat that unites the nation against a common enemy and brings back a loyalistic approach, most future presidents may well be one-termers.
That's worth repeating. We may be entering an epoch of one-term presidencies. We've already seen the voters moving this way with their seeming schizophrenia in presidential versus Congressional elections. They routinely put one party's candidate in the White House and simultaneously fill the Congress with the opposing party.
Solutions
Again, what the voters really want is a truly on-demand system, where they can elect national leaders and direct their actions issue by issue, "no" on this, "yes" on that—preferably with a click of their computer—er, smartphone. This is leading in the direction of more democracy, specifically a more democratic system built around online voting. And, honestly, most modern Americans see this idea as excellent, obvious, and overdue.
In response, I have two words:
Federalist.
Papers.
If you have studied them in depth, you know exactly what I mean.
But most people haven't.
And that means we're in for a wild political ride just ahead. It might contain a series of one-termer presidents (the nation swinging pendulum-like to and fro, then back again, over and over), a serious party shakeup with a new dominant national political party (or two), or it might be something even more surprising.
Whatever is coming, there is a widespread sense that it's big. And we don't even have Steve Jobs to walk out on a black stage in his black t-shirt and announce the future. If he were still around, he'd tell us to hold on to our hats, because this flight into the Era of populism, globalism, voter pragmatism, and digital-age on-demand revolution is just beginning. And the only thing we know for sure is that it's going to get bumpy.
(Solution: It's more important than ever for regular people to deeply study the core principles of freedom! The politicians and "experts" aren't going to fix this for us—they're the ones piloting the current chaos. For a beginning reading list of core freedom principles—and audios to go with each— join Black Belt in Freedom)
Category : Aristocracy &Blog &Citizenship &Community &Constitution &Culture &Current Events &Education &Featured &Foreign Affairs &Generations &Government &History &Independents &Information Age &Leadership &Liberty &Mission &Politics &Producers &Statesmanship &Technology