December 14th, 2016 // 8:08 am @ Oliver DeMille
In light of the recent election, a deeper understanding of the real battle facing America in the year and decade ahead is incredibly important!
But surprise: It's not what most people think.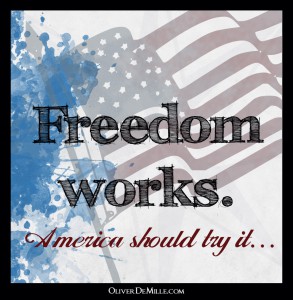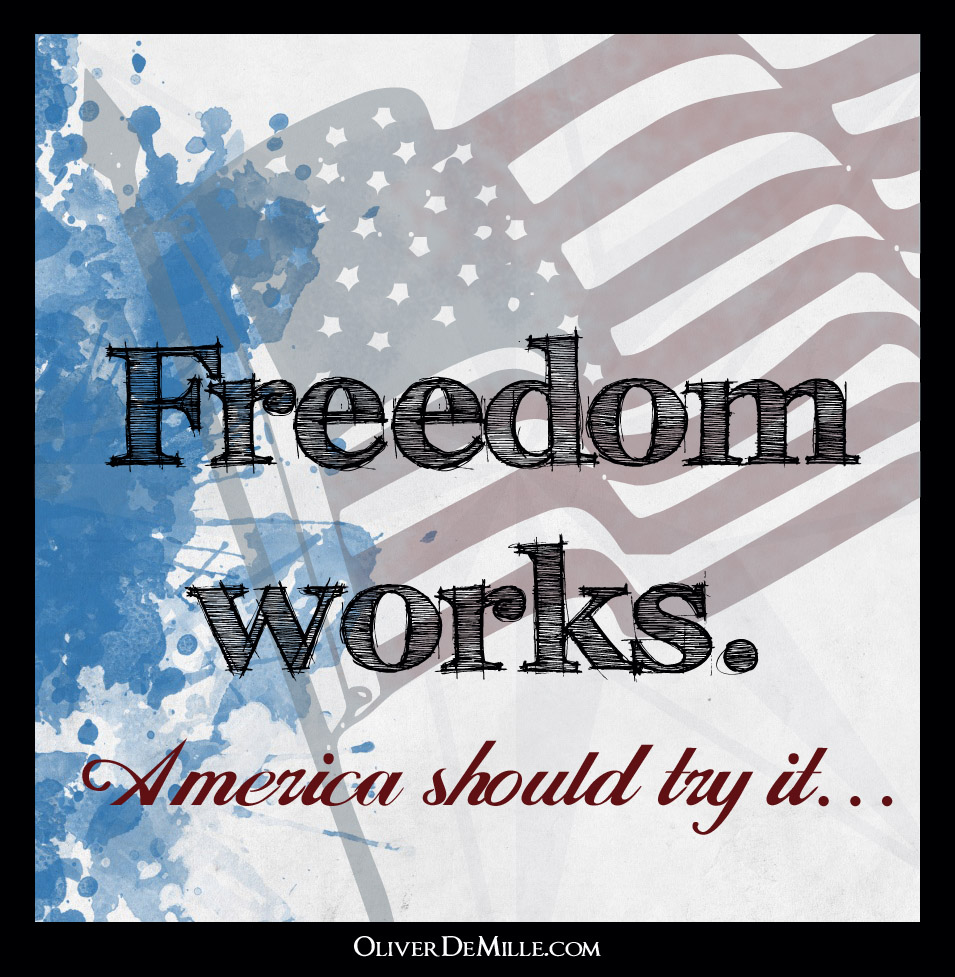 THERE is a hidden battle raging for the future of America. And, by extension, this battle impacts the prospects for freedom around the world. Indeed, if the great freedom system created by the Declaration of Independence and the U.S. Constitution is lost in the United States, it will likely take centuries before real freedom regains its current level of influence in the world.
This is the great struggle of this generation, but sadly the center-point of this contest is unclear to most people. Only a relative few understand what is actually going on behind the curtain. In fact, this battle for our future hinges on two main questions.
The first question is:
Will Socialism or Free Enterprise be the leading economic system of the 21st Century?
This conflict has been boiling for nearly two centuries, but it is now reaching its climax in the United States. If socialism wins the day, the future of freedom and economic opportunity in the decades to come will be bleak—in North America and around the world.
The decline of the free world will accelerate, China and other socialist-based nations will rise more quickly and gain global power (often by applying free enterprise principles), and the Founding Fathers' experiment in constitutional self-government will end. Our standard of living will decrease in the decades ahead, the standard of living for our children will be much lower than ours, and their children will likely have a lower standard still.
If, on the other hand, free enterprise wins this battle, the future of American influence will be strengthened, freedom and economic opportunity will spread, and the free world will reboot and rekindle the philosophy of liberty for all humanity.
But the future of this battle is very much in doubt, mainly because the forces of free enterprise don't actually know who they really are. Free enterprise is losing in both major American political parties, and in the media, academia, Hollywood, and among the political and financial elite. The combined supporters of socialism, though certainly not a unified team, are clear about their goals and strategies. In contrast, those who stand for free enterprise are fractured and unsure, because they are divided by a central confusion about what free enterprise really is. Even when they win elections, the divide remains.
In nearly all writings from the past five decades, when authors speak of socialism and its top competitor, the words used are socialism vs. capitalism. This brings us to the second great issue in the battle for our future:
The second question is:
If Socialism isn't victorious in dominating the 21st Century, will the winner be Free Enterprise or Capitalism?
These two great questions (socialism vs. free enterprise on the one hand, and capitalism vs. free enterprise on the other) will be the guiding themes of the coming decades. If capitalism wins, the consequences won't be as negative as socialistic dominance, but they will not be as positive as the results would be under free enterprise.
When a friend told me a while ago that he thinks socialism may be the only answer to our nation's decline, I was surprised. It's not what I'm accustomed to hearing from him over the years. But I think I understand what he was saying. Capitalism as we currently apply it too often wreaks havoc with our freedoms, our economy, and our future.
I don't like the word "socialism" because it has too much baggage (totalitarianism, Marxism/Leninism, a string of failed nations that destroyed their society by attempting to adopt it, etc.) and because there is a better answer. But I do see the desperate need to deal with what modern society calls "capitalism" has done to us. When some people say "socialism", they mean that capitalism is broken and we need a real solution—soon. And they're right.
I'm not sure if this is what my friend meant or not, but a lot of people feel this way. It's a common bond of many who are tired of the "politics as usual" options provided by the Establishment. The desire for something different cuts across the political divide, and its ranks are growing. It has won some surprising elections, but frequently such elections were followed by disappointment as those elected failed to bring true solutions that work.
What does this all mean? What's behind it all? What is really happening?
Basic Training
Let's start with the basics. Put simply, free enterprise and today's system of capitalism aren't the same thing. Free enterprise is strongly supportive of freedom for all people, while what usually passes for modern capitalism isn't free enterprise at all, but actually crony capitalism. And crony capitalism deeply undermines freedom.
The problem is straightforward. Both socialism and crony capitalism are steeped in class divisions. Neither treats everyone the same before the law—whether they're upper class, middle class, or lower class. Socialism claims to do this, but it has never created a society that actually delivered on its promises. In fact, socialist nations have some of the widest divides between the super-rich and poor in the world. And the underclasses in socialist systems are widely neglected, terrorized, and abused.
Crony capitalism is also a disaster. There is a different set of laws for the wealthy than for everyone else, laws that help the rich get richer and the powerful gain more power—while the under classes are routinely treated differently by officers of the government, regardless of what the laws say on paper. To repeat: Under a crony capitalist model, the elite classes have numerous special benefits in the law that allow them to increase their wealth and power at the expense of the rest of us. The law is written to help them, and to keep others from effectively competing with them.
The truth is, crony capitalism is a terrible system. Terrible for freedom, and terrible for prosperity. It lasts because a few elites at the top obtain huge wealth and inordinate power—and they like it that way. Likewise, socialism is terrible model. It almost never gets implemented in a way that even remotely resembles what its proponents idealize and promise. It nearly always becomes an Orwellian caricature of equality, freedom, and "prosperity for all." Both systems are deeply flawed.
Crony capitalism gives too much power to the money elites, who frequently use it to influence government; socialism gives too much power to government elites, who nearly always use it enrich themselves and give special benefits to their families and colleagues. Both socialism and crony capitalism have proven repeatedly and consistently harmful for the regular people, the masses.
Binary Code
Part of the problem is the binary way in which most moderns see this struggle. Meaning: Many people think that if socialism increases in a nation, capitalism must be decreasing, while if capitalism declines then socialism is on the rise. The truth is that socialism and crony capitalism are natural partners. When the crony capitalists give great power to wealthy elites, the people naturally begin demanding socialistic programs from their government.
Likewise, when socialists increase the amount of money government takes from the wealthy to offer programs for the poor, they make the government bigger and bigger—and the elites who inevitably control such governments from behind the scenes naturally absorb this increased power. The bigger the government—even in the name of social benefits for the citizens—the bigger the power of the aristocratic elite class.
These processes happen simultaneously in most modern nations of the "free world." Centralized governments get bigger, they control more things in the lives of regular citizens, and a small number of elites enjoy a rapidly increasing share of the money and power.
Best of all, for the elites–when the regular people get upset with an arrangement that is making life harder and worse for most of them, the elites use investment (in businesses, banks, lobbying firms, special interest groups, media, etc.) and donations (to academia, think tanks, hugely powerful private foundations, and political campaigns, etc.) to increase their own influence. It works, year after year, decade after decade. Elites get more powerful and own a bigger share of the wealth.
At the same time, the regular citizen finds it harder and harder to make ends meet, and has less and less influence. Many of the elite-owned and elite-funded media organizations, academic institutions, producers of entertainment, and other top influencers fuel the "socialism vs. capitalism" debate, often using other labels (such as conservative vs. liberal, Republican vs. Democrat, etc.).
This debate makes many of the regular people think that someone is on their side; and it also gives them someone to see as "the enemy." But both sides, many in both major political parties, and the Establishment wings of both conservatism and liberalism, are funded largely by the same small class of elites.
Again: These elites win most elections, because they fund both sides. They win most policy battles, because they fund the opposing groups. They win at the bank too, because they manage each major political, media, and cultural conflict in a way that brings more of the regular people's money into elite-owned business services, products, and corporate bank accounts.
The solution to such behind-the-scenes elite domination is a system that treats everyone equally before the law. Everyone. Rich, poor, elite, non-elite, fat, skinny, tall, short, smart, dull. Yes, there should be a separate set of laws for minors—as a protection. But all adults in a truly free system are treated equally by the laws and government officials. This is not the case under crony capitalism. Elites get special benefits.
The Moral Law and Economy
Moreover, truly free government doesn't have any laws that are immoral. This may seem a strange concept when we are discussing economics, but it is in fact a central truth. As Bastiat explained, the people can only morally delegate to government authority to do something the people have the authority to do. You can't morally delegate an authority you don't actually have. Specifically, the force of government is moral only if it is used to defend inalienable rights. Any other use of force or government is immoral.
Together these two foundational principles are the key to free society:
Laws and government actions can only protect inalienable rights.
The government must treat everyone equally before such laws.
Socialism doesn't do this. It recommends using government force to do myriad things beyond protecting inalienable rights. And, historically, socialist societies don't treat everyone equally before the law—government officials are treated according to a different set of standards. What we call capitalism today has similar problems. It purposely sets out to give special benefits before the law to those with great wealth, with lots of capital.
Both socialism and crony capitalism operate like the Queen of Hearts in Lewis Carroll's classic book Alice in Wonderland. When the Queen plays croquet with people from her realm, she must win every shot. Not just every game, but each and every swing of the mallet. Everybody lets her win, knowing that if she is bested in even one shot the person who bested her will hear the words: "Off with his head."
What kind of system is that?
Actually, people who live in socialist nations or crony capitalist societies are used to it. They don't usually lose their heads, but they know that the whole system is stacked against them and their children. An elite class rules things—regardless of how proponents of socialism or capitalism claim things are supposed to work—and the elites get their way, either by law or by the actions of government officials (despite the so-called law).
In our modern "capitalist" nation, there are a number of laws on the books that treat elites very differently from everyone else, and long-standing practices and policies that treat the underclasses even worse. That's not socialism, it's crony capitalism. And it's a tragedy.
Still, the answer isn't socialism. Marx's model is just another flawed and broken system. The answer is true free enterprise—where the government only protects inalienable rights, and actually does protect everyone's inalienable rights (no matter their social status).
Class Divides
It's hard for many moderns to grasp just how effective such a model can be. We simply have very little experience with it. But with true freedom, everyone has opportunity. If the upper class wants to dominate, it can't. The law won't let it. (Which is precisely what the "pure socialists" are looking for.) If the government wants to dominate beyond it's proper role, it can't. (Which is precisely what free enterprisers seek.) When this is the system, as Tocqueville put it in Democracy in America, everyone belongs to the same class—all are treated equally and appropriately before the law.
The only ones who are let down by free enterprise are the crony capitalists or elites, who truly want to dominate. Their motto, as described by an article in The Atlantic on the culture of Wall Street investment bankers, is telling: "It is not enough to succeed. Others must fail." No win-win is good enough for them. Control is the only acceptable outcome. That's the driving mantra of elite rule, both in applied socialism and crony capitalism.
If the word "socialism" meant stopping such elite domination and spreading a system of true freedom, I'd be all for it. But the thing is, it already has a name: Free Enterprise. And it works, as long as we don't let crony capitalism, elitism, or socialism creep in.
Sadly, few people understand the difference between free enterprise and crony capitalism. Yet the differences are largely driving our current decline. It is time for anyone who truly cares about freedom in our modern world to clearly understand this battle, its roots, and the future it is creating for us even as we speak. Moreover, it is time to remedy this situation before it entirely restructures our society. Freedom hangs in the balance.
This is about freedom, success and progress, and how all three are served better by free enterprise than either socialism or crony capitalism. It is about who we really are as people, Americans and members of the free world, and why the differences between these two ways of life—capitalism and free enterprise—are at the root of our future.
Semantic Power
For far too long free enterprise has been held back and watered down by the tenets of capitalism. In fact, perhaps the most significant reason socialism has been able to capture the support of so many people in modern times is a direct result of confusing free enterprise with capitalism.
When the differences between capitalism and free enterprise are clearly understood, and the flaws of capitalism are removed from our opinions of free enterprise, socialism will have little or no chance of winning this great battle for the hearts and minds of the people.
Before World War II many Americans combined their view of Stalin's communism and Hitler's Nazism into one group considered an axis of evil, and during the Cold War many people mistakenly saw communist China, Russia, North Korea, Vietnam, Cuba and others as one cohesive entity. This caused numerous flawed policies—and cost far too much in blood, sacrifice and treasure—because national leaders took action based on faulty assumptions.
Likewise, today many people erroneously lump capitalism, democracy, and free enterprise into one indistinguishable whole. But free enterprise is a system of true freedom, and while democracy is clearly better than totalitarianism and capitalism is in some ways superior to socialism, free enterprise is significantly better than all these alternatives.
Free enterprise deserves to be understood on its own merits, without the baggage of capitalism weighing it down. Nearly all of the legitimate criticisms levied against free enterprise are actually attacks on the flaws of crony capitalism. As a result, free enterprise has seldom received a full consideration on its own merits. Indeed, if the battle for the 21st Century comes down to capitalism vs. socialism, socialism may very likely carry the day.
True free enterprise, in contrast, is the best economic and political system known to mankind, and if it is understood as it truly is, free from the stains and blemishes of crony capitalism, few will see socialism as the right choice for humanity. Ideas have consequences, as the great Richard Weaver assured us, because all human actions aim at some goal, some ideal. What we hold up as our standard impacts our most important choices as a nation. As long as our ultimate objective is capitalism, socialism will always have its coffers full and its meetings packed. Capitalism is flawed; so is socialism.
In contrast, free enterprise is a very different model indeed. It is time to truly understand free enterprise, to decide as a generation if free enterprise or it's de facto modern opponent, capitalism, deserves our support against socialism, and which model we want to pass on to our children and grandchildren.
Again, if the battle is between socialism and crony capitalism, as we have seen for generations, the victor is still unclear. But if free enterprise has a real opportunity in the full light of day, if every citizen in the free world has the chance to understand it for what it really is and choose to support or reject it, the days of socialism are numbered.
And free enterprise is not some idealistic dream. It alone is the proven system of widespread freedom and economic opportunity in mankind's history. Free enterprise is the basis of most real and lasting freedom everywhere, whether people have recognized it as such or not. Even where capitalism has gotten credit for freedom and prosperity, the truth is that free enterprise was the actual source of success.
As free enterprise goes, so goes freedom—in every nation of the globe, and through every epoch of human history. It has seldom received its due, but it has been at work wherever freedom existed, spreading opportunity from behind the scenes.
It is now time to give free enterprise a bigger chance, to at the very least see what it stands for on its own, how it differs from capitalism, and what it promises for those who implement it in their society. This is a book about freedom, and the reality that the actual principles and processes underpinning all human freedom are found in free enterprise.
One thing the new leadership in Washington, and the people, need to clearly remember is this:
To the exact extent that free enterprise (not crony capitalism) flourishes in the 21st Century, we will see real freedom expanding its blessings in America and in the world.
(Note to Reader: This post is part of an upcoming new book by Oliver DeMille, entitled: Free Enterprise versus Capitalism: Battle for the Future of Freedom. Look for Part Two of this report, which will provide more details on this great hidden battle of our time, in another post coming soon.)
Category : Aristocracy &Blog &Business &Citizenship &Community &Constitution &Culture &Current Events &Economics &Education &Entrepreneurship &Generations &Government &History &Independents &Leadership &Liberty &Mini-Factories &Mission &Politics &Producers &Statesmanship