January 31st, 2017 // 10:36 am @ Oliver DeMille
Servant or Partner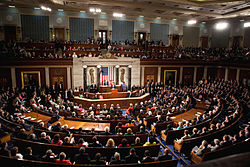 There is a funny undertone right now in many media circles. For decades the national mainstream media has largely portrayed Congress as the little brother of the White House—existing mainly to support the president's agenda. Since at least 1996 the level of independent action by Congress—directly tackling presidential action and shutting it down when necessary—has decreased. On a longer trajectory, this same pattern has been gaining momentum since 1861. Many have referred to it as the era of the Imperial Presidency.
Moreover, real use of power by Congress has become increasingly unacceptable in the eyes of the national media. Just consider the results when Congress tried to use the purse strings to check the president: the media called it "shutting down the government" and portrayed any who supported it as pariahs.
Now that Donald Trump controls the future of the Oval Office, however, the media is seeing things from a different perspective. Maybe the silver lining in Trump's election, a number of journalists are suggesting, is that Congress can finally get back on track. It should be more of a partner with the president, less of the president's support base.
Well…yes. On the one hand, this is patently true. Of course Congress should be a partner, independent, sometimes supporting and other times checking the White House and pruning the powers and budgets of the sprawling executive bureaucracy. On the other hand, it is ironic that the media is just now figuring this out. Thanks to Donald Trump, the media is suddenly concerned that we need a stronger, more independent Congress. But when Barack Obama was in charge, not so much.
Filling Purpose
This is a fundamental problem with liberalism/progressivism. It promotes what it wants, and changes its views on our system of government whenever such promotion would benefit its agenda. In the process, however, it creates confusion and chaos. "Follow the Constitution when it blocks something we don't like, but just ignore or circumvent the Constitution when it makes what we want more difficult."
The official name for this is "rule by men," as opposed to "rule by law." As one article suggested, "The arrival of President Donald Trump could revive Congress' political will…" (Foreign Affairs, January/February 2017, 133) Many in the media seem to think this is a new idea. Indeed, Congress might actually start doing what the Constitution says it should do.
A wave of progressives sigh in relief. "Congress shouldn't have blocked Obama, clearly. But it should block Trump. A lot." The hypocrisy is poignant.
Or consider another suggestion: "…foreign policy leaders in Congress should take advantage of their positions to fight back against deception on the part of the executive branch." (Ibid., 143) This is exactly right. What isn't mentioned is that Congress should have been doing precisely the same thing a lot more effectively for the past eight years.
"Legislators often sense that the administration is not telling them the whole truth but do nothing to call it out." (Ibid.) A serious problem. But why didn't the national media call for a change while Obama was in office? Why did they in fact excoriate any Congressional committees that tried to do exactly this? Why the newfound popularity of the Constitution among media elites now?
Don't get me wrong. I'm elated that more voices are now calling for Congress to step up and do its job. All I can say is: "Finally. It's about time." I support this trend, even if it is coming many years late. I can't help but smile at the irony, however. Now that their candidates are out of office, many in the liberal media are suddenly noticing the importance and value of the Constitution.
The Lesser of Two…
As one writer put it, quoting Arthur Schlesinger, Jr.: "History has shown that neither the Presidency nor the Congress was infallible, and that each needed the other—which may well be what the Founding Fathers were trying to tell us." (Ibid., 145) Right on. Just as those of us who believe in the Constitution have been saying for the last three decades.
But this trend is bigger than first meets the eye. The sad reality is that the Constitution is more often lauded and promoted by those out of power than those in office. The real need is for it to be cherished and followed by those in authority.
Which brings us to the subject of President Trump. Many who voted for him didn't do so because they believed he was the great champion of the Constitution, or even America. Indeed, many Trump voters weren't at all sure what their vote would bring about in our nation and world. They cast their ballot for Trump largely because they were sure a vote for Hillary would bring more the same—more rule by career politicians and bloated bureaucracies, more economic stagnancy and empty promises from Washington, more business as usual politics, more blah, blah, blah from the mouth of politicians, more problems and few actual fixes.
They voted for change, hoping that it would actually come. Many—perhaps most—feared that the election wouldn't actually change things very much at all. Politicians frequently promise change, and then don't deliver. Why would Trump be any different? Many Americans are still skeptical that things will truly improve. They expect more bureaucratic double speak, more economic bad news.
They're waiting, watching. Wondering what will happen. As one Trump voter told me: "Maybe Trump will make things better, maybe he'll make things worse. But with Hillary we know what we'll get: more of the same. No solutions. Just an endless stream of problems. If Trump can bring even a little bit of positive change, it's worth it."
Note the cynicism wrapped in a tiny husk of wistful hope. "If" he can bring "even a little bit of positive change…" The subtext is sobering: "It's not likely anyone will bring any solutions. But if only we could get even a tiny bit of good news…"
Dusk or Dawn
We are now an America deeply in doubt. "No good news will come. Probably not even a little. But still, if only it would…"
The desperation is palpable, if we allow ourselves to notice. In short, America 2.0 is suffering from PTSD. We're just waiting for "the other shoe to drop." Too many Americans expect bad news. We expect tragedy. We are biding our time, assuming bad things will come. "This is the new normal," the Obama Administration told us. We anticipate more that is negative.
Consider the following headlines:
"Officials hold firm, despite Trump's skepticism" (USA Today, January 6-8, 2017).
"Department stores become endangered" (Ibid.) [More lost jobs, the end of the Mall Era that began in the Eighties and became synonymous with the postmodern American Dream.]
"Year Ahead: A partly sunny outlook for sales" (Ibid.) [We bide our time, trying to stay positive, largely sure that clouds are coming.]
"Sears watches its relevance fade in changing world" (Ibid.) [For many people, this sentence would be even more true with the word "America" inserted for "Sears".]
"Macy's and Sears, which owns K-Mart stores, announced more than 200 store closings on Wednesday and Thursday" (Ibid.)
All of these come from one page of the same national newspaper. They paint an emotional picture of a nation not in full-blown crisis but clearly expecting it. Or, maybe, it is in crisis already. Sadly, each day's front page is similar. Another front page from a different national newspaper tells the same story:
"The retail property market is showing signs of a slowdown…" (The Wall Street Journal, January 6, 2017)
"Trump Creditors Are Many, Varied" [The article tells us the new president is deeply in debt, as is the norm for real estate developers, and this may weaken his ability to lead.]
"The Yuan surged, posting its largest-ever two-day gain against the dollar…" [China is still gaining ground on us, slowly but surely.]
"Trump blasted Toyota…" [Big government and big media are constantly in conflict.]
"Belgium's Botched Hunt for ISIS Cell" [Danger everywhere…]
Looking Forward
Look past page one, and the same newspaper adds the following:
Young people are now renting more, buying fewer homes.
"More older people carry student loans"
Research shows that smartphones hurt children's eyes.
Sales at Barnes and Noble and other bookstores are way down, while liquor sales are up.
Saudis cut oil production, so fuel prices are expected to rise.
Macy's, Kohl's, and many other retailers' sales are way down.
The news is endless. It's more than "bad news sells," there's a distinct tone of worry, concern, even fear of what's ahead. "What is coming next?," Americans seem to be asking. The answers are generally cynical and a bit gloomy.
Again, in this environment, the Constitution is gaining "support" in many media outlets. No doubt President Trump will face many big battles with Congress, not just from Democrats but from those in his own party. (See The Wall Street Journal, January 7-8, A13) In fact, Trump probably won't just face an attempt to set the national agenda from Chuck Schumer, but also from Paul Ryan. (Ibid.)  Congress seems poised to reassert itself.
That's a good thing. The Founders would have applauded. It's way past time for Congress to do its Constitutional duty and stand up to the President as needed. Sadly, it didn't do this very well during the Obama era—or the Bush era, or the Clinton era. It's great that there is more support for such a resurgence today, even it makes us chuckle at the irony.
The fact is, the Constitution is still the best hope for good government. We should follow it. Congress should follow it. They should follow it with Trump in office, and with anyone and everyone else in the Oval—not just when it's convenient, or popular in the media, but always.
Category : Blog &Citizenship &Constitution &Culture &Current Events &Economics &Foreign Affairs &Generations &Government &History &Independents &Leadership &Liberty &Politics