February 16th, 2017 // 12:51 pm @ Oliver DeMille
Generations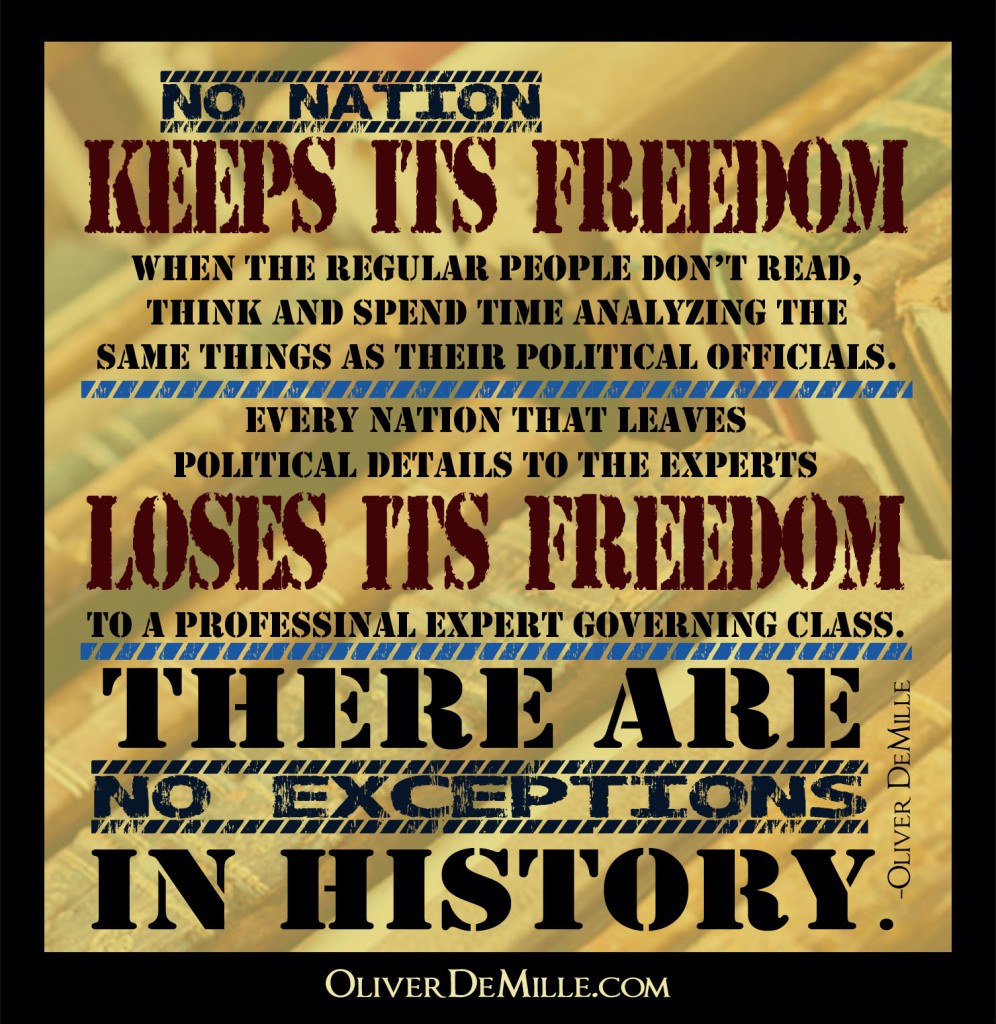 We are on the verge of a new media era in America. The first occurred during the American Founding, and was characterized mostly by articles and pamphlets—short, direct commentaries by numerous citizens on whatever topics they considered important. The second era was dominated by full-time commentators and publications—the Newspaper Age—where nearly everything that got published had to go through editors and editorial boards.
A third phase of American media centered around professional journalists—newspaper, magazines, radio, television, and cable—who saw themselves as intermediaries between those with financial/political power and the rest of the populace. At its best, such journalists bravely stood up to power and told the populace the kind of truth that only insiders can know. At its worst, mainstream media became a tool of spin for the elite Establishment.
Today a fourth, different type of media is taking over; and while some of its members naturally attempt to look as much as possible like the journalists of the Professional Era, many others couldn't care less about what is increasingly considered old-style "credibility". In this new stage of American media, we are in many ways witnessing a return to the kind of media that dominated the American Founding.
Circling Around
Consider the parallels, noticeable in the following quotes about American media between 1760 and 1790:
"The newspapers, of which by 1775 there were thirty-eight in the mainland colonies, were crowded with columns of arguments and counter arguments appearing as letters, official documents, extracts of speeches, and sermons."[i] Some of these were closely screened by editors, but the majority were not. Newspapers during this time period were a gathering place, where practically anyone could share an opinion or argue with the views of someone else. Unlike modern newspapers—where even op-eds and letters to the editor are carefully vetted, partitioned, and "blue-lined"—this was a grassroots free-for-all, much like today's blogs, memes, vines, posts, tweets, etc. Regular people (not editors, boards, or committees) wrote them.
"Broadsides—single sheets on which were often printed not only large letter notices but [short] essays…appeared everywhere; they could be found posted or passing from hand to hand in the towns of every colony."[ii] This is in many ways a similar kind of media as modern blogs, tweets, RSS feeds, and social media posts—specifically, news and thoughts on the issues go directly from the individual to others. Some ideas catch on and spread, others don't. But professional editors and committees are entirely left out of the process. It's person-to-person media, like that experienced during the American founding.
"Above all, there were pamphlets: booklets consisting of a few printer's sheets…. Then, as now, it was seen that the pamphlet allowed one to do things that were not possible in any other form."[iii] This is like the modern blog or online article—from 1 page in length to 8 or even 10. It addresses a topic, without editorial oversight, and is shared with anyone who shows interest. Many of today's pamphlet-equivalents are also found in online tutorials, YouTube videos, TED talks, etc. In the same way that reality television is often more popular than shows that are scripted, edited, and re-edited, person-to-person media is the new reality. The professional mainstream media—big business—doesn't like this shift, of course. But that hasn't stopped it from spreading.
Popularity Contest
Apply what George Orwell said about person-to-person news in his day: "The pamphlet is a one-man show. One has complete freedom of expression…more…than is ever possible in a newspaper, or in most kinds of periodicals. At the same time, since the pamphlet is short and unbound, it can be produced much more quickly than a book…. Above all, the pamphlet does not have to follow any prescribed pattern. All that is required is that it be topical, polemical, and short."[iv]
The word polemical certainly describes a lot of modern online posts—clearly expressing opinions, and frequently against something. When people see a concern or a need, the Internet allows them to research, learn about it, and share their opinions widely.
As noted, this is a significant return to media between people, rather than media controlled by experts and handlers. No wonder the modern media is apoplectic about this development in the Age of the Internet. They're losing both their jobs and their status; even media professionals who keep their jobs are watching their prestige and credibility decline.
In much of society the media is now less popular than Congress—a dismal position in the past few decades. The reasons are instructive: (1) Increasing numbers of people simply don't believe what the media says. (2) A lot of people, maybe a majority of people, think the media has deeply abused its power by trying to sway the populace on numerous occasions—and that perhaps it always did, even before most people realized what was happening.
The Need to Question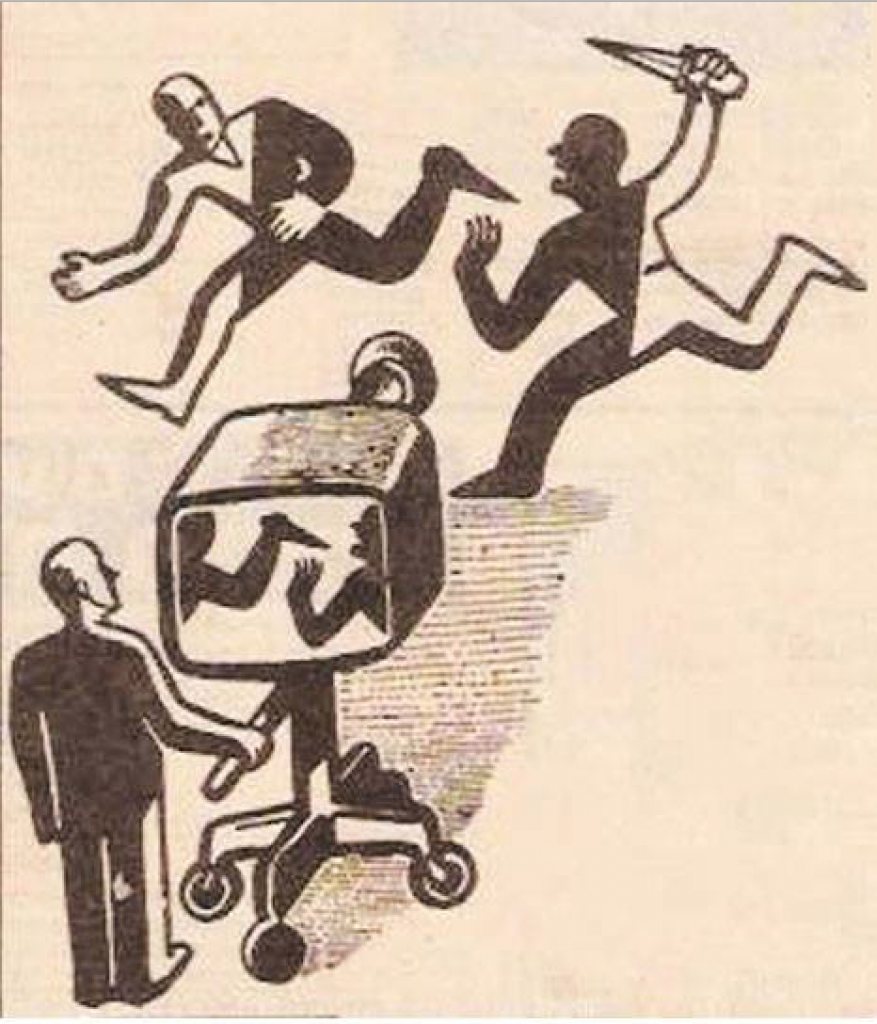 During the American Founding era, all "great public events"[v] were "surrounded"[vi] by numerous individually-produced media responses from various citizens on all sides of the issues. This had huge influence on the nation. While some people argue that professional media is better at emphasizing the facts than person-to-person media, a growing number of people simply don't trust the mainstream media to remain objective. The history of media in just the past twenty years proves that media outlets have almost consistently exhibited a clear and obvious bias.[vii] To trust them now without skepticism and deeper personal research would be entirely unreasonable.[viii]
Moreover, more people are asking themselves: If individuals must research things on their own to find the truth, why should we give any real credence to the words of "expert" media figures? A lot of Americans don't. Since most of the professional media is clearly biased, even partial, why give it our carte blanche trust? The truth is, all media has some spin.[ix] Let's just admit this reality, and let citizens read what they want and draw their own conclusions.
The myth of a truly objective and accurate professional media system is just that: a myth. Certainly there are still good journalists,[x] but trust in our media Establishment is largely fractured. Citizens must take what the news tells them with a grain of salt—or continue allowing themselves to be expertly "shepherded" by the mainstream media.[xi]
A look back at history is instructive: The American Founders deeply believed in the people. They didn't consider the masses perfect, or infallible. But they realized something today's elites seem not to understand: that experts and political leaders have the same flaws, faults and weaknesses as the regular citizenry. Trusting either group is potentially dangerous, but trusting elites to take care of the masses will always fail, while trusting the people to take care of their own interests will, over time, lead to better results than giving such power to any small group of influencers or rulers.[xii]
The differences between experts/elites and the people are important. While the modern media tends to operate on a "chisel of skepticism driven by the hammer of social passion," as Michael Polanyi put it,[xiii] the people have long been too trusting of, and too dependent on, the press. The masses needed a bit more skepticism, and it has come in spades in recent years—spurred more than anything by the triangular relationship of the people, the media, and the president, from Bill Clinton and George Bush to Barack Obama and Donald Trump.
Freedom vs. Followers
We live in an era of Reality News, not just Reality Television. The people of the nation are less and less interested in news filtered by experts. They want things straight up, raw, and direct. Media consumers now prefer the smartphone camera version of the news, captured by whoever happens to be passing by, rather than the slick, doctored news filmed and edited by professional camera crews and producers (although we usually need to take such reporting with a grain of salt as well).
The worst "problem" with the new era of person-to-person media is that people will have to think deeply, think independently, avoid being swayed by whatever they read or watch or hear, do some further personal study on news stories that interest or effect them, and ponder the issues on their own.[xiv] Which, we should all note, is precisely what every citizen should have been doing all along with any news reported by the mainstream media.
This is necessary for freedom to flourish. The new era of widespread person-to-person media is more conducive to real freedom than any media system since the American Founding. It also has real dangers—if people don't actually study and think.[xv] But at least with person-to-person media, we know this is the reality: it is up to the people to vet the news.
The truth is that a media revolution has already occurred: anyone still largely trusting the mainstream media and accepting its words at face value is stuck in fantasy.[xvi] Nobody reads multiple Facebook posts and just believes everything. But that's largely how many Americans absorbed ABC, CBS, NBC, and CNN news for decades.
It is time for a different kind of citizen. The era of implicit trust in a professional media is over. What remains to be seen is if we as citizens will do any better.
Notes
[i] Bernard Bailyn, The Ideological Origins of the American Revolution, ch. 1: "The Literature of the Revolution".
[vii] See Neil Postman and Steve Powers, How to Watch TV News.
[x] See, for example, Bill Kovach and Tom Rosenstiel, The Elements of Journalism.
[xi] See op cit., Postman and Powers.
[xii] See, for example: John Adams, Discourses on Davila; St. George Tucker, View of the Constitution of the United States.
[xiii] Michael Polanyi, The Logic of Liberty, p. 4. [see pp. 4-6] (Classics of Liberty Library version)
[xiv] See Alvin Toffler, The Third Wave.
[xv] See, for example, Joshua Cooper Ramo, The Seventh Sense, pp. 300, 170.
[xvi] See, for example, op cit., Postman and Powers.
Category : Aristocracy &Blog &Citizenship &Community &Culture &Current Events &Economics &Education &Generations &Government &History &Information Age &Leadership &Liberty &Politics