March 7th, 2017 // 8:27 pm @ Oliver DeMille
Three Five Ring Circus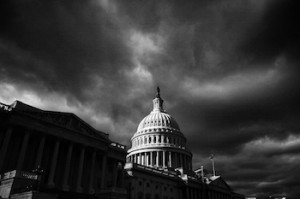 It's true. When the mainstream media says "chaos" or "chaotic", it means conservative. When the media says "divisive" or "unAmerican", it means conservative. When the media says "crisis" or "out of control", it means conservatives are getting things done. If the mainstream media communicates that everything in Washington is tainted by conflict and tumult, and the leaders are terrible people who want to destroy our nation, it means that conservatives are making headway.
To understand this, let's begin by taking a broader look at modern politics in general. Today there are 5 (not the traditional 3) major de facto branches of government, each with significant influence, and each exerting power over the American people. Much has changed since the Constitution of 1787. Today's five branches include:
executive
legislative
judicial
federal agencies and bureaucracies (now much bigger than the rest of the executive, legislative, and judicial combined, both in numbers of government employees and organizational budgets)
media and the parties (which act as major influencers on everything the government does, both in terms of policy and elections)
Each of these five branches acts differently in our time than originally intended by the framers. But the biggest problem in this new governmental arrangement is the federal bureaucracy. Agencies are seldom checked or balanced by the other branches of government, and they routinely get away with numerous unconstitutional or extra-constitutional actions.
Biased Commentary and Unused Powers
Federal agencies now produce a great deal more "law" and policy than Congress, and they mete out more rulings, fines, and regulations than Congress, the White House and the Court combined. Again, they face few checks and balances except budgetary constraints. Note that because of this, their goal is always to grow in budget and power. They are by nature liberal, never conservative, because their objective is to grow and then grow.
The fifth branch of government, encompassing the media, a large part of academia, and the two major political parties, is closely aligned with the federal bureaucracy. Conservatives have a few national media supporters, including many on talk radio and some from Fox News and The Wall Street Journal, for example, but the Democratic Party and the mainstream media, including most television networks and most major newspapers, have a near monopoly on American media. Make no mistake, the mainstream media (including Hollywood) is an integral part of the liberal movement in the United States—as it proves whenever it covers politics.
This is a bad arrangement for the American people because it is heavily weighted. While the nation is split roughly in half between conservatives and liberals, and independents who lean Right or Left are almost evenly divided, the media is strongly liberal. In the famous pre-election survey of 2016, 97 percent of national media professionals were liberal.
This means that media attacks on Republicans in office aren't going to diminish any time soon. In fact, they're likely going to get worse. Most of the mainstream news media is no longer trying to be objective—it is openly part of the liberal movement. It does whatever it can to keep its power, and increase its power. This includes lying or skewing the facts if it thinks this will further its agenda.
To summarize: Whether you like or dislike President Trump (and a lot of conservatives are troubled by his style, words, and some policies), the idea that Republicans now control the government because they hold the White House, Congress, and soon the Court, is inaccurate. Even with the executive, legislative and judicial branches in Republican control, the government is deeply split. The majority of those who work for the government in the federal bureaucracy are liberals, and even among those who vote conservative on a personal level, the natural desire to see their agency increase in power and resources means they act like liberals at work.
Also, as mentioned, the media is overwhelmingly liberal. Republicans in Congress hold the purse strings, but they've proven afraid to use this power in recent decades. At the same time, the liberal media and bureaucracy have no such fear. They use their power as strongly as they can, and their boldness is escalating.
He Said, She Said
Here's what to expect in the months and years just ahead: conservatives will try to reduce the power of the bureaucracy and K Street lobbyists (President Trump called this "draining the swamp"), but the media will cry foul—and it will be up to Congress to decide which direction we'll take. If Congress backs major deregulation and defunding of the bureaucracy, we'll see economic boom and a rebirth of American freedoms. If not, we won't.
Whether you like Trump or not, and whether he's doing things for the right reasons or more authoritarian goals, the current push for deregulation and defunding of the entrenched bureaucracy is good for America. If only Congress will follow through and make it happen.
But make no mistake: The media will fight this at every turn. The more successful Republicans are at deregulating and defunding, the worse the media will react. Remember, the mainstream media and others on the Left compared Reagan and Bush with Hitler and heaped upon them every negative they could muster, and Trump will be no exception.
In short, the conflict between media and conservatives is only going to escalate. If it slows down or weakens, it will mean that conservatives have backed down. Sadly, what we need is a lot more screaming and gnashing of teeth from the mainstream media—signaling that conservatism is making increased headway.
A lot of people don't like this, but it's true.
It Sounds Worse Than It Is
The biggest weapon on the media's side is labeling everything conservatives do with terms like "chaos," "chaotic," "confused," "divisive," and "extreme". As long as the media keeps saying this, conservatives know things are going well. Again, the media said similar things about Reagan before he helped reboot the U.S. economy and national security, and the media said similar things about Reagan before his leadership brought the Soviet Union to its knees and Berlin Wall to the ground.
The media said these kinds of things about the Tea Parties in 2010, just before conservatives took back the House. The media went on to say similar things about the GOP just before it took control of the Senate. The media said similar things about Republican candidates at all levels in the 2016 election, just before they kept both houses of Congress and took back the White House—and, by extension, the Court.
The media is saying these types of things about conservatives today, which signals that conservatives are making real progress. As mentioned, if the media ever stops accusing conservatives of "chaos", "divisiveness", "ineptitude", "being unhinged', and "causing upheaval", it will be time to worry.
We are, today, witnessing the fight of our generation. Even conservatives and Right-of-center independents who don't like Trump, Trump's style, or Trump's policies have to admit that under a Hillary presidency things would have gotten very, very bad—starting with the Court, and then spreading through government and society at all levels.
We need conservatism to win this battle—to deregulate our nation and economy in numerous important ways, and to significantly defund the federal bureaucracy. This is going to be decided in Congress, and we need Congress to do the right thing. If this doesn't occur, we may never have another chance in our life times.
So keep an eye on the mainstream media. As long as it is loudly opposed to the White House and Congress, conservatives are making progress. If the mainstream media ever starts praising the government or its leaders, citizens will know that something is going terribly wrong.
Category : Aristocracy &Citizenship &Community &Constitution &Culture &Current Events &Economics &Generations &Government &History &Independents &Information Age &Leadership &Liberty &Politics