June 21st, 2017 // 8:50 am @ Oliver DeMille
History is Repeating Itself, But Do We Know Its Lesson?
Cycling Back Around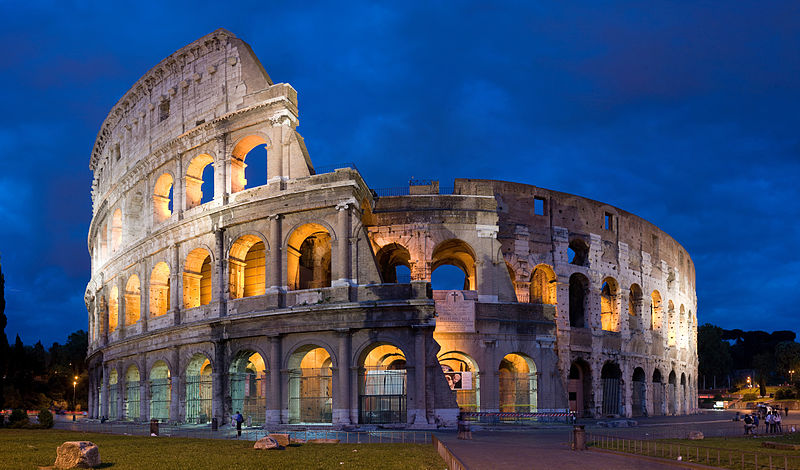 This is a chaotic time. Political scandals, media lies, shootings and violence based on political disagreements, terrorist attacks in formerly safe places. For the American people, it's both frustrating and scary.
It helps to step back and take a deep breath, then turn to history for answers. Since patterns frequently repeat, they can tell us a lot about what's actually happening—beyond the anger and intensity of nightly news reports. They can also tell us what's coming.
Here's how things work. Since the beginning of written history society has been split between three groups: 1) those in power, 2) those who have some power but are seeking more of it in order to be at the top of the power pyramid, and 3) other people who just want to live their lives. The good news is that in the United States today, a higher number of people are free to enjoy life and seek to live their dreams than perhaps any other society in known history. That's worth smiling about, no matter what the news tells us.
On the other hand, a lot of people today have a sense that things are heading in the wrong direction. We have a lot of problems, both here and abroad, and it often feels as if some spark will soon set off some kind of powder keg that leads to real crisis. It's a feeling like many Americans experienced in the late 1930s and early 1940s, or in the late 1850s and early 1860s. The American founding generation felt it at the beginning of the 1770s. In each of these cases, that sense of unease and anxiety was eventually followed by drastic challenges—Pearl Harbor, the Civil War, the Revolutionary War.
Indeed, according to the cycles of history, we're in that same turn of the pattern right now. It's unclear exactly what will happen to bring bigger national crisis, but a lot of people feel a foreboding sense that something momentous is about to come.
The Best of Times, The Worst of Times
To put this in clear perspective, the news right now is a tale of four nations.
One: the business news reports almost daily signs of an economic upturn, more financial opportunity, and budding growth in a rebooting economy.
Two: international news reports increasing terror attacks, alarming danger signs in North Korea, Iran and from ISIS, and a looming energy building for more conflicts ahead with Russia and China.
Three: the mainstream media portrays the Trump White House and the Republican Congress as ineffective, and throws out daily allegations of Administration corruptions, lies, conspiracies and hidden agendas to hurt the nation.
Four: conservative media debunks these mainstream reports and points instead to the kind of alleged corruption on the Left: Loretta Lynch, James Comey, the Clinton Foundation, illegal leaks, violent "Resisters", DNC collusion with the mainstream media, Hillary Clinton's emails, etc.
It is amazing how often these competing sources of media tell exactly the opposite story about a given event from the day's news. Most people listening to all the reports are left deeply confused, or cynical. And those who only listen to one news source are frequently surprised by what friends tell them about the news. "But I listened to the total opposite on the morning news! You must be remembering that wrong."
To make sense of all this, let's put aside the noise and distraction. Let's be as blunt and direct as possible: We are living in one of those historical periods where we face an existence-level conflict. We are literally in the midst of an existential war. Such wars are both cold and hot, violent and emotional. They are deeply rooted in the conflict between major ideas—with two cultures battling to survive, to win, and to thrive. But each side feels that it must fully defeat an opposing culture in order to survive.
Such intellectual wars have always existed, but they only reach a crisis-point like the one we are now experiencing when certain factors align. First, instead of a general conflict among ideas, the populace finds itself facing off in a dramatic disagreement between two major viewpoints, two overall paradigms that cannot peacefully coexist. Second, the stakes are high enough that almost everyone in the society firmly picks one of the two sides. Even people who are usually moderate, or generally centrist in their views, feel strongly enough about the current situation to put aside their typical willingness to see both good and bad on both sides. They now clearly see one side as right and the other as wrong. Many people go further—they see their side as Good, and the other as Evil.
Third, and this is where—according to historical patterns—the real danger sets in, more and more people find their emotions leading them, and they stop really thinking about current events. Symbols, which are always important in society, become the main thing in such eras. Symbols take over. For example, we now live in a nation where millions of people don't even consider a certain policy if it is supported by the Trump Administration. They immediately think they "know" it is bad, wrong, hurtful—as soon as the name Trump is attached. In contrast, millions of other people have the exact same emotional reaction to anything attached to the name Obama, or Hillary Clinton. Rationality, consideration, and even empathy, are largely ignored. Millions basically turn off their brains and simply react to symbols—and their reactions are emotional, charged, and frequently downright angry. This turns violent more often than in less extreme eras of history.
Diverging Paths
In the current environment, winning has become the only goal for many in leadership, and for a majority of the population. And winning itself is defined as having certain people in power and in office, and/or other specific people out of power and out of office. Nothing but winning is acceptable to far too many in positions of influence and power—both public and in the private sector.
But there is an even worse situation, and it is the one we are now living. This occurs when one side believes that winning is the only important thing, and is willing to go to any length, any extreme, to win, while the other side still believes that some things are more important than winning.
When this happens, the side that only cares about winning becomes truly extreme, loses its moral sense and ethical compass, and goes entirely on the attack, using any means and justification it can muster. The other side, still convinced that morality is more important than winning, holds back, tries to show restraint, and attempts to use reason and appeals to decency to make its case. The result, in history, is mixed:
If an election is near, the anger gets channeled to the voting booth and a winning number of voters weigh in and throw their support behind the side arguing for decency, goodness, and wisdom.
If no election is imminent, the anger grows and is expressed mostly by the political class: those on the full attack win, while the side seeking reason and decency loses.
We are now witnessing the latter scenario. And history is clear on this point: Nations are drastically hurt by this approach. It tore the United States apart in the 1960s, where we witnessed the assassination of a President and two other major national leaders, along with massive violence, cultural civil war, and the destruction of national trust and cooperation. Similar events tore nations apart during the French Revolution, the Russian Revolution, and Bismarck's Wars. The French and Indian War, the War of the Roses, the 30 Years War, and a number of others followed the same pattern. World War I took Europe for a similar ride—or, more precisely, a similar culture war culminated in the muddy trenches full of blood and machine-gun casings that webbed the continent in World War I.
In each case, it came down to two great, competing ideas or cultures, large or powerful groups supporting each side, and, eventually, the rise of symbol to extreme levels that incited violence, irrationality, and all-out culture war. We are now witnessing the same stew. Any who aren't alarmed, or at least deeply concerned, don't understand the ebbs and flows of history.
The solution, as history teaches, is to clearly identify which idea is right—and reject the other. This finally ended the great conflicts listed above, whether the conflicting ideas were communism vs. democratic free enterprise, a divine right of kings vs. the inalienable rights of all, Nazism vs. parliamentary democracy, imperialism vs. self-determination, slavery vs. individual rights, etc.
Follow or Lead?
To make matters even more challenging, today we are engaged in two such wars at the same time. First, there is the battle of radical Islamic terrorism vs. democratic inalienable rights. The clear winner will be democratic inalienable rights, which is more popular than terrorism among Muslims and pretty much everyone else around the world. Only the terrorists themselves, a very small minority of the world's population, think theirs is the right idea.
The second great war being fought right now for control of our future is more complex. More difficult. Indeed, it threatens to tear our modern societies apart. It consists of, to put it as directly as possible, the competing ideas of democracy vs. aristocracy.
Elites choose the latter. They think society should be run by a few, and that the rest of us should accept the rule of our "betters." And be grateful.
This is the underlying battle of our times. It is the war being fought in Washington D.C. between the Establishment and the American voters, and in most of our schools (where young people are largely convinced that success consists of getting a job working for elites, showing gratitude to elites, and kowtowing to elites in return for the promised salaries, promotions, and employee benefits). It is the war being fought on our campuses, and in most of the television programs and movies we consume.
Sometimes the message from schools, campuses, and the entertainment media is blatant, while other times it is subtle. But the message is nearly always the same: "the values of elites are best", and "the rule of elites in all walks of life is just the way things are—and the way things should be". This viewpoint is repeated over and over: "The best we can do is fall in line and get the kind of education and careers elites want for us." Few people are able to spend many years in this system without succumbing to its promises and threats.
Perhaps the very center of this war is the media. Nearly every mainstream media report today communicates the same message: elites are the answer, we all need to adopt and celebrate elite values, all other values are obsolete or inferior, the voters get it wrong when they don't follow elite media guidance, and the best path for our children is to embrace elite values and get the kind of good jobs that are mostly available working for elites and furthering elite agendas. The message is clear, and it is repeated from many of our most venerated institutions: "Everyone who isn't an elite, or working for elites, is a loser, an outsider, an inferior."
The Choice Right Now
This is not an exaggeration. Step back, look at our society today, the culture wars that are brewing, the leaders and their battles, and the news media. We are the world described just above—run "of the elites, by the elites, and for the elites." The United States is a society at war, and the war is democracy vs. aristocracy. Note that aristocracy is promoted by nearly all of our major societal institutions. We are a world where all men and women are created equal, to paraphrase Orwell, but some, the elites (and those who adopt elite values and work for their goals), are to be treated more equal than others.
When the voters put in presidents and other leaders approved by elites they are applauded by the same elites. Media, academia, television, movies and experts of all stripes laud such officials and those who voted for them. When voters elect anyone who threatens or challenges elite values or goals, these same institutions turn to full attack mode. It's like a pack of jackals going after their worst enemy. It's Lord of the Flies. The courts are brought to bear, the media is weaponized, schools and universities become arms of elite propaganda, and the bulk of professionals and experts turn their attention to reversing or amending electoral "mistakes." The voters must be kept in their place. Their superiors must rule.
Again, to history—it has always been thus. In fact, this is what Burke and Santayana were talking about when they warned that those who don't learn from the mistakes of history are bound to repeat them. Specifically: The aristocrats have always known how to respond when a bit of democracy raises its head in challenge. They lie, they attack, they use innuendo, they mischaracterize, they publish false reports—followed by more false reports. When they do tell the truth, they spin it to promote their narrative. Where possible, they employ character assassination. If these fail, they look for another way. Any way to bring back elite rule and control.
This can go two ways, history shows us. If the people are swayed by such elite manipulations and tactics, the elites quickly regain their power. If not, if the people hold strong against elitist lies, agendas, and domination, democracy spreads and free enterprise flourishes.
Make no mistake. No matter how it looks (and remember that elites almost single-handedly control how it looks), the battles we witness on the nightly news are not personality vs. personality or even political party vs. political party. Something deeper is afoot. Aristocracy and Democracy are at war. Rule by elites vs. rule by the regular people. This is a true fork in the road. We will either remain a democratic, free enterprise nation, or we will become a fully functioning aristocracy.
This is our choice. Right now. And it boils down to whether we let the media sway our views, or not.
Category : Aristocracy &Blog &Citizenship &Community &Constitution &Culture &Current Events &Economics &Education &Generations &Government &History &Independents &Information Age &Leadership &Liberty &Mission &Politics &Producers &Prosperity &Statesmanship