October 13th, 2010 // 4:00 am @ Oliver DeMille
AT THE CENTER OF ALL SOCIETIES sits the family, and when family culture drastically and irreversibly changes, the whole civilization is impacted.
Our politics, economy, relationships and character are going to be different based on the major family shift now occurring.
What could cause such an all-encompassing change? What exactly is happening right now that is altering our societal future?
The answer is: The shift to a matriarchal society.
And whether this actually happens in full or we are simply witnessing a slight move in this direction, the consequences are momentous.
In short, this boils down to four major trends that are remaking our society:
The rise of matriarchal society
The decreasing popularity of marriage
The growing confusion about manhood
The opportunity for masculine nurture
The Rise of Matriarchal Society
The Great Recession is touted by many as having brought the end of male dominance in our culture, and of ushering in a new era of matriarchal supremacy.
As Don Peck writes in The Atlantic:
"The Great Recession may be over, but this era of high joblessness is probably just beginning. Before it ends, it will likely change the life course and character of a generation of young adults….It could cripple marriage as an institution in many communities….Ultimately, it is likely to warp our politics, our culture and the character of our society for years come…

"[J]oblessness corrodes marriages, and makes divorce much more likely down the road. According to W. Bradford Wilcox, the director of the National Marriage Project at the University of Virginia, the gender imbalance of the job losses in this recession is particularly noteworthy, and—combined with the depth and duration of the job crisis—poses 'a profound challenge to marriage'…

"'We could be headed in a direction where, among elites, marriage and family are conventional, but for substantial portions of society, life is more matriarchal,' says Wilcox. The marginalization of working-class men in family life has far-reaching consequences.

"Marriage plays an important role in civilizing men. They work harder, longer, more strategically. They spend less time in bars and more time in church, less with friends and more with kin. And they're happier and healthier."
Women are now the majority of the paid workforce for the first time in history, the majority of managers are now women, and significantly more women than men now get degrees.
"For years, women's progress has been cast as a struggle for equality. But what if equality isn't the end point? What if modern, postindustrial society is simply better suited to women?"
As Hanna Rosin outlined in a an article on "the unprecedented role reversal now under way—and its vast cultural consequences," couples at fertility clinics are now requesting more girls than boys, three quarters of the jobs lost in the Great Recession were lost by men, many college women now assume that they will earn the paycheck while their husbands stay home and mind the kids, and women now earn 60 percent of all bachelor's and master's degrees.
Ask Rosin:
"What if the economics of the new era are better suited to women? Once you open your eyes to this possibility, the evidence is all around you….Indeed, the U.S. economy is in some ways becoming a kind of traveling sisterhood: upper-class women leave home and enter the workforce, creating domestic jobs for other women to fill.

"The postindustrial economy is indifferent to men's size and strength. The attributes that are most valuable today—social intelligence, open communication, the ability to sit still and focus—are, at a minimum, not predominately male….

"The economic and cultural power shift from men to women would be hugely significant even if it never extended beyond working-class America. But women are also starting to dominate middle management, and a surprising number of professional careers as well."
Of the top 15 careers projected to grow in the decade ahead, says Rosin, only two—janitor and computer engineer—are filled by a male majority. And the trend is not limited to the United States: both China and India boast similar indicators.
College statistics show "with absolute clarity that in the coming decades the middle class will be dominated by women."
The Decreasing Popularity of Marriage
At the same time, and certainly not unrelated, many women are finding marriage less attractive.
Sandra Tsing Loh writes that:
"for women, obsession with real estate is replacing obsession with love and marriage….Whatever the emotional need, we women can engineer the solution. But such continual resculpting may be irksome if the vessel of our current and future happiness is an actual male….

"So what if, in comparison with Jane Austen's time, when the heroine's journey was necessarily Girl Meets Boy, Girl Marries Boy, Girl Gets Pemberley, 200 years later our plots are Woman Buys Pemberley, Pemberley Needs Remodeling, Woman Hires Handsome, Soulful, Single Architect to Find Perfect Farmhouse Sink but After Whirlwind Affair Boots Him Out Anyway Because She Hates His Choice of Carpeting…?

"Whether you wish to chant 'Our houses, our selves' or 'We have houses, hear us roar,' for us women, home is where the heart is."
Loh suggests that "middle-aged female readers' tastes," at least, "are shifting away from the marriage plot."
She cites such current female classics as Committed by woman's icon Elizabeth Gilbert, Life Would Be Perfect If I Lived In That House by Meghan Daum, and Radical Homemakers: Reclaiming Domesticity From a Consumer Culture by Shannon Hayes.
About The Three Weissmanns of Westport by Cathleen Schine (which the New York Times Book Review called "an update of Sense and Sensibility"), Loh said that it is
"less about who ends up with the men than who ends up with the real estate….

"As the years grind on, Sheldon ['bald and in bow ties'] will only continue to physically collapse, as opposed to a house, whose luster just improves with age. A 100-year-old farm house? Make it 200! Even 300! Original hardware! Wide-plank floors! And what's more fun than falling madly in love with a piece of real estate?"
Quoting Meghan Daum:
"Moving, like chocolate and sunshine, stirs up many of the same chemicals you ostensibly produce when you're in love. At least it does for me. Like a new lover, a new house opens a floodgate of anticipation and trepidation and terrifying expectations fused with dreamy distractions. It's all encompassing and crazy making. You can't concentrate at work…"
And about Hayes's book:
"I am raptly studying the New York Times piece on lefty stay-at-home mothers in Berkeley who raise their own chickens. In a house with no cable…the only entertainment we have is reading….Evenings go by so slowly, I'm already halfway through my every-four-years read of Anna Karenina…

"I'm intrigued by the stay-at-home-mom chicken-slaughtering because on my rickety nightstand (flea market—$8!) is my new bible, Shanon Hayes's Radical Homemakers. Sure, it has some of the usual tropes one would expect from a crunchy-granola rebel seeking to live off the land: Hayes's daughters have lyrically daunting names like Saoirse and Ula; there is copious homeschooling; there are hushed-voice, enigmatic, and unironic biographical descriptions like 'She raises and forages most of her food in the heart of the city' (Chicago). More timid souls might balk at maybe limiting their diet to venison, figs, and prickly pear cactus; melting beef tallow for soap….And yet, I find myself dog-earing page after page, exclaiming 'Aha!' and circling passages….

"What a heady brand of feminism—self reliance in the home is a path to more authentic macro-freedom; freedom from government, freedom from corporations, freedom from a soul-diminishing economy! Like early American rebels who freed themselves from dependence on the British by pairing turkey not with imported jam but with locally grown cranberry sauce, we, too, can start a revolution in the kitchen!"
A much more direct new feminism, according to Rosin, comes from leaders like Iceland's female Prime Minister who campaigned by promising to put an end to "the age of testosterone."
And many women are simply foregoing marriage. Says Rosin:
"In 1970, 84 percent of women ages 33 to 44 were married; now 60 percent are….[T]he most compelling theory is that marriage has disappeared because women are setting the terms—and setting them too high for the men around them to reach."
In all of this, men are often seen as dull, stulted, unimaginative and unable to cope with change, while women are seen as naturally innovative, able, creative, adaptive and ready to deal with and overcome anything.
When challenges come, men are expected to mope, but the women assess the situation, develop solutions, and then muster resources and support to turn challenges into triumphs.
In this new worldview, the stereotypes are significant: men are naturally needy and dependent while women are bright, engaged and full of initiative.
Why would women even want to marry in such an environment? Many college women, according to Rosin, see men as "the new ball and chain."
Growing Confusion about Manhood
President Obama said in his 2008 Father's Day Speech that fathers are critical to the foundations of the family:
"They are teachers and coaches. They are mentors and role models. They are examples of success and men who constantly push us toward it."
Kids who are raised without fathers are five times more likely to commit crime or live in poverty and nine times as likely to drop out of school. But these statistics are all in debate, and no clear conclusions are accepted by the researchers.
In fact, as the author of Parenting, Inc., Pamela Paul, put it,
"The bad news for Dad is that despite common perception, there's nothing objectively essential about his contribution. The good news is, we've gotten used to him."
Such tepid support for the role of fathers is becoming the norm. As Don Peck wrote:
"In Identity Economics, the economists George Akerloff and Rachel Kranton find that among married couples, men who aren't working at all, despite their free time, do only 37 percent of the housework, on average. And some men, apparently in an effort to guard their masculinity, actually do less housework after becoming unemployed.

"Many working women struggle with the idea of partners who aren't breadwinners. 'We've got this image of Archie Bunker sitting at home, grumbling and acting out,' says Kathryn Edin, a professor of public policy at Harvard, and an expert on family life….It may sound harsh, but in general, [Wilcox] says, 'if men can't make a contribution financially, they don't have much to offer.'

"Two-thirds of all divorces are legally initiated by women. Wilcox believes that over the next few years, we may see a long wave of divorces, washing no small number of discarded and dispirited men back into single adulthood.

"Among couples without college degrees, says Edin, marriage has become an 'increasingly fragile' institution. In many low-income communities, she fears it is being supplanted as a social norm by single motherhood and revolving-door relationships. As a rule, fewer people marry during recession, and this one has been no exception."
More people are putting off marriage and just deciding not to marry.
One result of all this is that more communities are filled with unmarried, unemployed, underemployed, increasingly less educated, frustrated and unproductive males.
Even among educated men who are married and employed, there is increasing confusion about the ideal and proper role of men.
Few men are willing to voice a strong opinion about the roles of men and women any more, though it is a frequent topic among women.
Even those men who do share an opinion most often begin or end, or both, with a disclaimer along the lines of, "but what do I know? I'm just a man, after all."
We are at an interesting place in gender relations in America. Hanna Rosin wrote:
"Throughout the '90s, various authors and researchers agonized over why boys seemed to be failing at every level of education, from elementary school on up, and identified various culprits: a misguided feminism that treated normal boys as incipient harassers (Christina Hoff Sommers); different brain chemistry (Michael Gurian); a demanding, verbally focused curriculum that ignored boy's interests (Richard Whitmire).

"But again, it's not all that clear that boys have become more dysfunctional—or have changed in any way. What's clear is that schools, like the economy, now value the self-control, focus, and verbal aptitude that seem to come more easily to young girls."
I have suggested for many years that girls are a couple of years ahead of boys and that we do much harm by pushing boys into academics too early.
In fact, until they have a love of learning (which comes early) and then a love of studying (which usually comes to boys shortly after puberty), requiring them to do a lot of typical school work is often very destructive to their long-term education.
By establishing grade levels by age, rather than as phases that come to different children at their own pace, society often labels boys as "dumb," "not smart," "less gifted," and "behind," when in fact they just aren't yet ready to meet some arbitrary standard called a grade level.
Some boys, and some girls, may develop more slowly than the "established norm," but they are still fully capable of superb performance when they are allowed to move at their own pace.
Unfortunately, this flies in the face of the "expert" wisdom and is largely discounted by most.
One suggested solution by those currently dealing with this trend of "underperforming" boys is to create gender-oriented tests instead of standard exams. This strikes me as sad and frustrating, since I have been promoting personalized, oral exams instead of standardized tests for years.
Another proposal is to allow boys to walk around during class in order to get out their nervous attention and allow them to concentrate like girls or older students.
Again, I have taught for nearly two decades that younger children aren't quite ready for the academic environment we have forced them to endure.
Some experts want to establish all-boys classrooms and even all-boys school, and to focus on the needs of boys instead of requiring them to fit into standard classrooms.
I agree with Rosin:
"It is fabulous to see girls and young women poised for success in the years ahead. But allowing generations of boys to grow up feeling rootless and obsolete is not a recipe for a peaceful future."
Unfortunately, the pro-men and pro-boy movements that are now happening are either discounted by many as too religious, too extreme, or too angry and anti-women.
In short, the only thing which really seems to work in raising boys toward ideal manhood, regardless of what the experts are saying, is the intimate and ongoing example of fathers, grandfathers, uncles and other key male role models.
Solutions
This reality, in fact, is one of those amazing coincidences that can only be called either inspiration or serendipity.
The current crisis is offering an opportunity for men to develop their nurturing side.
Before you discount this, consider that men are as naturally prone to nurture as they are to provide.
Thousands of years of the Nomadic, Agrarian and Industrial Ages have conditioned hundreds of generations of men to find success through work.
And the long era of comparative peace and prosperity since 1945 have tended to make them feel entitled to plentiful jobs, extra cash, vacations, and leisure time, and numerous other opportunities—often with minimal effort.
The Great Recession has challenged these assumptions, requiring a new type of individual with two sets of character traits and skills:
First, extremely high levels of initiative, resiliency, ingenuity, and tenacity.
Second, much higher than traditional levels of cooperation, communication, unselfishness about who gets rewards and credit, and teamwork.
Today's generation of men and women are capable of the first list of needed traits and changes, but many men struggle to compete with women on the second list.
Indeed, for much of history it was man's lack of these very "weaknesses" that made him independent, self-assured, bold, assertive, ambitious, and what has been called simply, "manly," "Roman," and "tough."
When boys are taught, "be a man," "don't cry like a sissy," and men are told to "cowboy up," it often means precisely not to be the cooperative, communicative, depend-on-others types.
"Stop talking and just do it." "Who cares what others say or do, just do what you want."
Men still laugh at Tim Allen's grunts as the essence of male communication, and even in team athletics boys are taught to stand out and rise above the crowd.
What used to be the unwritten rules of "male dominance" are now actually seen as inability to excel in the vital second list of characteristics (communication, cooperation, unselfishness).
While of course this generalization is overcome by a number of individuals, it remains a reality for many.
Wise fathers, grandfathers and role models will help teach boys and men that there is much more to manhood than the wartime and gang-related values.
Indeed, the lessons taught from fathers to sons by generations of hunters, farmers and entrepreneurs differ greatly from those idealized by warriors, politicians and corporate raiders.
The first group idealizes cooperation, communication, and progress whereas the second prefers competition, dominance and victory.
In the Industrial Age, the "Organization Man" became the ideal for males—detached, admired, cash-carrying, benefitting from a lot of leisure time, and considered in charge of his family and its members.
The Industrial Man was the provider and the boss. At work he was an employee, a servant, but at home he was the center of the universe. He too often tended to treat his wife and children like employees and act like the boss he resented at work.
With a life experience built on succeeding as an employee, he didn't know another way of acting.
His wife was either an employee, the boss, or perhaps a fellow worker in competition for advancement, attention and rewards.
His marriage was most often seen as a contract, where both sides were expected to perform their agreed upon roles, rather than a covenant where he would give his all in sacrifice and longsuffering regardless of what the other side did.
His relationships with neighbors and his nation took on this same contractual perspective.
He voted like an employee, for what he wanted—rather than for what the nation truly needed like a farmer or owner protecting the land or the organization he raised from scratch.
Today some men are lamenting (often quietly) the loss of this concept, while at the same time the need for a new male ideal is vital.
Before the Industrial Revolution, the masculine ideal was often the best nurturer. It takes nurturing, not detached management, to grow a farm, build a business from the ground up, and raise children into adults.
The necessary attention to detail is legendary. Indeed, in the Agrarian Age the iconic man's occupation and business was Husbandry.
Providing was part of their role, but it was a secondary natural outgrowth of nurturing children like a small business in its infancy, encouraging and husbanding plants and coaxing them to grow and flourish into a farm in full bloom.
As Wendell Berry put it:
"…a man who is in the traditional sense a good farmer is husbandman and husband, the begetter and conserver of the earth's bounty, but he is also midwife and motherer. He is a nurturer of life. His work is domestic. He is bound to the household.

"But let 'progress' take such a man and transform him…sever him from the household, make…'uneconomical' his impulse to conserve and to nurture…' and not only will much of his incentive to be a good husband end, but his attachment to the land, to his nation, and to his wife and children, who are, after all, not particularly economical.

"Then, send his children away to school during the day, thus severing the wife from both husband and children, and she will naturally follow him to work looking for connection and meaning.

"Our homes are left abandoned and barren across the nation—father, mother and children are all elsewhere, seeking love and acceptance and nurturing."
New Opportunities
Then the economy tanks, the era of the male provider-warrior ends, and man stands wondering if he has any importance.
As women take more than half of the new jobs in the market, they too begin to wonder if man is needed.
Here comes the miracle.
Like a wildfire burning a forest and opening the seeds for the growth of new trees and vast swaths of new woodlands, men look around, try to see any value in their lives, and find, hopefully, inevitably, their inner nurturer.
If this sounds effeminate, you still don't realize how much the world has changed.
This transition is not simple, and we fight it with the zeal of the government battling the most threatening forest fires.
The experts and activists may call it "A New Era of Matriarchy," "The End of Men," "The Failed Marriage Plot," "The Victory of Feminism," or "a Matriarchal Society," but all of these miss the most central point.
After generations of an economy driving men further and further away from their nurturing selves, of making them more and more the provider-manager-disconnected-careerist or confused-noncommittal-freewheeler-playboy, something drastic is required to reawaken a generation of husbandmen.
A generation of husbandmen could improve the world like perhaps nothing else. Indeed this is the highest ideal of manhood promoted by feminism and its opponents alike.
And if unemployment and economic struggles are what it takes to bring about this change, it is certainly worth it.
Of course, making this change will be neither immediate, easy nor sure. There will be ups and downs, and individuals may reject the whole thing.
But the change is here, women and men are empowered, and our society is poised to take a great step toward an ideal world.
Speaking as a man, I am both overwhelmed and intrigued by the prospects.
This is about much more than just seeing the proverbial silver lining in economic struggles. We literally have the chance to become better as men, women, and people.
The debate about gender that has raged my entire life can finally be answered. We don't need to worry so much about what men or women should be or who is ahead.
We have reached a point where all the incentive is simply for men to be better men. If each of us, male and female, see things this way and simply set out to be better, just imagine the potential.
I am so glad my daughters live in a world of such opportunity—both in and out of the home. And I am equally thrilled that my sons will build their lives in a world where the whole man—nurturer as well as provider—is emerging as the ideal.
I am more enthused than ever about the potential for all our children to be equally yoked and fully happy in their marriages.
I don't believe that the era of marriage, family happiness, or the high point for men or women is over. In contrast, I have never been more optimistic about the future of family.
If we are entering an era where both women and men more broadly improve themselves, the future of the home is indeed bright—and the impact on the rest of the world is inevitable.
***********************************
Oliver DeMille is the founder of the Center for Social Leadership, and a co-creator of TJEd.
He is the author of A Thomas Jefferson Education: Teaching a Generation of Leaders for the 21st Century, and The Coming Aristocracy: Education & the Future of Freedom.
Oliver is dedicated to promoting freedom through leadership education. He and his wife Rachel are raising their eight children in Cedar City, Utah.
Category : Culture &Current Events &Economics &Family &Featured &History &Mini-Factories
September 24th, 2010 // 4:00 am @ Oliver DeMille
Producers are the most important citizens, as Thomas Jefferson put it.
Actually, the word he used was farmers—specifically, "tillers of the soil." By producing food, farmers obviously had an important role in successful society.
But Jefferson meant more than this.
Because farmers lived close to the land, they were self-reliant with respect to their own survival and received an income from providing indispensable basic needs for others.
This made them more independent than people of other occupations.
If hard times came, they tightened their belts and lived off their farms. In contrast, during the same challenges, most city dwellers and even shop owners were more likely to turn to the government or upper classes for help.
The founding generation was sensitive to the level of dependency of the European populace.
The small but incredibly powerful upper class was the only group that could live off their assets and make it through hard times like war, economic depression, or pandemic.
Because of this, the upper class was independent while everyone else was dependent on the upper classes and government.
Since the first focus of human societies is to survive, the power to survive independently was seen as true independence. Indeed, the War of Independence had this deeper meaning to founding Americans: They were finally independent of the European upper class.
Dependents versus Independents
In our day, nearly all citizens are dependent on an employer or the government.
One way to rate one's level of independence might be to measure how long you can survive, feed your family, and live in your home after your employer stops paying you anything.
Some people are two-year independents, while others are three-year independents or two-month independents, and so on.
It is not unlikely that most Americans are absolute dependents, living paycheck to paycheck or on government support.
The triple entendre here is interesting.
At a time where the growth of political independents is helping lessen the dangers of a two-party monopoly on American politics, there is a need for more people to become true economic independents (people who can survive indefinitely without a paycheck). As both of these grow, the level of American independence will increase.
Any level of economic independence is good, including everything from two months to twenty years of non-employer-dependent financial security.
But the future of freedom may well depend on those with permanent economic independence.
3 Types of Independents
There are three groups with long-term independence whose members are permanently free from dependence on a paycheck.
The first two are made up of people supported by trust funds or equivalent, covered financially for life by wealth earned or passed down to them.
Group one lives off these funds, often spending their lives in play and leisure.
The second group spends their lives dedicated to making a difference in society through service, career, investment, entrepreneurship, or whatever path they choose to use to improve themselves and the world.
The third group has no trust fund or equivalent wealth to rely upon, but has the skill set and worldview of entrepreneurial enterprise.
This group doesn't start with full bank accounts, but rather with emotional accounts full of faith and determination, grit and initiative, and an undying belief in the principles of abundance, hard work, and enterprise.
Whatever happens, members of this third group have an almost unshakable belief that there is opportunity everywhere.
They believe in themselves, and they believe that if they put their minds and hands to work they can build value out of opportunity and create prosperity through their energy and effort.
Together, the second and third groups are society's Producers.
They start, build, invest in and grow businesses and organizations that create a nation's assets, advancements, and top achievements. They employ the workers of the world.
And when hard times come, they don't ask government or employers to provide for them. Rather, they look around, assess the situation, see opportunities amidst the problems, and get to work building value for the future.
They do, however, ask government and the big established businesses to get out of the way, to allow them the freedom to turn their initiative and work into growing profits and success.
When government increases obstacles and regulations on small business, it directly attacks freedom and prosperity.
When this occurs, entrepreneurs naturally look for nations and markets that are friendly to business. As a result, nations with free enterprise systems attract more producers and are blessed with greater wealth and prosperity.
Non-Producer Attempts to Create Producers
Nations naturally benefit from a large producer class, but how are producers created? The common answers fall short.
The liberal view is that those with credentials and advanced education—the experts—must set up a system that allows enterprise but also fairly distributes the rewards of economic success.
The conservative view is to allow big investors to get huge rewards and therefore be willing to take big risks.
The blue-collar populist approach is to make sure management treats labor fairly and humanely.
The bureaucratic view is that rules make the society and economy work.
While each of these has a place, within limits, none of them really get to the heart of what makes producers tick.
The problem is that these views are nearly always promoted and managed by employees with an employee background and an employee mentality.
Non-producers grudgingly admit the great need for more producers, and then set out to build conveyor belts which will produce more producers.
This only works insofar as a born entrepreneur sometimes breaks out of the conveyor belt and overcomes the obstacles to his or her success.
David Brooks has referred to Washington's party politics as the PhD's (liberals) versus the MBA's (conservatives).
Both give lip service to small business; but their modus operandi belies a different governing worldview.
The PhD's want government to run the economy and provide jobs, and to be the Great State Entrepreneur so that regular citizens don't need to take risks.
The MBA's want to appeal to big investment, and are loathe to consider small business significant or meaningful.
The average citizen-employee wants managers to treat employees better.
This is all employee thinking.
Government programs will not create many entrepreneurs, nor will most corporate ventures, bureaucratic agencies, or labor unions.
And most MBA programs emphasize employee training and measure their effectiveness by citing job placement statistics.
Entrepreneurs are the natural competitors to all these.
The Answer
How do we create more producers?
The answer, as frustrating as it is to the experts, is this: We don't.
That is, institutionalized and standardized programs do not of themselves yield producers, except by happenstance (as noted above).
The very act of systemizing the training of initiative and innovation tends to shut down initiative and innovation.
What can be done, what actually works, is to help young people realize the importance of producers in society and reward their inclinations toward being anomalies, outliers, and disruptive innovators.
The first one is easier said than done; the second one is nearly impossible for most parents and teachers to either conceive of or accomplish.
To support the development of the entrepreneurial spirit in the rising generation, youth need to be:
Exposed to those who highly value entrepreneurialism
Given opportunities to earn and receive personalized mentoring from successful producers.
In short, as we elevate the honor and accessibility of being producers, we will tend to increase the number of them.
While the example may have its limitations, it is interesting to study the most successful network marketing, multi-level and other like organizations that in recent times have emphasized entrepreneurship among "regular" people.
For instance, Amway and its affiliates created more millionaires than most of the top 100 corporations combined, with each millionaire being an independent entrepreneur.
In such organizations, interested people are introduced to many who highly value entrepreneurial producers, and new affiliates work directly with a producer mentor.
Hundreds of non-traditional companies have accomplished similar results. Ironically, one criticism of such organizations by mainstream (employee) experts is that they are "pyramid schemes."
From another perspective, the true pyramid companies are those where most of the work hours are done by lesser-paid employees while the highest salaries and bonuses go to the executives at the top.
Hands-on business schools like Acton MBA have similarly helped educate entrepreneurs by a combination of inspiring people to be producers and also providing producer mentors.
And the many bestselling books promoting this same model, from the "One Minute" series to the writings of Steve Farber and many others, show that this system is appealing to many people.
Highly successful coaching services have followed this pattern as well, including such notable businesses as those established by John Assaraf, Leslie Householder, Dennis Deaton and many of those mentioned in The Secret.
Nearly the entire self-help industry is built on this model: Promote the honor and value of successful entrepreneurialism and help would-be producers get direct mentoring from successful producers.
Thinkers like Andrew Carnegie and writers like Dale Carnegie outlined this model a long time ago.
The mainstream PhD/MBA ambivalence toward the "Success" and "Self-Help" community stems from their reliance on and loyalty to the doctrine of employeeship.
Harvard Business School once emphasized that the major changes in the world tend to come from what they called "disruptive innovators."
These anomalous individuals produce surprising novelties from out-of-the-mainstream sources and dramatically change society, business, and other facets of life.
Disruptive innovators are disruptive precisely because they are totally unexpected by the conventional majority.
The government and big corporations spend a lot of resources trying to predict the future.
And invariably entrepreneurial producers come along every few years and change everything. Reams of articles and books are written trying to predict where the next such innovations will come from and prescribing how to help train future innovators.
But the network marketing companies and other non-traditional entities drastically out-produce government and big corporate attempts to build entrepreneurs.
3 Steps
But all of this commentary falls short of the real point. Only the individual can truly become an entrepreneur.
If there is to be a much-needed revolution that brings many more entrepreneurs to society, individuals, and families must take action and lead out.
If what we want is more independence, then we must have more independents—more producers.
If you want society to be leavened by a greater proportion of individuals with producer mojo, then you need to consider whether you should be a producer yourself, and how to become one.
To be a producer, it is up to you to make it happen.
Here are three suggestions:
1. Study successful producers.
The most important part of this is to see the power of focus, integrity, and faith in abundance that producers exemplify.
Where the media often tries to paint producers as greedy and immoral, the truth is usually very different.
Pay special attention to what great producers believe, and learn to think like them.
The habit of truly believing in abundance and principles makes one a true independent, permanently free of dependence on others and able to build, create and lead.
2. Study what the great producers study.
The material most studied by the greatest producers and leaders has been the great classics.
Producers are voracious readers, going far beyond any prescribed lists. Leaders are readers.
Read the greatest works of mankind and everything else you can get your hands on. Keep reading, studying and learning throughout your life.
3. Find and work with mentors who are successful producers.
The unwritten lessons gained from this kind of experience are invaluable, real and profound.
Coming face-to-face with greatness by working with successful producers is essential to becoming a successful producer yourself.
Our society desperately needs more producers.
We need more people who think like entrepreneurs and more people who take initiative and fulfill the needs of society without waiting for government or the people of wealth and privilege to "fix it for us."
The future of freedom is directly and literally tied to the future of producers in our society.
***********************************
Oliver DeMille is the founder of the Center for Social Leadership, and a co-creator of TJEd.
He is the author of A Thomas Jefferson Education: Teaching a Generation of Leaders for the 21st Century, and The Coming Aristocracy: Education & the Future of Freedom.
Oliver is dedicated to promoting freedom through leadership education. He and his wife Rachel are raising their eight children in Cedar City, Utah.
Category : Culture &Economics &Education &Entrepreneurship &Featured &Mini-Factories &Producers
September 14th, 2010 // 4:00 am @ Oliver DeMille
The following is an excerpt from Oliver's recent book, The Coming Aristocracy: Education & the Future of Freedom.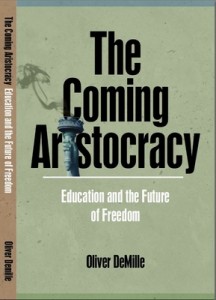 If freedom is to reverse the onslaught of American and global aristocracy, it will likely do so through the greatest freedom trend of our time.
This trend is revolutionizing institutions, organizations, relationships, society and even nations around the world. It is still in its infancy, and many have yet to realize its potential.
The experts tend to overlook it because it seems small. It will likely always seem small because it is a "bottom-up" trend with no "top-down" organizations, alliances, or even affiliations.
Truthfully, it isn't even a single trend at all–it is thousands of small trends, all following a similar pattern.
Malcolm Gladwell called part of this trend "outliers," Harry S. Dent called it the "customization" explosion, Alvin Toffler said it is the wave of "revolutionary wealth" as led in large part by "prosumers," John Naisbitt named it the "high touch" megatrend, Stephen Covey called it the 8th Habit of "greatness," Daniel Pink coined the descriptor "free agent nation," and Seth Godin refers to it as "tribes."
Others have termed it "social entrepreneurship," "the new leadership," "a new age," and even "the human singularity."
All of these touch on facets of this freedom trend, but I think the best, most accurate and descriptive name for it is the "mini-factory" model.
Modernism came with the factory–the ability to mass produce. This revolutionized the world–economics, governments, how we spend our time each day, what we eat and wear, relationships, the size and functions of our homes and cities, etc.
Today the mini-factory is changing everything just as drastically.
In ancient times the wealthy set up estates or fiefdoms to cover all their needs, and the masses worked to provide the needs of their aristocratic "superiors."
In modern times the factory provided mass goods and services.
Imagine the impact on everything in our lives if each family could provide all, or even many, of its needs for itself–and do it better than kings or politicians ruling over working peasants or even corporations employing workers to produce goods and services.
Such is the world of the mini-factory.
How Does a Mini-Factory World Function?
For example, what if parents could educate their children better than local school factories, with the best teachers, classes and resources of the world piped directly into their own home?
What if a sick person had more time and motivation to research the cases of her symptoms than the factory doctors, and the availability of all the latest medical journals right on her computer screen?
She would also have holistic works, original studies, alternative and collaborative experts, and the ability to email the experts and get answers in less time than it would take to wait in the hospital lobby.
Ten friends would likely send her their experiences with similar illness within days of her mentioning casually online that she was sick. If she chose a certain surgeon, a dozen people might share their experiences with this doctor.
What if a mother planning to travel for family vacation could just book flights and hotels herself, without calling the "expert" travel agent? Maybe she could even choose seats on the flight or see pictures of her hotel room–all in her own home between her projects and errands.
Welcome to the world of the mini-factory. I purposely used examples that are already a reality. But they were just a futuristic dream when writers like Alvin Toffler and John Naisbitt predicted them before 1990.
Technology has helped it, but the impetus of the mini-factory trend is freedom. People want to spend less time at the factory/corporation and more time at home. They want to be more involved in raising their children and improving their love life.
In an aristocracy, these luxuries are reserved for the upper class. In a free society, anyone can build a mini-factory.
What is a Mini-Factory?
A mini-factory is anything someone does alone or with partners or a team, that accomplishes what has historically (meaning the last 150 years of modernism) been done en masse or by big institutions.
If a charter school provides better education for some of the community, it's a mini-factory. If it does it at less cost and/or in less time spent in the classroom, so much the better. A homeschool or private school can be a mini-factory.
Of course, if the charter, private, or home school does a worse job than the regular factory, it is a failed mini-factory.
If joining a multi-level company and building it into a source of real income serves you better than an employee position, it's a mini-factory.
If downsizing from a lucrative professional job in Los Angeles to a private practice or job that pays much less but allows you twice as much time with your family and a more relaxed lifestyle in, say, Flagstaff or Durango and makes you happier, it's a mini-factory.
Entrepreneurship, alternative education, the downshifter movement, environmental groups, alternative health, the growth of spirituality, community architecture, the explosion of network marketing, home doctor visits, the rebirth of active fathering, and so many other trends are mini-factories.
How do Mini-Factories Impact Freedom?
It all comes down to this: Big, institutional, non-transparent, bureaucratic organizations are natural supporters of aristocracy. Freedom flourishes when the people are independent, free, and as self-sufficient as possible.
I am not suggesting going backwards in any way.
Forward progress is most likely in a nation that is both well educated and highly trained, where big institutional solutions are offered wherever they are best and individuals and groups seek smaller solutions where they better serve their needs, where free government enterprise rules apply and there are no special benefits or perks of class (either conservative aristocracy or liberal meritocracy), and where government, business, family, academia, religion, media, and community all fulfill their distinct, equally-important roles.
Such a model is called freedom. It has been the best system for the most people in the history of the world, and it still is.
To adopt freedom in our time, either the aristocracy must give up its perks and voluntarily restructure society, or the masses must retake their freedoms bit by bit, day by day, by establishing mini-factories.
Mini-factories will be more successful if each person only does a few, and does them with true excellence.
Freedom will flourish best if there is no organization or even coordination of the mini-factories; if individuals, partners, families and teams identify what is needed in the world and in their own lives and set out to deliver it.
This is especially hard in a time like ours where the employee mindset wants someone to "fix" things (like the economy, health care, education, etc.), exactly when an entrepreneurial mindset is most needed to take risks and initiate the best and most lasting changes.
If real, positive, and effective change is to come, it will most likely be initiated by the people acting as individuals, small groups, and teams.
If it comes from the top, it will tend to only bring more aristocracy, and the day of freedom will be over for now.
Whatever your mini-factory contribution might be, consider that it will help determine the future of freedom.
Is it Worth the Challenge?
Mini-factories can be hard to establish and challenging to build. Many people fail once or several times before they learn to be effective.
But the type of learning that only comes from failing and then trying again is the most important in building leaders and citizens who are capable of maintaining freedom in a society.
Note that this very type of education is rejected in a training model of schooling, where failure is seen as unacceptable and students are taught to avoid it at all costs.
This mindset only works if an aristocracy is there to take care of the failures.
In a freedom model, citizens and leaders learn the vital lessons of challenges; failures and wise risk-taking are needed.
Starting and leading a mini-factory, and indeed all entrepreneurial work, is challenging.
Those who embraced this difficult path in history established and maintained freedom, while those who embraced the ease of past compromises sold themselves and their posterity into aristocracy.
In the long term, though, aristocracy is much harder on everyone than freedom.
What Will You Build?
As you consider what mini-factories you should support, start, and build, just ask what things could be done (or are being done) better by a small mini-factory than by the big organizations that try to control nearly everything in our world.
If it could be done just as well by a mini-factory, the change to the smaller entity can drastically promote freedom. If it can be done even better by a mini-factory, it is better for life itself!
The mini-factory is the new vehicle of freedom.
Take a mini-survey: What are your pet complaints? Government? Develop family government models. Health Care? Educate yourself on prevention and self-care. Education? Learn the principles of Leadership Education. Media? Start a blog. Entertainment? Develop a group of hobbyists who share your interests, whether it be Harley road trips, ice fishing, scrapbooking, etc.
You get the idea: Live deliberately, and do not wait for institutions to change to meet your needs.
Do not waste your energy or good humor on complaining.
Find a mini-factory that does it right and get behind it–or start one yourself. So many are needed, and they can bring the miracle of freedom!
The future remains unseen. It is the undiscovered country.
Many ancients felt that fate drove the future, but the idea of freedom taught humanity to look each to his/herself, to partner with others, and to take the risk to build community and take action now in order to pass on a better life to our children and our children's children.
Today, that concept of freedom is waning–slowly and surely being replaced by a class culture.
Those who love freedom, whatever their stripe–be they green, red, blue, rainbow, or anything else–are needed. They need to see what is really happening, and they need to educate themselves adequately to make a difference.
The most powerful changes toward freedom will likely be made by mini-factories, in thousands and hopefully millions of varieties and iterations.
Aristocracy or freedom–the future of the globe–hangs in the balance…
Click here to learn more about the mini-factory trend and to purchase a paperback copy of The Coming Aristocracy. Click here to download two hour-long webinars with Oliver DeMille explaining mini-factories.
***********************************
Oliver DeMille is the founder of the Center for Social Leadership, and a co-creator of TJEd.
He is the author of A Thomas Jefferson Education: Teaching a Generation of Leaders for the 21st Century, and The Coming Aristocracy: Education & the Future of Freedom.
Oliver is dedicated to promoting freedom through leadership education. He and his wife Rachel are raising their eight children in Cedar City, Utah.
Category : Aristocracy &Business &Culture &Economics &Entrepreneurship &Featured &Liberty &Mini-Factories &Mission &Producers
September 9th, 2010 // 11:31 am @ Oliver DeMille
In The Coming Aristocracy I speak of "mini-factories," which are individuals, teams, partnerships, or small organizations doing things that have traditionally been handled by large institutions. Successful mini-factories are operated by "producers."
This article describes all types of producers and why they are vital to a free, healthy, and prosperous society.
*Special thanks to Les McGuire for this series.
Prosperity and abundance in a society depend on a certain type of person: the producer. Societies with few producers stagnate and decay, while nations with a large number of producers vibrantly grow — in wealth, freedom, power, influence and the pursuit of happiness.
Producers think in abundance rather than scarcity, take initiative instead of waiting for someone else to provide them with opportunity, and faithfully take wise risks instead of fearfully believing that they can't make a difference.
In contrast, non-producers provide very little leadership in society and cause more than a majority of the problems. In history, as Jefferson put it, producers are the most valuable citizens.
Of course, he was speaking directly of farmers, but the principle applies to all those who add significant value to society. Non-producers consume the value that is added to society, but they create little value.
But who are the producers? Fortune 500 executives include themselves in this category, and so do small business owners in their first month of operation. Successful investors call themselves producers, as do unsuccessful day traders who claim that they just "haven't had their lucky break yet."
Clearly, just calling yourself a producer doesn't make you one.
In fact, there are at least five types of producers, and each type is vital to a successful civilization. Each of the five creates incredible value, though the currency of the value is not always identical. Without any of the five types, no society succeeds and grows. When all five are creating sufficient value, no society has ever failed.
Producers are needed — all five kinds of them. These are the following:
Prophets, Sages, Philosophers
Statesmen
Investors
Entrepreneurs
Intrapreneurs
Prophets, Sages, & Philosophers
The highest level of value creation comes from prophets, sages, and philosophers.
This category of producers is not limited to the Biblical-type prophets who spoke directly with God, but also includes anyone who teaches true principles. This makes these producers the most important type, because without clearly understood principles all the other types of producers fail.
Indeed, the other producers succeed to the exact extent that they understand and apply true principles.
Prophet-producers include Moses and Paul, who share God's wisdom with us, and also sages like Socrates or Confucius or Bastiat, gurus like Edward Deming or Peter Drucker, philosophers like Buckminster Fuller or Stephen R. Covey, and those who inspire us to serve like Billy Graham or Mother Teresa.
Whether you agree or disagree with these people, their wisdom causes you to think, ponder, consider, and ultimately understand truth. By applying these truths, a person is able to produce.
Even if you just sit and ponder, letting the truths come to your mind through deep thought or hard experience, true principles are still passed to you through spiritual or creative means.
God is the greatest producer in the Universe, and He shares true principles with us so we can also produce. For value to be created, true principles must be applied.
Ironically, because God, prophets, and other wise people often share their wisdom without asking for monetary compensation, sometimes other types of producers discount the value of their contribution.
But make no mistake: revealing and teaching true principles is the highest level of creating value.
Whether we learn principles through inspiration or intuition, or from the lessons gained through hard work and experience, without principles we cannot produce.
Parents and grandparents are among the most important producers, because they teach principles most effectively — or not. When they don't, the whole society suffers.
Statesmen
The next type of creating value comes from statesmen.
Do not confuse statesmen with politicians and bureaucrats, who are often worse than non-producers because they actually engage in anti-producing.
In contrast, statesmen create the value of freedom in society. The level of freedom in any nation is a direct result of the actions of statesmen — past and present.
If great statesmen like Cato, Washington, Jefferson, or Gandhi are present, a nation will throw off its enslaved past and adopt new forms and structures which ensure freedom of religion, freedom of choice and action, freedom of property and commerce, and other freedoms.
Together the value created can be called life, liberty, and the pursuit of happiness. Take these freedoms away, and entrepreneurship and investment fade and disappear. There are no exceptions in history to this pattern.
Statesmen like Lincoln, Churchill, or Margaret Thatcher keep a nation from rejecting its freedoms and moving back into a cycle of tyranny and anarchy, where little production of any kind occurs.
In short, without principles there is little freedom, and without freedom all other kinds of production shut down, are regulated out of existence, and cease to be viable options.
No matter how entrepreneurial your spirit, you would not have created much value in the economy of Nero's Rome, Russia under Stalin, or even Boston under the Stamp Act.
Without freedom, only prophets survive as producers — all other types of producers need both principles and freedom to flourish. The greater the understanding of principles and the freedom of the society, the greater the opportunities for producers.
Indeed, almost nothing creates more value than increasing freedom.
Only when freedom is widespread would the other types of producers have the peace to think that statesmen don't add value. And frankly, when freedom is widespread is the very moment that it is in the most danger of being lost — it is at such times that statesmen are the most valuable producers.
Of course, the well-known statesmen like Lincoln or Jefferson only appear on the scene when there are a lot of lesser known individuals studying, writing about, talking about, and promoting statesmanship. Only generations with lots of statesmen produce true freedom that allows widespread educational and economic opportunity.
Most of the history of the world shows the absence of such statesmanship, so most of the population of the world were serfs, peasants, slaves, and other non-producers. Yet it is the true nature of all mankind to be producers, leaders, nobles.
Jefferson called this the "natural aristocracy," and it happens only in those rare pockets of history where statesmen create and perpetuate freedom. Next to true principles taught by prophets, sages, and philosophers, freedom is the highest value that one can add to any society.
Investors & Entrepreneurs
The third type of producer is the investor, and the fourth type is the entrepreneur.
This needs little commentary among producers, who nearly all realize that entrepreneurship is necessary to create new economic value and that even the best entrepreneurial ideas and leaders can fail without adequate capitalization.
Robert Kiyosaki lists investors as the highest of his cash flow quadrants and business owners, or entrepreneurs, next. He is right on. Without investors, many, if not most, entrepreneurs would fail. Without both "I's" and "B's," to use Kiyosaki's language, no society can make significant or sustained progress.
Moreover, without investment and entrepreneurship many of the principles taught by prophets and most of the freedoms vouchsafed by statesmen would go unused — and eventually be lost.
Prophets, sages, philosophers, and statesmen are dependent on investors and entrepreneurs, and vice versa. As I said, no society is really successful unless all five types of producers effectively create value in their unique but interconnected ways.
Part of the value created by investors and entrepreneurs is obvious: They provide capital and establish institutions which build society. Every family and every individual benefits from their services.
Perhaps less known, but just as important, investors add the vital value of experience. Kiyosaki and Buffet both affirm that without personal knowledge and significant experience in a business, almost everyone who tries their hand at investing fails.
A society without adequate investment and entrepreneurship will see little, if any, progress.
An American, a Frenchman, & a Russian
The old joke is told of an American, a Frenchman, and a Russian, lost in the wilderness, who find a lamp and rub it. Out comes a genie. He offers them each one wish, for a total of three.
The American pictures the large ranch owned by the richest people in the valley where he grew up, and wishes for a ranch ten times its size, with flowing streams and meadows full of horses and cattle. His wish is granted and he is transported home to his new life.
The Frenchman pictures the farm and cattle of the largest estate from his home province, and pictures one just like it. Again, his wish is granted.
Finally, the Russian pictures the land and herds of the rich family in the steppes where he grew up, and wishes that a drought kill the cattle, dry up the grass, and bankrupt the aristocratic family.
The joke isn't really very funny, though it brings big laughs with audiences of producers. They get it.
The Frenchman, thinking like an entrepreneur, wants the good things that life provides, and is willing to go to work to produce them. The American, who thinks like an entrepreneur and an investor, is willing to go to work also, but wants to see his assets create more value. The Frenchman wants value, the American plans for value, increased market share and perpetual growth.
In contrast, the Russian in this parable can only think of one thing — getting even with those who seem to have more than him.
This is the same as Steve Farber's lament about the sad state of our modern employee mentality — where "burn your boss" is a slogan of millions of workers who see their employer as the enemy.
The Employee v. Owner Mindsets
Initiative, vision, effective planning, the wise use of risk, quality execution — all are the contributions of entrepreneurs and investors. Without them, any society will decline and fall.
Yet the non-producer mentality is often deeply ingrained in most people. For example, a visiting speaker once told the student body of how challenging it was to get his employees out of their "serf" mentality.
As the founder of a growing manufacturing technology company, he pulled in all his two dozen employees and offered them liberal stock options. He explained that if the company met its projections, they would all be very wealthy — and he abundantly wanted to share the prosperity.
Yet only a few of them would take the options. They only wanted cash salary, and mistrusted the whole concept of stock ownership.
At first he just offered it, thinking they'd all jump on board. But when only a few did, he pulled them in one by one and tried to make the case for stock. Still, only a few more took the stock.
The company grew, expanded, and then its value soared. Suddenly, one month a half dozen of the company's employees were independently wealthy. They met, made plans, some stayed with the company and others moved on.
But the real story happened with the eighteen who had refused the stock. They were still paycheck-to-paycheck employees. And they were very angry! Most of them met with the founder in his office, and many of the meetings ended with yelling, names called, and doors slammed.
The entrepreneur couldn't believe it. NOW these employees wanted their millions. But it just doesn't work that way. "I begged you to take the stock," the owner told them. "Now, I can't help you. Why didn't you take it when I offered?" he asked.
They had no answer. Only that: "I worked as hard as Jim and Lori, so why can't I get the same payment?"
Entrepreneurs and investors understand that work is very, very important, but that high levels of compensation come to those who create value. Like the Russian in the joke above, this man's employees felt they had been "ill-used."
Consider the impact of this scarcity mentality on any society that adopts it. Freedom is naturally lost, and prosperity slows down and eventually becomes poverty. Entrepreneurs and investors are essential to societal success.
Intrapreneurs
The fifth type of producer is the intrapreneur.
In a free society, investment capital is plentiful — but only effective entrepreneurs and intrapreneurs can turn capital into increased value. This takes initiative, wise risk and leadership, just like the other types of producing.
While entrepreneurs found or own businesses, intrapreneurs work for and lead established businesses — but unlike traditional employees, intrapreneurs lead with the Producer mindset. They run their department, team, or company with an abundance mentality, an attachment to true principles, and a fearless faith in people and quality.
Intrapreneurs don't really have jobs even though they are usually W-2 employees. Like entrepreneurs, intrapreneurs consider themselves on a mission to help society, to give it what it needs and wants, to truly serve others.
Like all producers, they believe in a deep accountability, refuse to assign blame, don't believe in failure, and give their heart and soul to serve the customer. They add huge value in financial terms, leadership, and relationships — sometimes with people they've never met.
They pour quality into everything they do, and thereby deeply serve all who benefit from their product or service.
Great entrepreneurs and intrapreneurs have a deep faith in the market, as long as it doesn't go against true principles or subvert freedom.
Without the initiative and risk of entrepreneurship, few intrapreneurs would have a place to work and serve; likewise, without intrapreneurs there would be few successful companies. Indeed, it is hard to imagine that there would be any.
The Synergy of Created Value
For any company to succeed, all five types of producers must fulfill their unique roles. This is even more true for any nation.
| | |
| --- | --- |
| Producer Type | Currency |
| Prophet | Principles |
| Statesman | Freedom |
| Investor | Capital |
| Entrepreneur | Prosperity |
| Intrapreneur | Quality |
To see how vital all five types of producers are, consider the past. Major world powers in history have failed in the same way.
First, the people stop giving heed to the wisdom of the prophets.
Second, voters or those in power replace statesmen with politicians, whereupon freedom steadily decreases.
Third, the natural result is increased regulations and taxation, ridiculous lawsuits and judicial decrees, and governmental policies that discourage and then attack producers, initiative, and the abundance mentality in general.
Fourth, investment capital flees the nation to follow the Rule of Capital — it goes where it is treated well.
Finally, the people have a scarcity mentality, refuse to listen to the prophets or elect statesmen, and entrepreneurs go where investment gives them opportunity. The nation stagnates and declines.
Egypt, Israel, Greece, Rome, Spain, Italy, Bismark's Germany, and Han China all followed this pattern. Each was a major center of world power, influence and prosperity, and each declined into a third world nation. France copied this pattern in the 1800s, Britain followed it in the 1900s, and the United States is on an identical track today.
Specifically, the U.S. is at the point where it is increasing its regulation, experiencing absurd lawsuits and court decisions, and increasingly adopting policies that discourage entrepreneurship. The next step is to openly attack investment and entrepreneurship.
And when investors find higher profits in other nations, while facing decreasing returns along with public hostility and rising taxes at home, U.S. investment will dry up. History is clear on this point. There are no exceptions.
The only hope is for a new generation of producers to effectively promote freedom. In fact, the U.S. has been at this point twice before — in 1860 and again in 1939. Both times enough statesmen arose, most of them unknown to all except avid readers of history, to push aside the politicians and save our freedoms. Britain saw the same thing happen in 1216, 1620, 1815 and 1937.
Other nations have followed a similar pattern. When the people listen to the prophets, statesmen promote freedom, and investors and entrepreneurs/intrepreneurs build the nation.
When the sages are ignored and statesmanship is seen as abstract and worthless, investors go elsewhere — capital flees to other nations, and the home country declines. With such decline comes moral decay, the loss of political and economic freedom, and the end of opportunity.
Abundance is a true principle, yet through history most governments have made it their major goal to crush abundance and prosperity in the masses and give it to the aristocracy or royalty.
Anyone who thinks this can't happen in America hasn't closely studied history.
Overcoming 3 Crucial Mistakes
Many producers make three predictable mistakes. Any producer who knows these mistakes and avoids them will be a better producer and create more lasting value in society.
Producer Mistake #1: The Generation Gap
First, producers seldom encourage their own children to follow the producer path. Many young producers will disavow this, arguing that they'll do all within their power to teach the abundance mindset to their children.
And most of them do, until the children start to get close to adulthood. At this point, many producers realize just how hard the producer role is in life and seek to help their children avoid the pain and challenge of this path.
Many producers recommend that their children become professionals — doctors, lawyers, accountants, engineers. It is ironic how many very successful college-drop-out producers make sure that all of their children attend the most prestigious colleges available and major in the normal career fields.
Even the producers who train their oldest child to follow in their path often send the younger children in other directions. And hardly any producers pass along the producer mindset to their grandchildren.
Of course, if children or grandchildren choose to take a different path in life, it is usually wise to support their decisions and love them unconditionally. But training them in social leadership, abundance, creating value, serving society, and the producer mindset is good for them no matter what path they take in life.
The historically effective solution for this is for producers to put real time, thought, planning and execution into their grandparenting role — long before they are grandparents. Quality grandparenting is a way for all producers to engage the prophet role for their family, to help pass on their wisdom and understanding of true principles to future generations.
Great parenting fulfills this same function, and is part of propheting — the highest level of production.
Producer Mistake #2: The Blinders
The second mistake many producers make is to think that their particular brand of producing is the only one that creates real value.
Like the old parable of the carpenter who believes that all of the world's ills can be fixed with a hammer, sometimes producers get so focused on their type of producing that they narrowly discount the value of the others. Focus is good, but narrow thinking usually limits one's effectiveness.
For example, a statesman who believes that changing government is the only real answer to society and that freedom will fix all problems, will likely reject the moral teachings of prophets and consider them mere "philosophy." Such a person limits his statesmanship because he just doesn't get it.
So does the statesman who thinks freedom is the only goal, and that entrepreneurs are just in love with money — he will likely try to use law against entrepreneurship, which is the opposite of statesmanship.
A true statesman sees that all five types of producers are vital to society. Similarly, when prophets undervalue statesmen, freedom of religion and independent thinking are often lost.
Likewise, an entrepreneur who discounts the teachings of prophets may feel successful because he's made a fortune selling pornography. "After all, I just gave the market what it wanted," he says.
No abundance-minded entrepreneur would think this, because value is only created when principles and freedom aren't attacked. If economic value reduces moral or freedom values, total value is actually decreased.
Or, consider the entrepreneur who thinks building profitable businesses is the only way to create value and therefore does little to promote statesmanship — in his older and wiser years he will likely regret the regulated and declining world which he sees his grandchildren inheriting.
When entrepreneurs undervalue statesmen, politicians and bureaucrats win the day and capital is discouraged and eventually attacked. The wise entrepreneur or investor will see the great value added by prophets and statesmen, and he will create more value in his life because his broader view will help him make better decisions.
The examples could go on, but suffice it to say that significant problems occur when any of the five devalue any of the others. However, when all five types of producers understand, highly value, and actively support each other, all types of producers experience synergy — and the value created is exponentially increased.
Producer Mistake #3: Arrogance
Finally, the third common mistake made by producers is to look down on non-producers.
One of the true principles taught by prophets is that every person is inherently as valuable as any other. True abundance means that we respect people, whatever their chosen path — as long as it is good and honorable.
Producers, all five types, are truly vital to society, but that doesn't make producers any better than anyone else. In fact, true abundance producers know that every person is a genius. Every single person. Some decide not to develop it much, but everyone is a genius. And producing is really just about getting people to develop that genius.
Producers who understand this point are the most effective, because they do it all for the right reasons — a true love of and desire to serve others. This is what abundance really means. Everything else falls short.
This is true abundance, so abundant that you spend your life voluntarily serving others (in contrast, true scarcity would be to spend your life on yourself). Real value means people value — and creating value really means helping people choose better lives.
This is what all five types of producing are all about.
***********************************
Oliver DeMille is the founder of the Center for Social Leadership, and a co-creator of TJEd.
He is the author of A Thomas Jefferson Education: Teaching a Generation of Leaders for the 21st Century, and The Coming Aristocracy: Education & the Future of Freedom.
Oliver is dedicated to promoting freedom through leadership education. He and his wife Rachel are raising their eight children in Cedar City, Utah.
Category : Culture &Entrepreneurship &Featured &Government &History &Leadership &Liberty &Mini-Factories &Statesmanship