October 26th, 2010 // 4:00 am @ Oliver DeMille
Is our government broken?
More and more people think so. The current presidential administration makes periodic claims that we are in an economic recovery, but at the same time growth is still slowing and unemployment figures stay around ten percent.
With more American deaths in Afghanistan during the last week of July than any week to date, things seem to be deteriorating at home and abroad.
To make matters worse, few people believe that the opposing Republican Party has much more to offer than the Democrats.
With neither side poised to really fix things, few Americans have a lot of hope for the future of government leadership. Here a few of the issues vexing citizens.
A Missing Recovery
First, even though many politicians have been claiming that we are experiencing an economic recovery, it doesn't feel like it to most Americans.
The Obama White House doesn't seem very friendly to small business.
Most of the entrepreneurs and businesses who do hold cash aren't about to hire or expand in an environment where their taxes and regulatory burden could be increased at any point by an unfriendly Administration.
Ironically, Washington is responding by promising to increase taxes and regulations. Understandably, those who hire are skittish.
Treasury Secretary Timothy Giethner said in July that we've reached a point where private hiring—rather than government spending—is the answer to economic growth.
But until the government starts supporting small business, and as long as it refuses to incentivize free enterprise, the economy will struggle.
Author Arthur Brooks argues that the nation is 70% in favor of free enterprise and about 30% opposed, but that the 30% are in charge.
The 30% has gained much influence over citizens by convincing them that it was private business that caused the recession in the first place.
Somehow, this view has successfully convinced much of the public that the Bush Administration, big banks, Wall Street and all small businesses are the same group.
Those who read the fine print, however, are clear that policies from the Clinton and Bush Administrations led to the mortgage crisis.
Moreover, big government and big business together caused the recession. In the meantime, both ignored small business and continue to do so.
As a result, the 70% is confused and unable to keep the 30% in check. So more government policies hurt the economy and make it unwise or unfeasible for small businesses to hire and grow.
In the meantime, much of the Right is busy labeling Democrats as "socialists" rather than helping incentivize growth and prosperity.
Both sides seem to mean well, but one has unbounded faith in government and the other is preoccupied attacking that faith.
While the two sides posture, the plight of small business is sometimes discussed but remains unaided.
What the Citizens Want
Second, this problem is deeper than most people realize.
Since World War II, the United States has promoted a mixture of free enterprise and big government. In history, societies typically emphasized one or the other.
When big government ruled, enterprise was highly regulated and taxed; where free enterprise was the focus, taxes were small, regulations were minimal, and governments were limited in size, scope and budget.
But in modern America, no politician from any party can claim success unless he/she has "done something in office."
And to nearly all Americans, "doing something" means increasing government action to benefit the pet cause or regional constituency.
If President Obama doesn't pass much of his agenda, his political friends and competitors alike will label him ineffective.
Americans in general want their politicians to do a lot and are disappointed when officials fail in this.
The irony of the American voter is that "doing a lot" immediately earns most politicians a place on the voters' list of officials to vote out.
Americans today want the impossible: low taxes and lots of government programs.
The Economist summarized it this way:
In the end, the question of whether a country is governable turns on how much government you think it needs. America's founders injected suspicion of government not only into the constitution but also into the political DNA of its people. And even in the teeth of today's economic woes, at least as many Americans seem to think that what ails them is too much government, not too little.

"But there is a catch. However much Americans say they want a small government, they seem wedded to the expensive benefits of the big one they actually have…With deficits running at $1 trillion a year, and in order to stay solvent, they will have at some point to cut spending, pay more taxes, or both….To balance the books, politicians have sometimes to do things the people themselves oppose—even in America. That will be the true test of whether the country is governable."
Americans must either choose big government and be willing to pay for and submit to it, or they must move toward smaller, less intrusive government and be willing to enjoy fewer government programs.
When voters want the prosperity of freedom along with the bread and circuses of massive government, every election is a referendum on incumbents.
Eventually, though (and the day of reckoning appears to be close on the horizon), something will have to give.
Unfortunately, few societies make such hard choices until they are forced upon them by war, depression, pandemic or other major crises.
Sadly, few nations have the leadership or the fortitude to adopt the simple solution of spurring major growth and prosperity by de-regulating, de-taxing and freeing up the economy.
Freedom works, but few in history have been willing to adopt it.
Lost Leaders
We are unable to overcome these and many of our deepest challenges because of the way we distribute leadership in our society.
The American founders envisioned a truly great educational system, built around schools in every locale, to train their youth in the great ideas of mankind's history, as well as the latest practical arts and sciences.
They built the early American schools to train empowered citizens who would protect freedom, foster prosperity, leadership, and character in all walks of American life.
They wanted an educational system that prepared their youth to become effective in their families, communities, and careers.
This vision helped create a nation that by 1946 produced over half of the world's goods and services with only 6% of the globe's population.
Freedom works, and the success of the American constitutional-free-enterprise model was spectacular. In the process, this system over time addressed, and — in some cases, even began to resolve its biggest negatives, including slavery and other inequities.
Unfortunately, by the late 1930s, the citizens and leaders who built this great model of success, freedom, and prosperity sent their children and grandchildren to schools which rejected this system, and instead adopted a new style of education focused mostly on career training.
Sadly, these American schools established by the our founders were replaced after World War II by the German model which was based on socio-economic class divisions.
In the "new" system, the elites still received leadership education (like all citizens had before 1939) while the middle and lower classes were educated only for jobs.
As this system grew, a Germanic-style grading system reinforced class-society advancements among the youth.
The maladies of credentialism, class divisions, and reliance on experts made their way into mainstream American culture. From 1939 to 1979, these contagions grew and infected the Founders' classless and "free American" vision.
In such a system, the motto was: "A students work for B students." The concept of "The Company Man" spread and Americans became addicted to big institutions.
Freedom and entrepreneurial values gave way to competing for executive positions and benefits packages. The goal of employeeship replaced the American dream.
Career became the purpose of schooling in almost everyone's mind, and ownership and leadership values begin to literally disappear.
Eventually big institutions became truly massive, and anything except employeeship was considered inferior and backward.
In this environment, young people with a sense of leadership, idealism and ambitions to make a great impact on society split between the Left and the Right.
Those coming from traditionally conservative families tended toward majors and careers in business, while youth from more liberal backgrounds leaned towards the media and legal professions.
Most of today's national leaders were part of this split.
The Reagan era ushered in a revolution of support for and promotion of free enterprise ideas and values.
Numerous non-traditional business models (like multi-level and network marketing) put individuals at the center of building a personal business rather than working as an employee, and eventually non-traditional educational options (from private and charter to home and online opportunities) grew in popularity.
Employeeship was still the dominant view, but a rising minority embraced the freedoms and prosperity of entrepreneurship. The dot.com boom and Roaring 90's soon followed, and the entrepreneurial sector slowly grew.
Today a new culture of education and business is evolving out of the Great Recession and all that led up to it. A new maxim seems to be much more complex than in past generations:
B students work for C students
A students teach or work in government
Those who cared little for grades and a lot about learning are building small businesses
Note that "those who cared little for grades and a lot about learning" often come from non-traditional private, charter, home and online learners, as well as from immigrants who are leading in entrepreneurial successes. And more than a few come from the traditional schools.
Since small business accounts for 80% of America's economic growth, this is a significant development. Unfortunately, the number of people in the entrepreneurial sector is still very small.
Whether purposely or as a side effect, we are still training the overwhelming majority of our youth to believe that being A students means getting a good job and that employeeship is the greatest goal for education and even lifestyle.
Satirist P.J. O'Rourke addressed the problem this way:
America has made the mistake of letting the A student run things. It was A students who briefly took over the business world during the period of derivatives, credit swaps, and collateralized debt obligations. We're still reeling from the effects…

"It was a bunch of A students at the Defense Department who planned the syllabus for the Iraq War….The U.S. tax code was written by A students….Now there's health care reform—just the kind of thing that would earn an A on a term paper from that twerp of a grad student who teaches Econ 101…

"A students must do what teachers and textbooks want and do it the way the teachers and texts want it done….Such brisk apple-polishing happens to be an all-too-good preparation for politics. This is because a student's success at education and a politician's success at politics are measured mostly by input rather than outcome."
Perhaps even more disturbing is that most of our Idealistic youth with ambitions to improve the world are still going after jobs in big business or big government.
The thing is, working for a big corporation or in a government job are unlikely places to really make a positive difference in the world.
We are distributing leadership in the way aristocratic and socialistic societies always have, and the future will unfold accordingly unless something changes.
We desperately need a rebirth of the entrepreneurial ideal.
The New Religion: Employeeship
Unfortunately, it's not just the schools and universities that are continuing this outdated focus on jobs as the end-all of education and life.
Movies and television often demonize entrepreneurs while dedicating most of their time to stories about employees.
Full-time sports channels seem to dedicate as much time to the business side of athletes as to the entertainment, making sports role models as valued for their lucrative contracts as for their abilities on the playing field.
Even elected officials more typically refer to their role as a job than as public service.
Recent administrations and the media have referred to the constitutionally-titled commander in chief as the nation's CEO. There are many other examples.
Because the "job-is-life" view is so prevalent, it has even become normal for successful entrepreneurs to see their work as done as soon as they can live comfortably.
In earlier generations (those that built and maintained American freedom), such successful entrepreneurs considered it their duty to spend the second half of their life helping society greatly improve.
Perhaps only parents and community leaders can effectively counter this trend and help more youth who want to help improve the world seek a true leadership education and seriously consider engaging in entrepreneurial careers.
Repairing the Break
So, to answer our question, yes, government is broken. The break is repairable, but it will take some major work and effort on the part of this generation.
When freedom is decreasing through constantly increasing regulations, government is broken. When the free enterprise system is under attack from our own government, government is broken.
When a tenth of our working society can't get a job, and when the government responds by increasing taxes and regulations on those who could provide the jobs if they were free to do so, government is broken.
When two parties hold a monopoly on government, and where both increase spending and regulation no matter who is in office, government is broken.
But all of this misses the real point.
When most of society seeks employeeship above all else and every facet of life revolves around employeeship, much more than government is going to be broken.
Employeeship certainly has a place in effective nations, but it should be prioritized behind things like family leadership, citizenship, and private ownership.
Another name for these is life, liberty and the pursuit of happiness (or alternatively, as Jefferson originally wrote, "life, liberty and property").
A successful society is made up of at least the following things:
Effective parents, grandparents and other family leaders who help raise good, wise and industrious adults to take their place
Citizens who are well-educated in freedom and leadership and who keep government, business and other officials in check so the society can remain free and prosperous
Owners who improve the prosperity of society, in a free enterprise system where all can be owners
A constitutionally guaranteed freedom where all are treated equally before the law and all are protected in their inalienable rights
How the President Can Repair the Economy
In the 2008 election President Obama was supported by the Left (who loved his promises of economic liberalism), but he was elected by independents who saw in him a possible end to the corruption of the Bush years and a potentially great leader for the United States.
The "Leadership Thing" swept him into office. Now, the Obama Administration could greatly boost the economy by deeply promoting entrepreneurship—both symbolically and in reduced taxes and regulations.
Such incentives would spur more hiring, investment and expansion, and a recovery would follow that Americans could really believe in.
In fact, the President could probably accomplish this without changing any policy at all, simply by warming to small business and genuinely becoming friendly to entrepreneurs.
As a friend, a member of a minority, told me about President Carter:
"I didn't agree with his politics or policies, but I just feel that he loved me and my people and cared about us. I never felt that from Reagan or Bush, and so I voted Democratic even though I was more aligned with the politics of the Republicans."
An old advertising proverb says that people make choices emotionally and then use logic to defend it.
No matter what Washington says, and no matter what the economic numbers show, most entrepreneurs are unlikely to increase jobs and boost the economy through investments as long as they think the man in the White House basically dislikes and mistrusts them.
Even liberal-leaning businessmen are worried that the President isn't supportive.
The White House could drastically help the recovery simply by changing its bias against small business. If this is just a perceived dislike of business, not a real one, they can simply change their message.
If, on the other hand, the Administration really does mistrust or dislike small business, it should reconsider. After all, unlike Wall Street, big banks and big corporations, small business simply cannot be blamed for America's economic challenges.
It has been the victim of the mistakes made by both big business and past government. Yet it keeps plugging along, keeping the recession from being much worse.
And small business certainly is the group most likely to overcome high unemployment.
Indeed, when the economy does make a serious comeback, entrepreneurs will be leading the way. Hopefully, the Obama Administration will extend its "Yes, We Can" philosophy to those who have the most potential to drastically grow our economy.
Conclusion
It is time for all Americans—from the White House to our individual living rooms—to pour out a deep, genuine and heartfelt admiration and "thank you" to those who run small businesses.
Whatever the politicians of any party do, the greatest need is for parents, grandparents and all of us to rekindle an excitement for entrepreneurship in the youth.
The future of America's freedom and prosperity may well depend on it. As long as free enterprise isn't flourishing, our government will be broken.
***********************************
Oliver DeMille is the founderof the Center for Social Leadership, and a co-creator of TJEd.
He is the author of A Thomas Jefferson Education: Teaching a Generation of Leaders for the 21st Century, and The Coming Aristocracy: Education & the Future of Freedom.
Oliver is dedicated to promoting freedom through leadership education. He and his wife Rachel are raising their eight children in Cedar City, Utah.
Category : Business &Constitution &Culture &Current Events &Economics &Education &Entrepreneurship &Generations &Government &History &Leadership &Liberty &Politics
September 30th, 2010 // 4:00 am @ Oliver DeMille
Imagine what would happen if a huge chunk of citizens stopped accepting what they are told by one of the parties, stopped just aligning themselves with candidates from one of the monopoly parties, and started deeply studying, analyzing and thinking about the issues of government independently.
Imagine if they shared their thoughts openly with many others, instead of just letting the news be defined by the big media responses to the big parties.
Imagine the revolution that would occur in the voting citizenry.
This is exactly what happened in the decade the Internet went mainstream. It is valuable to know the profound history that led to this freedom revolution.
Keynesianism
Karl Marx agreed with Hegel that history is created by the dialectical conflict between upper classes and the masses; Lenin transferred the attention from class warfare to the conflict between rich and poor nations.
Most Americans and Europeans adopted this view during the Cold War. Indeed, the Cold War was the "inevitable" result of class conflict leading to conflicts between the governments of the "greedy" nations and the collectivized socialist states.
Keynes, like Lenin before him, shifted the debate by arguing that since many nations were not willing to adopt socialistic government ownership of all business, the only solution was for big businesses to give people privatized "socialism" such as health insurance, savings programs (like the current 40lk), retirement programs and other employee benefits.
Keynes further predicted that if government did things right, then small businesses would be increasingly less able to offer such benefits over time and that eventually big business would run the entire economy in partnership with highly-regulating governments.
Together, Keynes thought, big government and big business would phase out the disruptive, nonconformist and anti-social element of independent small business power and replace it with big corporations offering all the benefits envisioned by socialism.
Simultaneously, governments would keep mavericks, entrepreneurs and innovators from rocking the boat. Socialist goals, albeit through private corporate means, would be implemented into all capitalistic nations.
The result would be the end of warfare between owners and labor and the solution to most world problems.
Keynes said that once companies become so big that they are less focused on profits than appearing caring, helpful and socially responsible to the public, they will make decisions based on public relations and therefore socialistic values rather than making money.
If enough big companies could be coaxed to this point, and if increased government barriers to small-business success could effectively squelch entrepreneurial initiative, even the most capitalistic nations would provide privatized "socialist" safety nets for the whole society.
This is aristocracy, pure and simple.
In such a system, big corporations would work together with big governments to continually increase the delivery of socialistic goals such as:
Free education for all
Free health insurance for all
Free health care for all
A society of employees
Jobs for everyone
A meritocracy of experts ruling society
A docile and obedient populace
This system was adopted slowly but consistently so that Richard Nixon could announce by the mid-1970s that "we are all Keynesians now."
In short, Keynesianism promotes big government with high levels of regulation along with big business promoting various private offerings of socialist goals.
This social safety net has proven popular in all the Western nations, and has offered a number of short-term and positive lifestyle benefits.
It has also proven a better solution than government-only socialist equivalents in one-party states like the USSR, Eastern European nations and modern Russia, China and Cuba.
In multi-party nations like France and Germany some parties promote big business and others big government, and still others emphasize their pet areas of focus.
In the United States the maintenance of Keynesianism requires a major party supporting the government, a major party supporting big business, and a system of swinging back and forth between the leadership of each.
When the big-government party is in power, the Government-Industrial-Complex grows, and when the big-business party is in power the Industrial-Government-Complex expands.
When Keynesianism is flourishing, both parties use power to increase entitlements, foreign involvements and government spending.
Taxpayers and small businesses suffer.
The End of History
Francis Fukayama predicted in the 1990s that with the fall of the Berlin Wall and end of the Cold War this conflict between the rich and poor nations was over; he called this "the end of history," citing both Hegel and Marx.
In the ensuing model of the 1990s, where everybody was a "capitalist," economies flourished.
With a united Germany, declining Soviet power, and the dot.com and real estate booms, everybody seemed to have forgotten Keynesianism in the Roaring 90s.
Everybody, that is, except the two big parties.
Entitlements, debts and deficits grew during the Bush, Clinton, Bush and Obama Administrations.
When 9/11 struck, everyone realized that history was far from over and that major challenges were still ahead. If the end of history had come, Keynes won.
Ironically, the fact that Keynesianism uses capitalistic means to accomplish socialistic ends allowed both liberals and conservatives to claim victory.
Conservatives rejoiced that socialism had lost to markets, and liberals celebrated that the era of big, irresponsible capitalism was over.
Unfortunately, what they brought us was far from the utopian ideal envisioned by socialism's iconic philosophers or the freedom statesmen in history.
In fact, it was not so much socialism—where the state provides for all—as aristocracy, where the masses provide for the elite.
But back to our narrative: Keynesianism requires both political parties constantly and vocally doing battle. Neither can fully win or destroy the other; and when one wins an election the other is needed to play a minority role until it can win back the majority.
Whichever party is in power, the scope of government and big business must both increase during their tenure.
Of course, the result is that the far right hates Democrats when they are in power, and then turns on Republicans when they win and grow government. The far left does the opposite, hating the Republicans when they rule and then turning on Democrats in power for not doing enough.
Mainstream members of both parties simply support their party and dislike the opposition.
The key action in all this, the thing which makes Keynesianism work, the linchpin of the whole model, is for the citizenry to do nothing but vote.
Of course, they can live their lives, work at their jobs, send their kids to school and volunteer in their community. If they do these things, plus vote, they are good citizens. No more is asked, or wanted, from them.
"Just shut up and vote," is the subtle message from both parties.
Of course, if one is an expert in politics, if it is their job, they are expected to do more than vote. They are required to study government, the issues and impact public opinion.
The same applies to professional journalists, attorneys, professors, etc. But this only applies to professors of political science, law, public policy or a related field.
Professors of literature or chemistry, for example, like postal workers and soccer coaches, are encouraged to leave governance mostly to the experts.
This cynical view is, unfortunately, widespread. Keynesianism depends on a society of experts where nearly everyone leaves governance to the political professionals.
Citizens are subtly taught that voting is the role of citizenship, along with serving on a jury if called up, and to otherwise leave governance to the experts.
After all, their party is watching their back for them and keeping the other "evil" party from doing too much damage.
Or, if the other party becomes dangerous, their own party leadership and the media will let them know.
Responses to Being Patronized
When a few citizens realize that they are being "handled" by the professionals of their party, the first response is naturally to want to elect better party leaders.
When time shows that this doesn't work — that in fact it is the nature of party leadership to spin the truth and patronize the party rank-and-file — the disillusioned party loyalist often looks to some extreme group within the party—such as the radical right or the fringe left.
Alas, honest citizens find that faction leaders are usually as prone as major party heads to spin the issues and handle party members.
At this point, many party members just give up.
"The other party is bad," they rationalize, "and my own party leaders are just too political. But at least candidates from my party are better than those from the other party."
Some sincere seekers actually ignore tradition and years of brainwashing and seek for a better situation in the other party.
At first, party switchers may find a few things they really like better about the new party—especially if they attend in-person events and get to know some of the people in the other party.
"Republicans /or/ Democrats aren't so bad," they realize.
The longer they stay with the new party, however, the more they see that both parties are run in virtually the same way, like a formula primetime program, with the same character-types inhabiting the various roles.
Eventually they see most of the same problems that caused them to question their original party.
The idea that both parties are a problem is like the end of history for many voters. Most have seen politics itself as a war to put the "good" party in power and kick out the "bad" party.
So when a voter realizes that both parties have serious problems, and even worse—that neither party is likely to really solve America's problems—there is a major paradigm shift.
Some give up in utter frustration, while others get really mad at their own party. Others get even more angry at the "other" party and refocus their support for their original party.
But one reality remains in the minds of most people arriving at this understanding: Neither party has the answers, and neither party is likely to really fix our problems.
More, the system is basically designed so that the party of big government and the party of big business take turns being in charge.
When regular citizens understand the goals of Keynesianism, it is a major shock.
At this point, what is a caring, sincere and committed citizen to do? When you learn that parties are parties are parties, how do you stay involved in governance? And how do you stay positive and optimistic about the future?
The Big Decision
The answer to these questions is for citizens to begin to study and think a lot more about government and to stop ignoring freedom by leaving it to the political professionals.
Unless regular people realize that freedom is up to them, not the experts, and that they need to learn more and take more action to make a real difference, they are unlikely to become true citizens.
When a person does make these realizations, however, he or she drastically changes. He becomes excited about impacting freedom.
There are three major ways to do this, and the three are drastically different:
Populism
Activism
Independence
This is "the big decision" for free citizens who really want to maintain and even increase freedom.
Whether your political views are generally liberal, conservative, libertarian, progressive, green, or centrist, the big decision is a powerful way to start making a real difference.
Here are more thoughts on the three paths of the big decision:
1. Populism
This means openly and vocally fighting the system, pointing out its flaws, and actively participating in influencing change.
Populism has a long history in America, from the People's Party movement of the 1880s and 1890s which arose because many people felt that neither of the two major parties would listen to them, to the Progressives of the early 1900s, the Labor movement of the 1920s and 1930s, or the counter-Culture revolution of the 1960s and the counter-Populism of the 1970s.
More recent populism includes anti-incumbency, Tea Parties, Coffee Parties, and the Green movement, among others.
2. Activism
Activism consists of committing to one of the major political parties and really having a powerful influence on it.
While I strongly emphasize the rise of independents, it should not be understated how valuable truly independent-thinking citizens can be if they choose to maintain strong party ties.
This is not only a legitimate but a highly-needed role of promoting freedom in our society. Both major parties need more members who really study, analyze, independently think and participate in improving party communication, leadership and impact on society.
3. Independence
This means becoming your own, personal political party—a party of one citizen.
Today there are more independents in the United States than either Democrats or Republicans. Independents don't depend on any party but independently study, analyze, think, spread their influence and then vote for candidates and issues they feel will most help the nation.
Whatever your decision—whether you choose to help improve society through populism, activism or independence—note that is it vital to do certain things.
Those who simply depend on party experts leave these things to others, and the result is a loss of freedom. These things include:
Making a deep study of the principles of freedom and the U.S. Constitution.
Studying the history of freedom in order to truly understand current and future events within their context.
Studying and analyzing current issues in depth and from many different perspectives.
Considering the views of those who disagree with you and really understanding the points of merit (and not just your points of contention) in their ideas.
Drawing your own independent conclusions about proposals and policies after deep study.
Articulating and sharing your ideas with others.
Using your influence to impact the direction of the nation on specific issues and in general.
Populists are often criticized for not doing these things, but those who do can make a real, positive difference in populist circles.
Activists who commit to these things can greatly support party choices, and independents need to do these in order to have a meaningful impact.
The American founders wanted citizens to do these things, and predicted that the loss of such behaviors by the citizens would be the end of the republic.
If we want our freedoms to remain and even increase, we must be the kind of citizens who deserve such freedoms.
If we leave our future to the current power of Keynesianism, we will see more of the same: on-going crises, angry and ineffective politics, increased government spending and debt, increased taxes and regulations, continuing foreign conflicts and the loss of American lives, and an inability of government to solve our major problems.
The more the parties fight and the louder the conflict, the greater the power of Keynesianism. Keynesianism depends on heated arguments that drive the citizens to demand bigger government programs.
As long as the party of big business and the party of big government hold a joint monopoly on our society, voters will vote and little will change—except that debts, economic crises and problems will increase.
If this is the future we want for our country, we just need to leave politics to the politicians.
In contrast, the future of freedom depends on citizens who do a lot more than just vote and serve on jury duty. It depends on citizens who do the things which bring freedom—as populists, activists or independents, but all studying and thinking independently.
The American system was designed with the people as overseers of government. We all need to fulfill this role better.
We need a party of small business, a party of family, a party of entrepreneurial leadership, a party of the regular citizens, a party of freedom.
The American founders had a name for such a party: Citizens. Such a party naturally occurs and grows in free society when we do our true part as citizens.
***********************************
Oliver DeMille is the founder of the Center for Social Leadership, and a co-creator of TJEd.
He is the author of A Thomas Jefferson Education: Teaching a Generation of Leaders for the 21st Century, and The Coming Aristocracy: Education & the Future of Freedom.
Oliver is dedicated to promoting freedom through leadership education. He and his wife Rachel are raising their eight children in Cedar City, Utah.
Category : Aristocracy &Business &Economics &Government &History &Independents &Liberty &Politics
September 16th, 2010 // 4:00 am @ Oliver DeMille
The rise of Independents isn't an accident. It is the natural result of both major parties emphasizing politics over principle and ideology over pragmatism.
A third reason for the rise of Independents is the widespread loss of blind faith in man-made institutions (like government and corporations) as the answers to society's challenges.
These institutions have failed to perform, over and over, causing many of even the staunchest state- and market-loyalists to feel skeptical.
Fourth, the e-revolution has created a technological power of the citizenry, at least in the ability to widely voice views that diverge from the mainstream parties.
The Internet gave Independents (and many others) a voice. People who believed in common-sense pragmatism and principled choices over party loyalty have been around for a long time, but the e-revolution was needed to give them group influence.
But all of these reasons are really just after-the-fact justifications for why so many people are no longer channeled politically through one of the top parties.
They explain why people aren't Republicans or Democrats, but they don't explain why Independents are Independents.
Some Independents are actually from the far right and just anti-liberal, and others are leftists who are Independents because they are anti-conservative. Some are one-issue Independents, emphasizing the environment, feminism, race, the gold standard, etc.
A growing number of Independents, however, are Independents because they believe in a shared new ideal.
They have faith in both government and the market, but only to a certain extent. They are truly neither liberal nor conservative, but moderate. They want government and markets to work, and they want to limit both as needed.
Still, they are not just moderates, they are something more.
Three Versions of Management
What makes these Independents tick? They are motivated by a new focus, a set of goals surprising and even confusing to anyone who was taught that American politics is about right versus left, conservative versus liberal, family values versus progressivism, religious versus secular, hawk versus dove, and all the other clichés.
Independents are something new.
Daniel Pink argues that business is going through a major shift, that the entire incentive landscape of employees, executives and even owner-investors is changing.
Our ancestors were motivated mostly by "Management 1.0," Pink says, which was a focus on physical safety and protection from threats.
"Management 2.0" came when people learned to produce things in a routine way, from planned agriculture to industry.
People became more motivated by a "carrot-and-stick" model of "extrinsic motivators." Managers, teachers, parents and politicians created complex systems of rewards and punishments, penalties and bonuses to achieve results in this new environment.
In this model, conservatives are 1.0 because they want government to limit itself to protecting its citizens from external threats, to national security and legal justice.
Liberals support a 2.0 model where the role of government is to incentivize positive community behaviors by people and organizations, and also to enforce a complex system of punishments to deter negative behavior.
In education, 1.0 is the one-room schoolhouse focusing on delivering a quality, personalized education for each student.
In contrast, 2.0 is a conveyor-belt system that socializes all students and provides career rewards through job training, with benefits doled out based on academic performance.
The problem with 1.0 is that education is withheld from some based on race, wealth and sometimes gender or religion.
The 2.0 version remedies this, ostensibly providing democratic equality for students from all backgrounds; but the cost is that personalization and quality are lost, and a de facto new elite class is created by those who succeed in this educational matrix.
On the political plane, 1.0 promoted freedom but for an elite few, while 2.0 emphasized social justice but unnecessarily sacrificed many freedoms.
Version 3.0 combines freedom with inclusion, and this is the basis of the new Independents and their ideals.
It may seem oxymoronic to say that pragmatic Independents have ideals, but they are actually as driven as conservatives and liberals.
Independents want government, markets and society to work, and to work well. They don't believe in utopia, but they do think that government has an important role along with business, and that many other individuals and organizations have vital roles in making society work.
They aren't seeking perfect society, but they do think there is a common sense way in which the world can generally work a lot better than it does.
Mr. Pink's "Management 3.0" is a widespread cultural shift toward "intrinsic motivators." A growing number of people today (according to Pink) are making decisions based less on the fear of threats (1.0), or to avoid punishments or to obtain rewards (2.0), than on following their hearts (3.0).
This isn't "right-brained" idealism or abstraction, but logic-based, rational and often self-centered attempts to seek one's most likely path to happiness.
Indeed, disdain for the "secure career path" has become widely engrained in our collective mentality and is associated with being shallow, losing one's way, and ignoring your true purpose and self.
This mindset is now our culture. For example, watch a contemporary movie or television series: The plot is either 1.0 (catch or kill the bad guys) or 3.0 (struggle to fit in to the 2.0 system but overcome it by finding one's unique true path).
Settling for mediocrity in order to fit the system is today's view of 2.0.
In contrast, the two main versions of 3.0 movies and series are: 1) Ayn Rand-style characters seeking personal fulfillment, and 2) Gene Rodenberry-style heroes who "find themselves" in order to greatly benefit the happiness of all.
Where the Greeks had tragedy or comedy, our generation finds itself either for personal gain or in order to improve the world.
Whichever version we choose, the key is to truly find and live our life purpose and be who we were meant to be.
And where so far this has grown and taken over our pop-culture and generational mindset, it is now poised to impact politics.
Few of the old-guard in media, academia or government realize how powerful this trend is.
Generations
Independents are the latch-key generation grown up.
Raised by themselves, with input from peers, they are skeptical of parents' (conservative) overtures of care after years of emotional distance.
They are unmoved by parents' (liberal) emotional insecurity and constant promises. They don't trust television, experts or academics.
They don't get too connected to any current view on an issue; they know that however passionate they may feel about it right now, relationships come and go like the latest technology and the only one you can always count on is yourself.
Because of this, you must do what you love in life and make a good living doing it. This isn't abstract; it's hard-core realism.
Loyalty to political party makes no sense to two generations forced to realize very young the limitations of their parents, teachers and other adults.
Why would such a generation give any kind of implicit trust to government, corporations, political parties or other "adult" figures?
Independents are more swayed by Google, Amazon and Whole Foods than Hollywood, Silicon Valley or Yale.
Appeals to authority such as the Congressional Budget Office, the United Nations or Nobel Prize winners mean little to them; they'll study the issues themselves.
Their view of the experts is that whatever the outside world thinks of them, they are most likely far too human at home.
Officials and experts with noteworthy accolades, lofty credentials and publicized achievements make Independents more skeptical than star-struck.
They grew up with distant and distracted "corporate stars" for parents, and they aren't impressed.
Having moved around throughout their formative years, never allowed to put down deep roots in any one town or school for long, why would they feel a powerful connection to country or nation?
If the government follows good principles, they'll support it. If not, they'll look elsewhere.
They understand being disappointed and having to move on and rely on themselves; in fact, this is so basic to their makeup that it is almost an unconscious religion.
If this all sounds too negative, consider the positives. The American founding had many similar generational themes.
Raised mostly by domestic help (parents were busy overcoming many out-of-the-home challenges in this generation), sent away to boarding schools or apprenticeships before puberty, the founders learned loyalty to principles over traditions, pragmatic common sense over the assurances of experts, and an idealistic yearning for improving the world over contentment with the current.
Today's Independents are one of the most founders-like generation since the 1770s. They want the world to change, they want it to work, and they depend on themselves and peers rather than "adults" (experts, officials, etc.) to make it happen.
Independent Philosophy
There are many reasons why Independents don't resonate with the two major parties, but this is only part of the story.
Most Independents aren't just disenfranchised liberals or conservatives; they are a new generation with entirely new goals and views on government, business and society.
This is all hidden to most, because the latch-key generation isn't vocal like most liberals and conservatives.
Trained to keep things inside, not to confide in their parents or adults, growing numbers of Independents are nonetheless quietly and surely increasing their power and influence.
Few Independents believe that there will be any Social Security monies left for them when they retire, so they are stoically planning to take care of themselves.
Still, they think government should pay up on its promise to take care of the Boomers, so they are happy to pay their part. Indeed, this basically sums up their entire politics.
They disdain the political debate that so vocally animates liberals and conservatives, and as a result they have little voice in the traditional media because they refuse to waste time debating.
But their power is drastically increasing. The latch-key Independents raised themselves, grew up and started businesses and families, and during the next decade they will increasingly overtake politics.
Like Shakespeare's Henry V, they partied through the teenager stage, leaving their parents appalled by generational irresponsibility and lack of ambition, then they shocked nearly everyone with their ability and power when they suddenly decided to be adults.
Now, on eve of their entrance into political power, few have any idea of the tornado ahead.
***********************************
Oliver DeMille is the founder of the Center for Social Leadership, and a co-creator of TJEd.
He is the author of A Thomas Jefferson Education: Teaching a Generation of Leaders for the 21st Century, and The Coming Aristocracy: Education & the Future of Freedom.
Oliver is dedicated to promoting freedom through leadership education. He and his wife Rachel are raising their eight children in Cedar City, Utah.
Category : Business &Culture &Current Events &Generations &Government &Independents &Politics &Technology
September 14th, 2010 // 4:00 am @ Oliver DeMille
The following is an excerpt from Oliver's recent book, The Coming Aristocracy: Education & the Future of Freedom.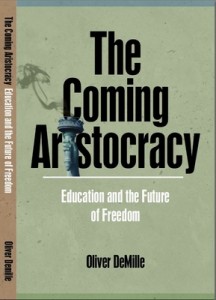 If freedom is to reverse the onslaught of American and global aristocracy, it will likely do so through the greatest freedom trend of our time.
This trend is revolutionizing institutions, organizations, relationships, society and even nations around the world. It is still in its infancy, and many have yet to realize its potential.
The experts tend to overlook it because it seems small. It will likely always seem small because it is a "bottom-up" trend with no "top-down" organizations, alliances, or even affiliations.
Truthfully, it isn't even a single trend at all–it is thousands of small trends, all following a similar pattern.
Malcolm Gladwell called part of this trend "outliers," Harry S. Dent called it the "customization" explosion, Alvin Toffler said it is the wave of "revolutionary wealth" as led in large part by "prosumers," John Naisbitt named it the "high touch" megatrend, Stephen Covey called it the 8th Habit of "greatness," Daniel Pink coined the descriptor "free agent nation," and Seth Godin refers to it as "tribes."
Others have termed it "social entrepreneurship," "the new leadership," "a new age," and even "the human singularity."
All of these touch on facets of this freedom trend, but I think the best, most accurate and descriptive name for it is the "mini-factory" model.
Modernism came with the factory–the ability to mass produce. This revolutionized the world–economics, governments, how we spend our time each day, what we eat and wear, relationships, the size and functions of our homes and cities, etc.
Today the mini-factory is changing everything just as drastically.
In ancient times the wealthy set up estates or fiefdoms to cover all their needs, and the masses worked to provide the needs of their aristocratic "superiors."
In modern times the factory provided mass goods and services.
Imagine the impact on everything in our lives if each family could provide all, or even many, of its needs for itself–and do it better than kings or politicians ruling over working peasants or even corporations employing workers to produce goods and services.
Such is the world of the mini-factory.
How Does a Mini-Factory World Function?
For example, what if parents could educate their children better than local school factories, with the best teachers, classes and resources of the world piped directly into their own home?
What if a sick person had more time and motivation to research the cases of her symptoms than the factory doctors, and the availability of all the latest medical journals right on her computer screen?
She would also have holistic works, original studies, alternative and collaborative experts, and the ability to email the experts and get answers in less time than it would take to wait in the hospital lobby.
Ten friends would likely send her their experiences with similar illness within days of her mentioning casually online that she was sick. If she chose a certain surgeon, a dozen people might share their experiences with this doctor.
What if a mother planning to travel for family vacation could just book flights and hotels herself, without calling the "expert" travel agent? Maybe she could even choose seats on the flight or see pictures of her hotel room–all in her own home between her projects and errands.
Welcome to the world of the mini-factory. I purposely used examples that are already a reality. But they were just a futuristic dream when writers like Alvin Toffler and John Naisbitt predicted them before 1990.
Technology has helped it, but the impetus of the mini-factory trend is freedom. People want to spend less time at the factory/corporation and more time at home. They want to be more involved in raising their children and improving their love life.
In an aristocracy, these luxuries are reserved for the upper class. In a free society, anyone can build a mini-factory.
What is a Mini-Factory?
A mini-factory is anything someone does alone or with partners or a team, that accomplishes what has historically (meaning the last 150 years of modernism) been done en masse or by big institutions.
If a charter school provides better education for some of the community, it's a mini-factory. If it does it at less cost and/or in less time spent in the classroom, so much the better. A homeschool or private school can be a mini-factory.
Of course, if the charter, private, or home school does a worse job than the regular factory, it is a failed mini-factory.
If joining a multi-level company and building it into a source of real income serves you better than an employee position, it's a mini-factory.
If downsizing from a lucrative professional job in Los Angeles to a private practice or job that pays much less but allows you twice as much time with your family and a more relaxed lifestyle in, say, Flagstaff or Durango and makes you happier, it's a mini-factory.
Entrepreneurship, alternative education, the downshifter movement, environmental groups, alternative health, the growth of spirituality, community architecture, the explosion of network marketing, home doctor visits, the rebirth of active fathering, and so many other trends are mini-factories.
How do Mini-Factories Impact Freedom?
It all comes down to this: Big, institutional, non-transparent, bureaucratic organizations are natural supporters of aristocracy. Freedom flourishes when the people are independent, free, and as self-sufficient as possible.
I am not suggesting going backwards in any way.
Forward progress is most likely in a nation that is both well educated and highly trained, where big institutional solutions are offered wherever they are best and individuals and groups seek smaller solutions where they better serve their needs, where free government enterprise rules apply and there are no special benefits or perks of class (either conservative aristocracy or liberal meritocracy), and where government, business, family, academia, religion, media, and community all fulfill their distinct, equally-important roles.
Such a model is called freedom. It has been the best system for the most people in the history of the world, and it still is.
To adopt freedom in our time, either the aristocracy must give up its perks and voluntarily restructure society, or the masses must retake their freedoms bit by bit, day by day, by establishing mini-factories.
Mini-factories will be more successful if each person only does a few, and does them with true excellence.
Freedom will flourish best if there is no organization or even coordination of the mini-factories; if individuals, partners, families and teams identify what is needed in the world and in their own lives and set out to deliver it.
This is especially hard in a time like ours where the employee mindset wants someone to "fix" things (like the economy, health care, education, etc.), exactly when an entrepreneurial mindset is most needed to take risks and initiate the best and most lasting changes.
If real, positive, and effective change is to come, it will most likely be initiated by the people acting as individuals, small groups, and teams.
If it comes from the top, it will tend to only bring more aristocracy, and the day of freedom will be over for now.
Whatever your mini-factory contribution might be, consider that it will help determine the future of freedom.
Is it Worth the Challenge?
Mini-factories can be hard to establish and challenging to build. Many people fail once or several times before they learn to be effective.
But the type of learning that only comes from failing and then trying again is the most important in building leaders and citizens who are capable of maintaining freedom in a society.
Note that this very type of education is rejected in a training model of schooling, where failure is seen as unacceptable and students are taught to avoid it at all costs.
This mindset only works if an aristocracy is there to take care of the failures.
In a freedom model, citizens and leaders learn the vital lessons of challenges; failures and wise risk-taking are needed.
Starting and leading a mini-factory, and indeed all entrepreneurial work, is challenging.
Those who embraced this difficult path in history established and maintained freedom, while those who embraced the ease of past compromises sold themselves and their posterity into aristocracy.
In the long term, though, aristocracy is much harder on everyone than freedom.
What Will You Build?
As you consider what mini-factories you should support, start, and build, just ask what things could be done (or are being done) better by a small mini-factory than by the big organizations that try to control nearly everything in our world.
If it could be done just as well by a mini-factory, the change to the smaller entity can drastically promote freedom. If it can be done even better by a mini-factory, it is better for life itself!
The mini-factory is the new vehicle of freedom.
Take a mini-survey: What are your pet complaints? Government? Develop family government models. Health Care? Educate yourself on prevention and self-care. Education? Learn the principles of Leadership Education. Media? Start a blog. Entertainment? Develop a group of hobbyists who share your interests, whether it be Harley road trips, ice fishing, scrapbooking, etc.
You get the idea: Live deliberately, and do not wait for institutions to change to meet your needs.
Do not waste your energy or good humor on complaining.
Find a mini-factory that does it right and get behind it–or start one yourself. So many are needed, and they can bring the miracle of freedom!
The future remains unseen. It is the undiscovered country.
Many ancients felt that fate drove the future, but the idea of freedom taught humanity to look each to his/herself, to partner with others, and to take the risk to build community and take action now in order to pass on a better life to our children and our children's children.
Today, that concept of freedom is waning–slowly and surely being replaced by a class culture.
Those who love freedom, whatever their stripe–be they green, red, blue, rainbow, or anything else–are needed. They need to see what is really happening, and they need to educate themselves adequately to make a difference.
The most powerful changes toward freedom will likely be made by mini-factories, in thousands and hopefully millions of varieties and iterations.
Aristocracy or freedom–the future of the globe–hangs in the balance…
Click here to learn more about the mini-factory trend and to purchase a paperback copy of The Coming Aristocracy. Click here to download two hour-long webinars with Oliver DeMille explaining mini-factories.
***********************************
Oliver DeMille is the founder of the Center for Social Leadership, and a co-creator of TJEd.
He is the author of A Thomas Jefferson Education: Teaching a Generation of Leaders for the 21st Century, and The Coming Aristocracy: Education & the Future of Freedom.
Oliver is dedicated to promoting freedom through leadership education. He and his wife Rachel are raising their eight children in Cedar City, Utah.
Category : Aristocracy &Business &Culture &Economics &Entrepreneurship &Featured &Liberty &Mini-Factories &Mission &Producers