May 19th, 2015 // 6:40 am @ Oliver DeMille
The Divide
A college-level education is increasingly important in the new economy. Higher education has long created a significant divide between the "haves" and "have nots," and by all indications this trend will intensify for the next three decades.
The gap between the affluent (we'll call this the A Economy) and the middle class (the M Economy) is growing, and higher education is one of the clearest differences between these groups. The ranks of the lower classes (the R Economy—with R standing for "Risk") are swelling, as more in the middle class find themselves caught in high debt and paycheck-to-paycheck living. Again, higher education marks the divide between those in the A Economy and almost everyone else.
Moreover, as North Americans compete for well-paying jobs and economic success in an increasingly global marketplace, the old system of "college degree = secure job with good benefits" no longer holds. Fewer graduates are able to maintain their parents' lifestyle, and the middle class is dwindling.
As a result, those in the Middle Economy are left with a choice: rise to the Affluent Economy or join the Risk Economy. With career opportunities increasingly elusive for young people in this environment (in both North America and Europe), higher education has become even more important.
There is much more to this article – including where the different classes are heading; various ways of getting a great education; finding where to get your college-level education; and more!
Category : Aristocracy &Blog &Business &Citizenship &Community &Education &Entrepreneurship &Prosperity
February 13th, 2015 // 9:27 am @ Oliver DeMille
Measles, Vaccinations, Common Core,
and the Deeper Issue We're All Experiencing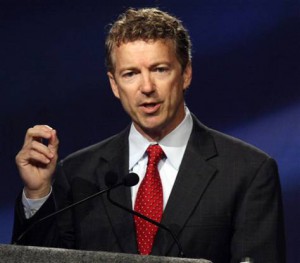 The disconnect right now is tearing our nation apart. Over and over, people engage in the Surface argument, while the Deeper issue is actually a lot more important.
For example, consider the national discussion of whether the government should mandate vaccinations against measles and other similar diseases. The Surface issue is whether vaccinations are safe, or whether in some cases they are hurtful to a child. But the Deeper issue is much more important: Who should make the decision about vaccinations for your children? Government? Or you as the parents?
I recently watched two interviews with U.S. presidential hopefuls that clearly illustrate this point. In the first interview, Ben Carson was asked about measles and vaccinations. He stated that vaccinations should be firmly mandated by government for all children. Period.
Rand Paul took a slightly different approach. He said that vaccinations work and that children should be vaccinated, but that the more important issue is this: Government doesn't own such decisions about children, parents do. Parents should have the final say.
Both of these men are medical doctors, and both have a history of commitment to the principles of freedom. But in this case, one called for government mandates and the other called for sticking with freedom. Very interesting.
Force and Reason
Ben Carson went on to say that the idea that vaccinations are widely damaging has been debunked, but then he added an interesting point. He said that of course a few children are allergic or otherwise react poorly to vaccinations, but overall the benefits of widespread vaccination are worth it.
That's reasonable. But, if reason is to be our guide, which of the following is more reasonable:
1-Educating the populace about the scientific facts, then using government force to mandate what parents must choose for their children?
2-Educating the populace about the scientific facts, then letting parents make choices for their children?
This illustrates the current growing division between those who generally trust the government and those who usually distrust it. This disconnect is now a major feature of our nation. It shows up in numerous important issues, including:
1-The government should mandate Common Core across the nation to raise standards for schools and students.
   Vs.
2-Parents should have the final say on whether or not Common Core is good for their specific children.
Or:
1-The police are justified in using deadly force as needed, because law enforcement is paramount and force is frequently necessary—and police and government agents are nearly always in the right.
   Vs.
2-The community should be very vigilant about any use of force by the police to ensure that it was truly justified, because police forces and governmental agencies sometimes overstep their bounds and aren't held accountable.
To Trust or Not to Trust
America is split, more each year, by these two major perspectives: "We almost always trust the government to do the right thing," versus "We don't usually trust the government to do the right thing."
Through most of the 20th Century, by the way, an average of 78% of Americans held the first view (trust), while today only 23% of Americans believe the government will do the right thing most of the time. That's a huge change.
And clearly the disconnect isn't partisan. It divides both major parties, and it also divides independents. Just look at Common Core, for example. Rand Paul and Ted Cruz are strongly against it, while Jeb Bush is a firm supporter. Bobby Jindal and Mike Huckabee supported it at the state level and then opposed it when it became a federal program. And all of these men are leading Republicans.
Or look at the vaccination issue. Some of the strongest supporters of government mandates are top Democratic politicians, while many of the communities with the lowest rates of vaccination (and highest levels of anti-vaccination activism) are university neighborhoods dominated by progressive faculty and administrators.
On the Right, many Republican voters demand that everyone get vaccinated, while a vocal opposition calls mandatory vaccination a socialistic plot. Ben Carson versus Rand Paul, so to speak, but spread through the population regardless of party.
Now, change the Surface issue, from, say, vaccinations to police use of deadly force in Ferguson, Cleveland, or New York, and the sides quickly shift.
Bad Comparisons
Here's another example:
1-The government should regulate and then force the education of all children ages 5-16.
   Vs.
2-Parents should have the right to make the final educational decisions for their family.
This one clearly hits very close to home, but the divide is still there. Ben Carson said something really interesting while he was making his case for mandatory vaccinations. He compared them to seatbelt laws and also laws against texting while driving. I like Ben Carson, so this surprised me because these two things shouldn't be treated the same. (He probably would have clarified this if he had time to elaborate.)
The main intent of "don't text while you drive" laws is to protect other people from bad driving, while the focus of seat belt laws is to protect the driver.
In the case of Common Core, supporters often speak as if their major goals are to improve society, while many parents who dislike Common Core care mostly about the education of their own children. And pro-vaccinators often cite public health statistics at the same time that anti-vaccination parents point to anecdotal examples where specific children were harmed.
Simplicity and Standards
This all makes sense, if we take the time to really consider it. In short, those thinking in terms of the mass population naturally overlook the specific, individual cases ("they're just anecdotal") while many a concerned parent logically ignores the statistical tables ("my son isn't just a number") and focuses on the potential danger if her child just happens to be one of those who is harmed.
Both views have merit. Both are reasonable. Both make sense. But back to our original question: To whom are we going to give the final say?
The answer depends on what level of society is best equipped to deal with each specific situation. Consider:
If it's a question about nuclear attack or foreign invasion, the federal government was designed to deal with it.
If it's a question of crime or direct danger to everyone, it's a state or provincial issue.
Or, if anything in level B can be handled more effectively at a local level, it should be.
If it's about what's best for an individual's education, prosperity, or health, let the individual choose. This is the essence of freedom. If it's about children, let's trust the parents.
This simple little system is essential to freedom. Without such standards, freedom is quickly lost.
The Level
So, let's get specific. Do the measles meet the "danger to everyone" level in B or C above? No. So leave such health decisions to the parents. Same with Common Core. Of course, if Ebola is the issue, level B kicks in because it truly is a "direct danger to everyone." It may even be level A, depending on the circumstances. But Common Core and the measles are nowhere near level A. Not even close.
In fact, this system of doing things at the right level, and only at the right level, is the key to maintaining freedom and applying wisdom on nearly every issue. For example:
-Seat belts? Level D.
-Drunk driving or text-driving? Level B. (It would be level C if people didn't travel very much, but in our current world conditions, if every local area has a different law, far too many drivers will be confused and the laws will be ineffective at protecting the life and liberty of others.)
-Police using deadly force? Level B.
-Oversight of any use of deadly force? Levels A-D.
-Compulsory school laws? Level D only. Seriously, leave to families those things best handled by families.
-Dedicated study and wise oversight of all laws? Level D.
This isn't just the Deeper level; it is the bedrock of freedom.
******************
Oliver DeMille is the New York Times, Wall Street Journal and USA Today bestselling co-author of LeaderShift: A Call for Americans to Finally Stand Up and Lead, the co-founder of the Center for Social Leadership, and a co-creator of TJEd.
Among many other works, he is the author of A Thomas Jefferson Education: Teaching a Generation of Leaders for the 21st Century, The Coming Aristocracy, and FreedomShift: 3 Choices to Reclaim America's Destiny.
Oliver is dedicated to promoting freedom through leadership education. He and his wife Rachel are raising their eight children in Cedar City, Utah.
Category : Aristocracy &Blog &Citizenship &Community &Constitution &Culture &Current Events &Economics &Education &Featured &Generations &Government &Leadership &Liberty &Politics &Prosperity &Science &Statesmanship
August 27th, 2014 // 6:34 am @ Oliver DeMille

The Dinosaur Reality
The day of turning a college degree into a ready job and high pay is over. That was then. The new economy is different now, and many graduate schools are taking note.
For example, The New York Times reported:
"On a spring afternoon at Michigan State University, 15 law students are presenting start-up proposals to a panel of legal scholars and entrepreneurs and an audience of fellow students. The end-of-the semester event is one part seminar and one part 'Shark Tank' reality show.
"The companies the students are describing would be very different from the mega-firms that many law students have traditionally aspired to work for, and to grow wealthy from. Instead, these young people are proposing businesses more nimble and offbeat: small, quick mammals [entrepreneurial businesses] scrambling underfoot in the land of dinosaurs [oldstyle mega-businesses]." (John Schwartz, "This is Law School?" The New York Times, August 1, 2014)
Many schools are increasingly emphasizing entrepreneurialism in a new economy where the traditionally educated law school graduate faces a dearth of jobs. "With the marketplace shifting, schools have increasingly come under fire for being out of touch." (ibid.)
Professionals in the Basement
A surprisingly high number of law school and other professional school graduates are moving back home to live with parents, and those who do get jobs are finding the work stifling and unrewarding in an environment with a glut of professionals holding degrees.
Those who don't like the cutthroat and grinding work are easily replaced.
In fact, a Forbes study recently noted that being an associate attorney is the least happy job in the nation. (See Psychology Today, July 2014) It has relatively high pay compared to most entry-level career paths, but the hours are extreme and the other rewards are minimal.
With the glut of attorneys in the market, a large number of law school grads are ending up as paralegals anyway—which seldom helps them to pay off their huge student loans. (ibid.) Medical careers are nearly as bad for most young people—at least for the first eight to twelve years.
A recent poll of college graduates showed:
"People who take out significant college loans score worse on quality-of-life measures, a trend that persists into middle age…. Even 24 years after graduation, students who borrowed more than $25,000 are less likely to enjoy work and are less financially and physically fit than their counterparts who graduated without debt.
For more recent college grads, the discrepancy is even more pronounced….
"About 70% of college grads have debt (Douglas Belkin, "Heavily Indebted Grads Rank Low on Life Quality, The Wall Street Journal, August 8, 2014), and those with graduate or professional schooling have even more debt on average than those with a four-year degree.
"Catherine L. Carpenter, vice dean of Southwestern Law School in Los Angeles, tracks curriculum across the country. She said schools are trying to teach their students to run their own firms, to look for entrepreneurial opportunities by finding 'gaps in the law or gaps in the delivery of services,' and to gain specialized knowledge that can help them counsel entrepreneurs." (op cit. Shwartz)
A Return to Apprenticeship
Some of the schools themselves are turning more entrepreneurial as well. The Times reported:
"All law schools, including the elites, are increasing skills training by adding clinics and externships…. [T]he University of Virginia will allow students to earn a semester of credit while working full time for nonprofit or government employers anywhere in the world." (Ethan Bronner, "To Place Graduates, Law Schools Are Opening Firms," The New York Times, March 7, 2013)
This kind of non-traditional learning harks back to the time when most attorneys learned by apprenticing with practicing lawyers—usually with no formal law school at all.
A few law schools are also implementing innovative ways to help their graduates get jobs, or work in firms set up specifically for this purpose by the law schools. For example, Arizona State University set up a special nonprofit law firm so that some of its graduates would have a place to work and learn to practice law.
"[There is] a crisis looming over the legal profession after decades of relentless growth…. It is evident in the sharp drop in law school applications….
"[P]ost-graduate training programs appear to be the way of the future for many of the nation's 200 law schools. The law dean of Rutgers University just announced plans for a nonprofit law firm for some of his graduates." (ibid.)
Entrepreneurship and Life
Other innovations are trying to deal with the crisis.
"At Indiana University's law school, Prof. William D. Henderson has been advocating a shake-up in legal education whose time may have come. 'You have got to be in a lot of pain' before a school will change something as tradition-bound as legal training, he said, but pain is everywhere at the moment, and 'that's kind of our opening.'" (op cit. Shwartz)
"'This is the worst time in the history of legal education to go to law school,' said Patrick Ellis, a recent graduate [of Michigan State University]. 'I am not top of my class, not at a top-10 law school, but I'm confident I'm going to have a meaningful career because of this [entrepreneurial studies] program.'" (ibid.)
Entrepreneurialism is injecting life into many sectors of the economy. In fact, it always has. Without entrepreneurship, free economies cannot flourish. But when the economy is as sluggish as the new market today, entrepreneurs are the main hope.
Note that it's not just law school grads who are facing a tough economy. Don Peck wrote:
"The Great Recession may be over, but this era of high joblessness is probably just beginning. Before it ends, it will likely change the life course and character of a generation of young adults…. The economy now sits in a hole 10 million jobs deep…[and] we need to produce roughly 1.5 million jobs a year—about 125,000 a month—just to keep from sinking deeper.
"Even if the economy were to immediately begin producing 600,000 jobs a month—more than double the pace of the mid-to-late 1990s, when job growth was strong—it would take roughly two years to dig ourselves out of the hole we're in…. But the U.S. hasn't seen that pace of sustained employment growth in more than 30 years…" (Don Peck, "Can the Middle Class Be Saved?" The Atlantic, March 2010)
In addition, to pay for college, many more students are staying home and learning in local schools or talking courses online. (See, for example, Tamar Lewin, "Colleges Adapt Online Courses to Ease Burden, The New York Times, April 29, 2013.)
And over half of college students who go away to earn their degrees have moved back home after graduation in recent years—they aren't finding jobs, and home is their only option in many cases. (Harper's Index, Harpers, August 2011).
Deep Holes Around the World
In fact, this problem is prevalent in Europe as well as the United States.
As one report noted:
"By the time the parents of Serena Violano were in their early 30s, they had solid jobs, their own home and two small daughters. Today, Serena, a 31-year-old law graduate, is still sharing her teenage bedroom with her older sister in the small town of Mercogliano, near Naples." (Ilan Brat and Giada Zampano, "Young, European and Broke," The Wall Street Journal, August 9-10, 2014)
With few jobs available in her field, she "spends her days studying for the exam to qualify as a notary in the hopes of scoring a stable job." (ibid.)
The reason the European economies are struggling is the same as the American challenge–with one difference: the media is more open in saying what is really causing the problems in Europe.
For example, "[the young European's] predicament is exposing a painful truth: The towering cost of labor protections that have provided a comfortable life for Europe's baby boomers is now keeping their children from breaking in [to economic opportunity]." (ibid.)
Dead or Alive
In the United States, such protections include Social Security, Health Care laws, Government Pensions, other entitlements, and the debt necessary to maintain these programs—along with the high levels of regulation that hamper entrepreneurial ventures.
But why are people turning to graduate school to learn entrepreneurship, when the best entrepreneurs tend to learn their craft by application in the real market? It appears to be a matter of trying to avoid risk—of attempting to do what works in the new economy (entrepreneurship) while hedging one's bets by still doing what used to work in the old economy (college degrees).
As one interesting article captured this theme: "College is Dead. Long Live College!" (Amanda Ripley, "College is Dead. Long Live College!" Time Magazine, October 18, 2012, cited in Allen Levie, "The Visual Tradition: The Coming Shift in Democracy," unpublished manuscript.)
Both "college is dead" and "long live college" can't technically be true at the same time, but today's students and their parents aren't sure which to believe. Still, the best road to entrepreneurship is clearly the path of actually engaging entrepreneurialism.
This is a scary reality for a generation that was raised to believe that school was basically the only route to career success.
Watching Results
Alexis de Tocqueville wrote in Democracy in America that as go the attorneys, so goes the United States. Today the cutting-edge trend in legal training is a huge influx of entrepreneurialism.
Ultimately, as another report put it:
"It used to be that college was the ticket to the top. Now graduates are starting from the bottom—buried by student-loan debt that has skyrocketed to a collective $1.2 trillion" in the United States. (Kayla Webley, Generation Debt, MarieClaire, June 2014) Today's college students and graduates are coming to be known less as the Millennial Generation and more as "Generation Debt." (ibid.)
This doesn't mean that higher education is dead. It means that "hire education" is going to be increasingly judged by how well it works—meaning how effectively its users succeed as entrepreneurs.
As a result, a lot of "higher education" innovation and non-traditional types of learning—many of them informal, self-directed and hand-on-building-a-business—are beginning to flourish.
Those who successfully entrepreneur (in law and nearly every other sector of the economy) are going to be the successes of the future. Entrepreneurship is the new Ivy League.
*******************
Oliver DeMille is the New York Times, Wall Street Journal and USA Today bestselling co-author of LeaderShift: A Call for Americans to Finally Stand Up and Lead, the co-founder of the Center for Social Leadership, and a co-creator of TJEd.
Among many other works, he is the author of A Thomas Jefferson Education: Teaching a Generation of Leaders for the 21st Century, The Coming Aristocracy, and FreedomShift: 3 Choices to Reclaim America's Destiny.
Oliver is dedicated to promoting freedom through leadership education. He and his wife Rachel are raising their eight children in Cedar City, Utah
Category : Aristocracy &Blog &Business &Culture &Current Events &Economics &Education &Entrepreneurship &Leadership &Mini-Factories &Mission &Producers &Prosperity &Statesmanship
July 25th, 2014 // 7:38 am @ Oliver DeMille
What Some Entrepreneurs Are Missing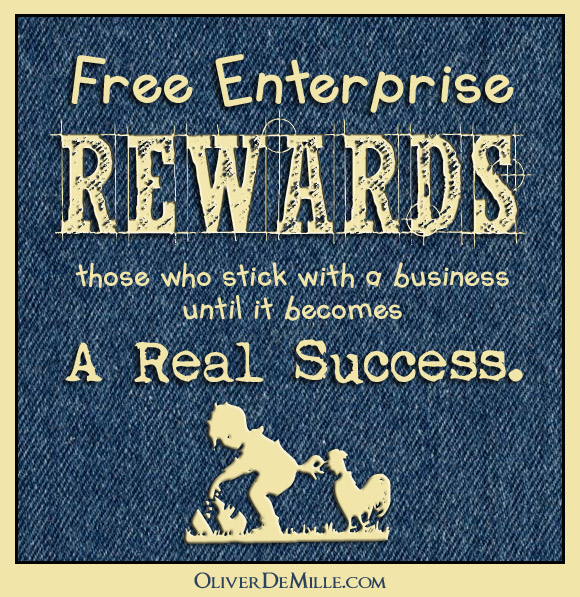 I write a lot about entrepreneurship, even though my main focus is freedom. The reason for this is simple: free nations are always nations with a strong entrepreneurial sector. There are no exceptions in history.
Put simply, the great free nations of human experience had a flourishing free enterprise. This was true in ancient Athens and ancient Israel, the Swiss free era and the Frank golden age, the free periods of the Saracens and also the Anglo-Saxons, the American founding era and the modern free nations of Britain, U.S., Canada, Japan and Europe, among others.
Take away free enterprise, and a nation's freedom always declines. Shut down the entrepreneurial spirit, and liberty rapidly decreases.
The main reason freedom rises or falls with entrepreneurialism is simple: 1) to succeed as an entrepreneur, a person must exhibit the character traits of initiative, innovation, ingenuity, creativity, wise risk-taking, sacrifice, tenacity, frugality, resilience, and perseverance, and 2) these characteristics are precisely the things that through history have proven necessary for free citizens to stay free.
 The Hidden Problem
The large majority of responses when I write about entrepreneurship are thoughtful, insightful, and even wise. But once in a while when I write an article pointing out the importance of free enterprise and entrepreneurship to freedom, I get a strange response. I call it "strange" because it shows that some people don't quite understand what I mean by entrepreneurship. Such comments go something like this:
"I'm a born entrepreneur, and I've started dozens of businesses, so I understand that…"
"I have a list of ideas for successful entrepreneurial projects—could you suggest which of these might be the best options…"
"My spouse is constantly starting entrepreneurial ventures and using up our capital in such schemes, and your article made him want to do several more of them…"
These types of sentences are a real head-scratcher. Why? Because this isn't what successful entrepreneurship and free enterprise is all about. Not at all.
Successful entrepreneurs typically start 2-4 businesses during their life, not dozens, and at least one of them becomes an important enterprise. The free market just doesn't reward people who start dozens of businesses, frequently jumping around from business to business.
People who are constantly engaged in their latest "start-up" aren't really following the entrepreneurial path. They're just endlessly repeating the first part of it. Free enterprise rewards those who stick with a business until it becomes a real success, or who learn from the mistakes of the past and then stick with the next venture until it truly prospers.
A lot of successful entrepreneurs have had a failure or two, but not many of them have spent their years working on dozens of businesses. They soon learn to pick one and do what it takes to succeed. They buckle down and go through the process of turning their company into something.
In fact, many successful owners have suggested that it takes about 10,000 hours, or even more, to become good enough at a business or economic sector to make it profitable. Those who are constantly jumping around just can't ever get there.
 The Real Thing
When people talk about an entrepreneurial attitude or viewpoint of always starting another business, that's one thing. But it's not the same thing as tenaciously persevering until one business flourishes—and then tenaciously persevering as it keeps thriving.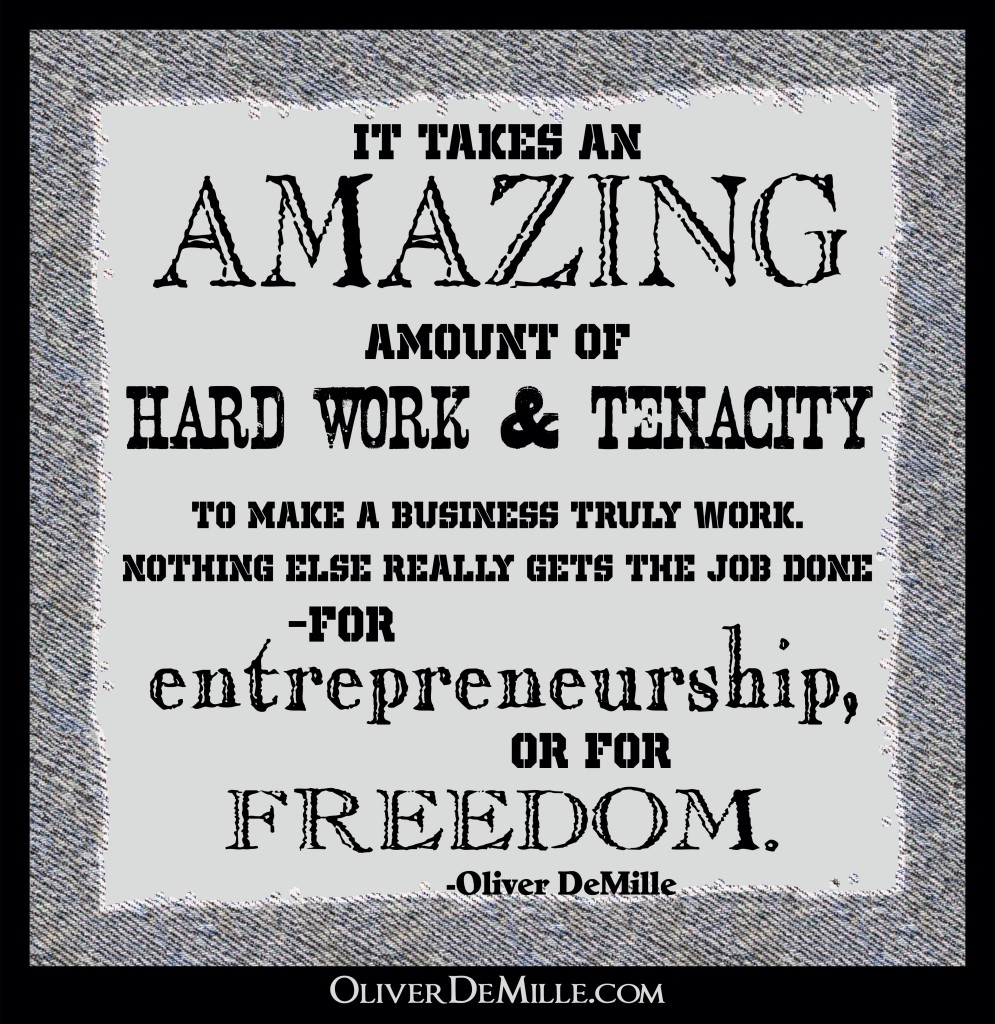 This latter approach is the kind of entrepreneurship that builds a nation. It's more than just a posture or a habit of starting a bunch of businesses. It's more than liking the idea of business ownership. It's more than talking about being your own boss.
It takes an amazing amount of hard work and tenacity to make a business truly work. Nothing else really gets the job done—for entrepreneurship, or for freedom.
This might seem like a little thing, like a meaningless play on words, but it isn't. It is huge! Entrepreneurship doesn't spur liberty in a society just because some people have an independent, "I'll do it myself" or "I'd rather be my own boss" attitude. That's part of it, but there's more.
Free enterprise is great when the enterprises work. This happens only when the small business owner pays the price to become a successful leader and make the enterprise blossom and grow.
Again, this might not always occur—and it never comes easily—but the leaders who build a free nation are those who hunker down and do the hard work to make it happen. Even if they fail, they make it happen the next time. One dedicated day at a time. Through all the hard times and challenges. Even when everyone else would have given up.
A nation with a lot of such entrepreneurs has a real chance at freedom.
A nation without them never does.
*******************
Oliver DeMille is the New York Times, Wall Street Journal and USA Today bestselling co-author of LeaderShift: A Call for Americans to Finally Stand Up and Lead, the co-founder of the Center for Social Leadership, and a co-creator of TJEd.
Among many other works, he is the author of A Thomas Jefferson Education: Teaching a Generation of Leaders for the 21st Century, The Coming Aristocracy, and FreedomShift: 3 Choices to Reclaim America's Destiny.
Oliver is dedicated to promoting freedom through leadership education. He and his wife Rachel are raising their eight children in Cedar City, Utah
Category : Blog &Business &Citizenship &Community &Culture &Current Events &Economics &Entrepreneurship &Leadership &Liberty &Mini-Factories &Producers &Prosperity
July 21st, 2014 // 6:09 am @ Sara DeMille
My Eureka Moment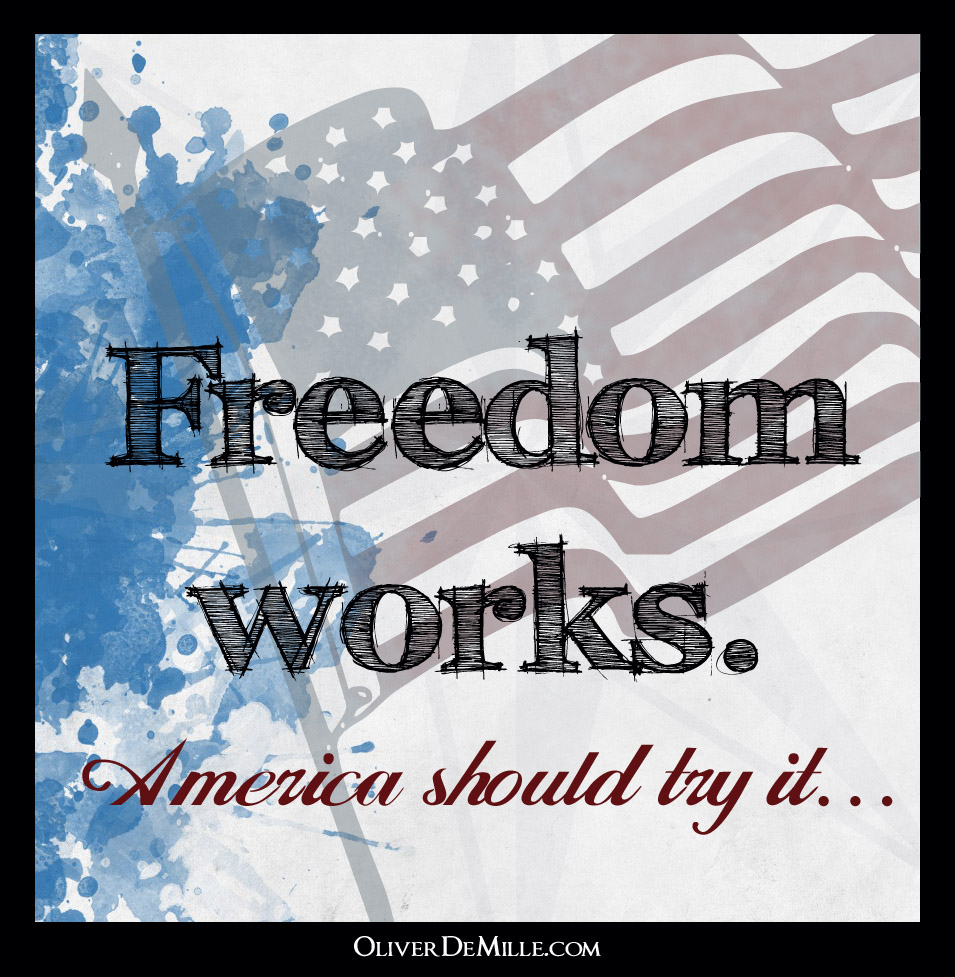 It was downright amazing! Surprising, in fact. Shocking. Actually, I don't think the American founding generation would have been surprised at all. They would have expected it. But for me, raised in our modern world, it was a true Eureka!
I should have seen it coming, to tell the truth. In fact, if someone had asked me beforehand to predict what would happen, I'd have put on my forecasting cap and I…probably still wouldn't have known. But nobody asked, and I didn't give it a thought. I guess I'm getting ahead of the story, though, so let's back up a bit.
Petitions and Amazing Happenings
Last summer and fall a number of people in our small town went around getting citizens to sign a petition. The city had decided to raise taxes to meet the growing demands, and some people thought this was a bad idea. The truth is, the leaders in our town are very dedicated and honest—the ones I know personally, which includes most of them, are people of deep integrity.
The same is true of the citizens who talked to me about signing the petition. I studied the issue and decided that, in my opinion, we really didn't need the additional services the tax increase would cover. I signed the petition.
So did a lot of people, and the taxes were postponed—at least for a while.
Then came the annual 4th of July celebration. Of course, one of the great traditions of Independence Day is watching the fireworks. This was suggested by founding father John Adams, and it has been a ritual of growing up for most Americans ever since.
But fireworks were one of the things cut by postponing the tax increase. As the 4th approached, this became a topic of discussion across back fences, near mailboxes, and anywhere else neighbors met. "I voted against raising taxes," one neighbor told me, "but I'll sure miss the fireworks." He shook his head sadly.
I found myself agreeing with him. I repeated his sentiment several times during the last half of June.
Time passed, as it always does, and the holiday arrived. There was a parade, snow cones, barbecues and races. When evening came, my kids asked if I wanted to drive to the neighboring town and watch the fireworks. I told them to go ahead. On the one hand I felt a bit like a hypocrite for voting against the taxes and then driving to the next town for their tax-funded fireworks. But mostly I was just worn out from the day and wanted to stay home. "If only we could just sit in our yard and watch the fireworks like every year," I heard my voice saying in spite of myself.
The kids left, and Rachel and I sat in the yard and watched dusk turn into darkness.
Then an amazing thing happened. Our neighbors just down the road begin shooting off amazing fireworks. Because the city wasn't providing fireworks, policies were relaxed and people were allowed to fire up the kind of fireworks usually only done by the local government.
Firework Economy
We watched in awe. Because our home is on a hill, the bursts seemed close enough to reach out and touch.
But that was just the beginning. Right after the neighbors began their display, another one started just down the road. Then another, and another. We walked the stairs to our balcony and looked out over the valley. Every neighborhood seemed to have the kind of fireworks that in past years have only been done by the city. We counted seventeen distinct places that shot off huge firework displays.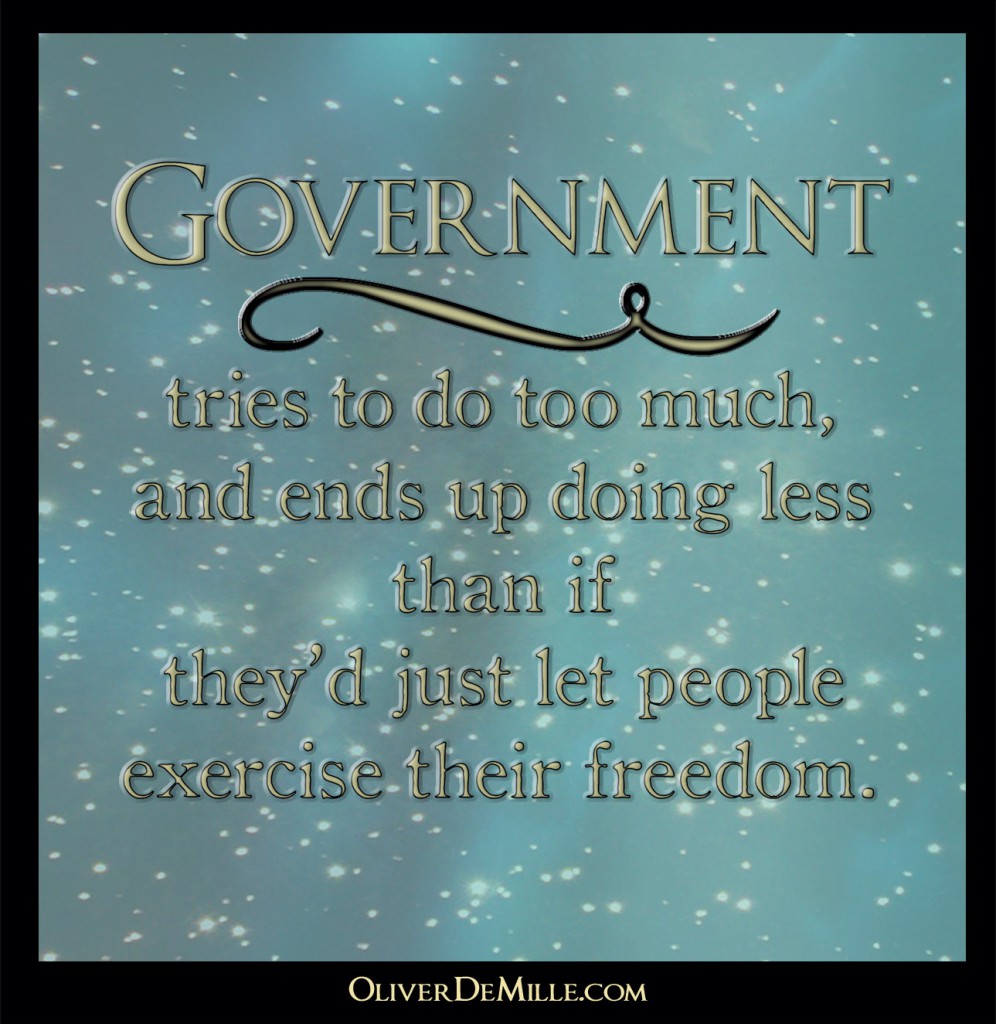 We watched them simultaneously. This went on for over two hours. The city's usual annual display seemed to last about a half hour or so—I have no idea the actual timing, just my recollection. This one went on and on. An hour into this, three more neighborhoods started. Some ended, and new ones began.
We watched in awe.
It was by far the most amazing fireworks display I've ever witnessed. All provided by private citizens. As far as I know, all paid for without tax funds.
As we watched, and as it continued well into the night, I turned to Rachel and said, "I can't believe it! The city government never did anything close to this! Look at what the people are doing, all by themselves."
She nodded. "Government tries to do too much," she said, "and ends up doing less than if they'd just let people exercise their freedom."
"Can you imagine what would happen to our economy if the government would get out of the way and let free enterprise work?" I asked.
"Instead of standing on a balcony watching the best fireworks ever," she replied, "we could stand back and watch the nation's economy boom and blossom. There would be jobs, progress and more prosperity everywhere!"
The One Thing That Works
We sat and watched in silence for a long time. The explosions boomed against each other and echoed through the valley. Sometime close to midnight things died down, and shortly after that our kids came home. They piled out of the van laughing and talking.
"Did you see all that?" our twenty-year-old asked enthusiastically. "That was the best fireworks display ever!"
"We didn't even leave town!" our seventeen-year-old said. "We started to go, but then all these places started shooting up fireworks. They were everywhere! In every direction…"
"So we just pulled over at the park and got out to watch them!" our fourteen-year-old interrupted. "It was so amazing!"
I looked at Rachel. "Someday the government will get out of the economy and tell the people they're on their own…and then we'll see what freedom can really do in America."
"That's what you're here talking about?" asked our twenty-two-year-old daughter with a big smile, baby in arms.
We laughed. "Well, it is the 4th of July" I said. "Isn't this is exactly what every American should be talking about today?"
Long after the 5th of July arrived I rested on my bed, eyes open, unable to sleep. One thought just kept coming back to me, over and over.
Freedom works.
Today's America should give it more of a try. Deregulate and let free enterprise shine and flourish. Most people today probably can't even imagine it, but I bet it's amazing what the people of this nation would rise up and do if given the chance.
Freedom works.
America should try it…
*******************
Oliver DeMille is the New York Times, Wall Street Journal and USA Today bestselling co-author of LeaderShift: A Call for Americans to Finally Stand Up and Lead, the co-founder of the Center for Social Leadership, and a co-creator of TJEd.
Among many other works, he is the author of A Thomas Jefferson Education: Teaching a Generation of Leaders for the 21st Century, The Coming Aristocracy, and FreedomShift: 3 Choices to Reclaim America's Destiny.
Oliver is dedicated to promoting freedom through leadership education. He and his wife Rachel are raising their eight children in Cedar City, Utah
Category : Blog &Citizenship &Community &Current Events &Economics &Entrepreneurship &Government &Leadership &Liberty &Politics &Prosperity