May 19th, 2015 // 6:40 am @ Oliver DeMille
The Divide
A college-level education is increasingly important in the new economy. Higher education has long created a significant divide between the "haves" and "have nots," and by all indications this trend will intensify for the next three decades.
The gap between the affluent (we'll call this the A Economy) and the middle class (the M Economy) is growing, and higher education is one of the clearest differences between these groups. The ranks of the lower classes (the R Economy—with R standing for "Risk") are swelling, as more in the middle class find themselves caught in high debt and paycheck-to-paycheck living. Again, higher education marks the divide between those in the A Economy and almost everyone else.
Moreover, as North Americans compete for well-paying jobs and economic success in an increasingly global marketplace, the old system of "college degree = secure job with good benefits" no longer holds. Fewer graduates are able to maintain their parents' lifestyle, and the middle class is dwindling.
As a result, those in the Middle Economy are left with a choice: rise to the Affluent Economy or join the Risk Economy. With career opportunities increasingly elusive for young people in this environment (in both North America and Europe), higher education has become even more important.
There is much more to this article – including where the different classes are heading; various ways of getting a great education; finding where to get your college-level education; and more!
Category : Aristocracy &Blog &Business &Citizenship &Community &Education &Entrepreneurship &Prosperity
January 9th, 2015 // 7:56 am @ Oliver DeMille
I am an optimist. I believe the best of America and the world are still ahead. But we're only going to get there by dealing with the reality that the United States is now in an era of significant decline. Specifically, at least two things happened this year that are major problems, and a third serious problem is gaining increased support among many world leaders.
Part I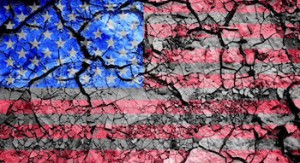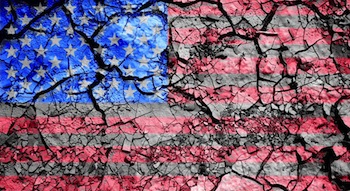 First, our federal debt went over the $18 trillion mark in 2014. Someone is going to have to pay this back, and that means we'll be paying for it for the rest of our lives—and so will our children and grandchildren.
That's approximately $58,065 for every man, woman, and child currently in the United States. If you have a family of four, you now owe around $232,260. This debt must be paid in addition to whatever other taxes are needed for national security, services, and all other government programs now and going forward–not to mention your family's living expenses.
To be more realistic, the truth is that many people will never pay any taxes toward this amount—because they won't make enough. This means you're likely to end up being charged at least twice this amount. Some people will pay a lot more. So you really owe more like $116,130 or $464,520 for your family of four.
If you have big family, say of ten people, you owe roughly $2 million dollars over the course of the rest of your life. Whatever you don't pay off, the government will charge your kids and grandkids.
Oh, and you need to add to that all the interest still to be charged on this amount, which means that you actually owe between $1.8 million if you have a family of four, or up to around $7 million if your family is bigger. And, yes, if interest rates on the national debt increase (all the trends indicated they will), this amount will go up rapidly.
Most people have no idea what a big deal this is. This is money that has already been spent. It's owed. And we have to pay it, now and later. We, our kids, and their kids too.
Problems and Booms
How big is this? Multiply your salary by the number of years you have left working (x), and then multiply at least $116,130 by the number of years you have to live (y). If you make more than $60,000 a year, double both amounts. If you make more than $100,000 a year, quadruple both. Then subtract one from the other to find if you'll make more than you already owe the government.
Too much math? That's exactly what the government is banking on. The government only gets away with this level of borrowing and spending because very few people do the math or understand what it means to them personally. Granted, these numbers are very basic, and the reality is actually worse, given interest and rising interest rates on the national debt.
So, the United States has a problem. It has a number of problems, actually, but this one is massive. The government owes so much that our economy will struggle under the weight of this debt for the rest of the century. It will dampen every citizen's opportunities, block every generation's choices, and haunt our posterity for many decades.
Is there any way out of this? Yes. The answer is simple, in fact. We need a major economic boom. A massive boom would allow us to pay this off much quicker and put the nation back on positive economic footing. Without such a boom, this problem is going to deepen.
How do we get a boom? Again, the answer is simple. I'll outline it below in Column A.
But first, what happens if we don't make the choices that will bring a boom? The answer is clear. And drastic. Our economics will rapidly get worse. For the nation, for families, for almost everyone.
Part II
Second, China just surpassed the United States as the top producing economy in the world. It was already the top trade economy, as of a year ago. How does this translate into real life consequences for real people? Well, such a transition has happened before, and there is a predictable pattern that occurs when a new nation becomes the largest global economy.
Here is a rough outline of this pattern:
The new power (e.g. China) has the ability to dictate its own trade rules, which increases the flow of wealth to it—and away from the old power (e.g. the U.S.).
The new power's currency eventually becomes the lead world currency (replacing the old power's currency). When Britain lost it's top power spot, the average British citizen lost 30% of net worth within weeks. In the current shift, the Chinese will likely push for a global currency. (More on this in Part III)
The old power keeps trying to regain its status by engaging in wars and military interventions around the globe, while the new power focuses mainly on economic success. This further weakens the old power, and quickly.
The new power, with its booming economy, is able to enjoy lower interest rates, less debt, fewer expenses for international conflicts, and much higher rates of savings and investment. The wealth of the world flows into the new power as investment capital, lifting the entire new power's economy. The old power sees its standard of living drastically fall, while the new power watches its standard of living rapidly increase.
In the eighteenth century the old power was Spain and the new power was France, in the nineteenth century the old power was France and the new power was Britain. In the twentieth century the old power was Britain and the new power was the U.S.
Today, and in the years ahead, China is the new power, and the United States is the old power. As Brett Arends put it:
"This will not change anything tomorrow or next week, but it will change almost everything in the longer term. We have lived in a world dominated by the U.S. since at least 1945 and, in many ways, since the late 19th century.
"And we have lived for 200 years—since the Battle of Waterloo in 1815—in a world dominated by two reasonably democratic, constitutional countries in Great Britain and the U.S.A. For all their flaws, the two countries have been in the vanguard worldwide of civil liberties, democratic processes and constitutional rights." (Brett Arends, "It's Official: America is now No. 2," Market Watch, December 4, 2014)
China's influence will certainly go in a different direction. This may be the single biggest concern of our century.
Can we do anything to reverse this trend? The answer is "Yes."
Failure by Surrender
There is an irony to how old powers lose their leadership role. The old power usually has the ability to stay the top leader, if it chooses. But is seldom does. Why? The answer is instructive.
Old powers refuse to maintain their leader role because they make a series of bad choices: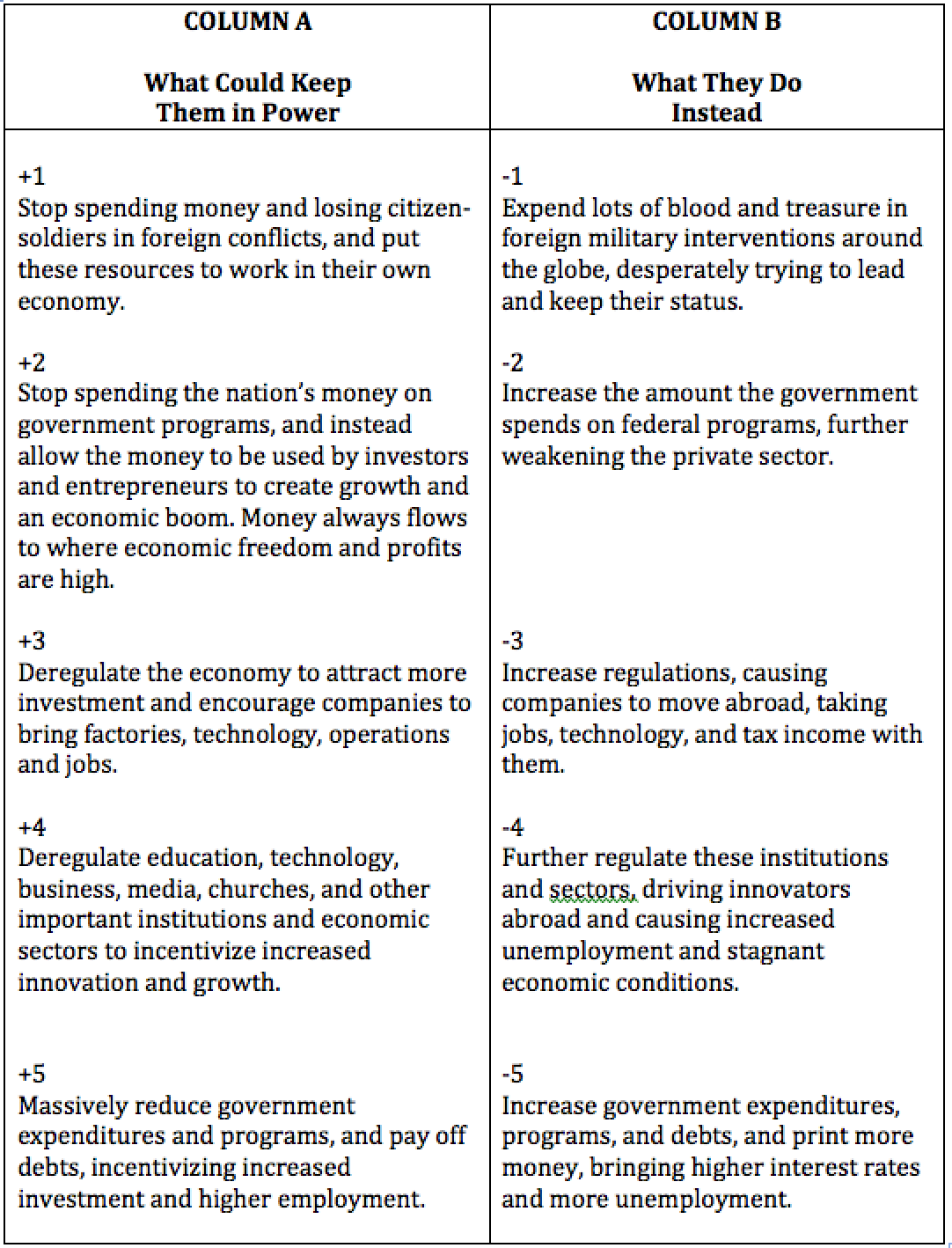 Both Are…
This is so predictable that following the pattern of decline again in our time is ridiculous. The U.S. continues to follow this path, however. Part of this is spurred by collectivist ideological ideas, but the ultimate blame goes to voters who aren't willing to back candidates who support truly frugal economic choices to cut government programs and incentivize a free-enterprise economic boom (Column A).
Voters in traditionally powerful nations are accustomed to lavish government programs; they vocally decry government debt, but they vote for more government programs anyway. Conservatives and liberals disagree about what to spend money on, but they both increase the size of government.
One problem is that people from both sides of the political aisle blame the other. Liberals fault conservatives for supporting continued military interventions around the world, and conservatives blame liberals for increased government programs and spending.
The truth is that both are right. Liberals adopt Column B government spending and bad anti-business regulations, and conservatives support Column B global military interventions around the world. Both kill the power and economy of the nation. In our day, both of these drastically decrease American prosperity and power and lift China to global leadership.
In simplest terms: Both are bad. But Republican voters hold on to their support of U.S. interventions in Europe, Africa, the Middle East, Asia, etc., and Democratic voters refuse to stop promoting big-spending federal programs. In our two-party system, both parties are deeply committed to Column B, though for different reasons.
If the United States keeps following this pattern, our looming crash is inevitable. If not, if we reverse it and move toward an economic boom (by adopting Column A), we'll reboot and reestablish the top producing economy in the world.
It's up to us. Boom or crash. The choice seems simple, yet voters keep electing leaders who implement Column B rather than Column A. If we keep it up, we're going to get what we deserve. A crash.
In all this, the most amazing thing is how simple it would be to create a boom. Column A is direct, do-able, realistic, real. We just have to adopt it, and apply it. But if we won't even vote for it, it won't come.
Part III
Third, changes in the world's currency system are gaining momentum. Few Americans realize how significant these two changes ($18 trillion in federal debt and counting, and the loss of the "#1 producing economy" status to China) will be. For example, just consider the impact of the dollar being replaced by something else as the world's reserve currency.
While most people prefer to leave currency discussions to the experts, such head-in-the-sand behavior can't shield them from the consequences. The next reserve currency will be the dollar, if only the U.S. adopts the items in Column A and catalyzes a major American economic boom.
If not, it will be something supported by China. Specifically, look for it to have three characteristics that will drastically restructure the entire world:
It will likely be a global currency, meaning that the international community (with China in the #1 spot) will regulate its use. This could easily result in a drastic reduction of national sovereignty around the world and in the U.S.
It will almost surely be electronic, which will give governments massive controls over people. This amounts to at least some controls from China, not just your national government. The power of regulating electronic currency is almost impossible to overstate.
It will also likely be sold with biotech, meaning that to access your electronic money you'll need your finger print or eye scan. (See Molly Wood, "Augmenting Your Password-Protected World," The New York Times, November 5, 2014) This will provide global surveillance at an unprecedented, literally more than Orwellian, level. Again, China will be a top influence (perhaps the top influence) in how this system is administered.
These three massive shifts in our world reality are mostly hidden from our view. They are reported, but few people realize how significant or personally relevant they are.
The future of our nation, our economy, and literally our society (with its God-based ideals, freedom-based values, and free enterprise economics) are at stake. If Column B prevails, an American Crash is assured.
(Oliver DeMille addresses the solutions to these challenges in his book, The United States Constitution and the 196 Principles of Freedom, available here)
******************
Oliver DeMille is the New York Times, Wall Street Journal and USA Today bestselling co-author of LeaderShift: A Call for Americans to Finally Stand Up and Lead, the co-founder of the Center for Social Leadership, and a co-creator of TJEd.
Among many other works, he is the author of A Thomas Jefferson Education: Teaching a Generation of Leaders for the 21st Century, The Coming Aristocracy, and FreedomShift: 3 Choices to Reclaim America's Destiny.
Oliver is dedicated to promoting freedom through leadership education. He and his wife Rachel are raising their eight children in Cedar City, Utah.
Category : Business &Citizenship &Community &Constitution &Culture &Current Events &Economics &Education &Entrepreneurship &Featured &Generations &Government &History &Leadership &Liberty &Mini-Factories &Mission &Politics &Statesmanship
December 13th, 2014 // 9:53 am @ Oliver DeMille
The Best…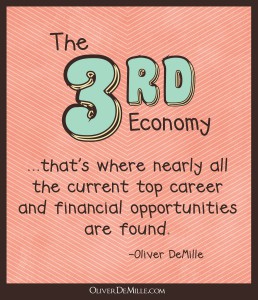 Last week Rachel asked me if I was going to write a "best books of the year" article like I have the last few years. "I'm not sure," I sighed. "To tell the truth, I think it's getting a little old. I see 'best books,' 'best movies,' 'best albums,' of the year, etc. in most of the national magazines and newspapers each year. In fact, I just recently read a December issue of a magazine that listed the '5 best of the year' in all these categories. I think it's a bit overdone these days."
"That makes sense," she responded. "But the end of the year is a profound time to look back and note important things that have happened. It's natural, and it is good for us." She pondered for a minute, then said enthusiastically, "What about a 'best article of the year?' Is there an article you wrote this year that you think is the most important one? Something everyone in America and beyond really needs to read?"
I immediately brightened and sat forward in my seat. "Yes!" I said. "There's one article I wrote that I wish I could send out every week, over and over. I wish every person in North America would read it! And Europe, and beyond. It's that important."
"What is it?"
Well, here it is. The "Article of the Year!" If you read it before when it came out, please, please read it again. It's that powerful. It's that important. And if you haven't read it before, now is the time.
The message of this article is extremely important! If you have children or grandchildren who will live, seek an education, and work in the next thirty years, the information in this article is vital. Absolutely vital. If you or your spouse will work in the next year, or three years, or ten years, the knowledge in this article is essential. This is an article on education, on leadership, and on the economy. Nobody should have to face the economy ahead without knowing what's in this article! Read it! Enjoy it! Share it!
Here goes:
A Tale of Two
There are three economies in modern society. They all matter. But most people only know about two of them. They know the third exists, in a shadowy, behind-the-scenes way that confuses most people. But the first two economies are present, pressing, obvious. So people just focus on these two.
A couple of recent conversations brought these economies even more to the forefront of my thinking. First, I was meeting with an old friend, touching base about the years since we'd talked together. He mentioned that his oldest son is now in college, and how excited he is for his son's future. I asked what he meant, and he told me an interesting story.
Over twenty years ago he ran into another of our high school friends while he was walking into his community college administration building. The two greeted each other, and they started talking. My friend told his buddy that he was there to dis-enroll from school. "I just can't take this anymore," he told him. "College is getting me nowhere."
"Well, I disagree," his buddy said. "I'm here to change my major. I'm going to get a teaching credential and teach high school. I want a steady job with good benefits."
Fast forward almost thirty years. My friend ran into this same old buddy a few weeks ago, and asked him what he's doing. "Teaching high school," he replied.
"Really? Well, you told me that was your plan. I guess you made it happen. How much are you making, if you don't mind me asking?"
When his friend looked at him strangely, he laughed and said, "I only ask because you told me you wanted a steady job with good benefits, and I wanted to get out of school and get on with real life. Well, I quit school that day, but I'm still working in a dead end job. Sometimes I wonder what I'd be making if I had followed you into the admin building that day and changed majors with you."
After a little more coaxing, the friend noted that he didn't make much teaching, only about $40,000 a year—even with tenure and almost thirty years of seniority. "But it's steady work, like I hoped. Still, I've got way too much debt."
After telling me this story, my old high school friend looked at me with what can only be described as slightly haunted eyes. "When he told me he makes $40K a year, I just wanted to scream," my friend said.
"Why?" I asked.
He could tell I didn't get what he was talking about, so he sighed and looked me right in the eyes. "I've worked 40 to 60 hour weeks every month since I walked off that campus," he told me. "And last year I made about $18,000 working for what amounts to less than minimum wage in a convenience store. I should have stayed in college."
That's the two economies. One goes to college, works mostly in white-collar settings, and makes from thirty thousand a year up to about seventy thousand. Some members of this group go on to professional training and make a bit more. The other group, the second economy, makes significantly less than $50,000 a year, often half or a third of this amount, and frequently wishes it had made different educational choices.
The people in these two economies look at each other strangely, a bit distrustfully, wondering what "could have been" if they'd taken the other path. That's the tale of two economies.
Most people understand the first two economies, but the Third Economy is elusive for most people. They don't quite grasp it. In fact, you may be wondering what I'm talking about right now.
The Third Economy
This brings me to our main point. Ask members of either economy for advice about education and work, and they'll mostly say the same thing. "Get good grades, go to college, get a good career. Use your educational years to set yourself up for a steady job with good benefits." This is the advice my grandfather gave my father at age twenty, and the same counsel my dad gave me after high school. Millions of fathers and mothers have supplied the same recommendations over the past fifty years.
This advice makes sense if all you know are the two economies. Sadly, the third economy is seldom mentioned. It is, in fact, patently ignored in most families. Or it is quickly discounted if anyone is bold enough to bring it up.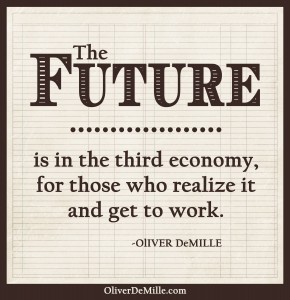 A second experience illustrates this reality. I recently visited the optometrist to get a new prescription for glasses. During the small talk, he mentioned that his younger grandchildren are in college, but scoffed that it was probably a total waste of time. "All their older siblings and cousins are college graduates," he said, "and none of them have jobs. They've all had to move back home with their parents."
He laughed, but he seemed more frustrated than amused. "It's the current economy," he continued. "This presidential administration has been a disaster, and it doesn't look like anyone is going to change things anytime soon. I don't know what these kids are supposed to do. They have good degrees—law, accounting, engineering—but they can't find jobs. Washington has really screwed us up."
I brought up the third economy, though I didn't call it that. What I actually said was: "There are lots of opportunities in entrepreneurship and building a business right now." He looked at me like I was crazy. Like maybe I had three heads or something. He shook his head skeptically.
"Entrepreneurship is hard work," I started to say, "but the rewards of success are high and…"
He cut me off. Not rudely, but like he hadn't really heard me. That happens a lot when you bring up the third economy.
"No," he assured me, "college is the best bet. There's really no other way."
I wasn't in the mood to argue with him, so I let it go. But he cocked his head to one side in thought and said, slowly, "Although…" Then he shook his head like he was discounting some thought and had decided not to finish his sentence.
"What?" I asked. "You looked like you wanted to say something."
"Well," he paused…then sighed. I kept looking at him, waiting, so he said, "The truth is that one of my grandsons didn't go to college." He said it with embarrassment. "Actually, he started school, but then dropped out in his second year. We were all really worried about him."
He paused again, and looked at me a bit strangely. I could tell he wanted to say more, but wasn't quite sure how to go about it.
"What happened?" I prompted.
What Really Works
"To tell you the truth, I'm not really sure. He started a business. You know, one of those sales programs where you build a big group and they buy from you month after month. Anyway, he's really doing well. He paid off his big house a few years ago—no more mortgage or anything. He has nice cars, all paid for. And they travel a lot, just for fun. They fly chartered, real fancy. He and his wife took us and his parents to Hawaii for a week. He didn't even blink at the expense."
"That's great," I told him. "At least some people are doing well in this economy."
He looked at me with that strange expression again. "I'm not sure what to make of it," he said. "I keep wondering if he's going to finish college."
I was surprised by this turn of thought, so I asked, "So he can get a great education, you mean? Read the classics? Broaden his thinking?"
He repeated the three heads look. "No. He reads all the time, way more than anyone else in the family. He doesn't need college for that. I want him to go back to college so he can get a real job."
I laughed out loud. A deep belly laugh, it was so funny. I didn't mean to, and I immediately worried that I would offend him, but he grinned. Then he shook his head. "I know it's crazy, but I just keep worrying about him even though he's the only one in the family who is really doing well. The others are struggling, all moved back in with their parents—spouses and little kids all in tow. But they have college degrees, so I keep thinking they'll be fine. But they're not. They're drowning in student debt and a bunch of other debts. It just makes no sense."
He sighed and talked bad about Washington again. Finally he said, "I've poured so much money into helping those kids go to college, and now the only one who has any money to raise his family is the one who dropped out. It just doesn't make any sense." He kept shaking his head, brow deeply furrowed.
I left his office thinking that he's so steeped in the two economies he just doesn't really believe the third economy exists. He just doesn't buy it, even when all the evidence is right there in front of him. The whole economy has changed. It's not your father's or grandfather's economy anymore. It just isn't. Sadly, he just doesn't get that the reality has changed.
Who Gets It
He's not alone. The whole nation—most of today's industrialized nations, in fact—are right there with him. So many people believe in the two economies, high school/blue collar jobs on the one hand, and college/white collar careers on the other. Most people just never quite accept that the entrepreneurial economy is real. They don't realize that there are many less white collar jobs per capita now, and that this trend shows all the signs of increasing. They don't admit the truth, that over half of college grads in recent years can't find jobs, and a huge number of those with degrees and without degrees are moving back home just to survive. But the third economy is flourishing.
It's too bad so many people won't admit this, because that's where nearly all the current top career and financial opportunities are found. The future is in the third economy, for those who realize it and get to work. If you've got kids, I hope you can see the third economy—for their sake. Because it's real, and it's here to stay. The first two economies are in major decline, whatever the so-called experts claim. Alvin Toffler warned us in his bestseller FutureShock that this was going to happen, and so did Peter Drucker, back when they first predicted the Information Age. Now it's happening.
I hope more of us realize the truth before it's too late. Because China gets it. So does India, and a bunch of other nations. The longer we take to get real and start leading in the entrepreneurial/innovative third economy (the real economy, actually), the harder it will be for our kids and grandkids. The third economy will dominate the twenty-first century. It already is, in fact. Whether you've chosen to see it yet or not. This is real. This is happening. This is the future. This is the current reality.
Truth is truth, even when our false traditions and outdated background refuse to let us see clearly. The parents who see this, embrace it, and help their kids prepare to take action in the third economy are providing a real education for their family. Everyone else…isn't.
*******************
Oliver DeMille is the New York Times, Wall Street Journal and USA Today bestselling co-author of LeaderShift: A Call for Americans to Finally Stand Up and Lead, the co-founder of the Center for Social Leadership, and a co-creator of TJEd.
Among many other works, he is the author of A Thomas Jefferson Education: Teaching a Generation of Leaders for the 21st Century, The Coming Aristocracy, and FreedomShift: 3 Choices to Reclaim America's Destiny.
Oliver is dedicated to promoting freedom through leadership education. He and his wife Rachel are raising their eight children in Cedar City, Utah
Category : Blog &Business &Community &Culture &Current Events &Economics &Education &Entrepreneurship &Family &Featured &Generations &Government &History &Leadership &Liberty &Mini-Factories &Mission &Producers &Statesmanship
August 27th, 2014 // 6:34 am @ Oliver DeMille

The Dinosaur Reality
The day of turning a college degree into a ready job and high pay is over. That was then. The new economy is different now, and many graduate schools are taking note.
For example, The New York Times reported:
"On a spring afternoon at Michigan State University, 15 law students are presenting start-up proposals to a panel of legal scholars and entrepreneurs and an audience of fellow students. The end-of-the semester event is one part seminar and one part 'Shark Tank' reality show.
"The companies the students are describing would be very different from the mega-firms that many law students have traditionally aspired to work for, and to grow wealthy from. Instead, these young people are proposing businesses more nimble and offbeat: small, quick mammals [entrepreneurial businesses] scrambling underfoot in the land of dinosaurs [oldstyle mega-businesses]." (John Schwartz, "This is Law School?" The New York Times, August 1, 2014)
Many schools are increasingly emphasizing entrepreneurialism in a new economy where the traditionally educated law school graduate faces a dearth of jobs. "With the marketplace shifting, schools have increasingly come under fire for being out of touch." (ibid.)
Professionals in the Basement
A surprisingly high number of law school and other professional school graduates are moving back home to live with parents, and those who do get jobs are finding the work stifling and unrewarding in an environment with a glut of professionals holding degrees.
Those who don't like the cutthroat and grinding work are easily replaced.
In fact, a Forbes study recently noted that being an associate attorney is the least happy job in the nation. (See Psychology Today, July 2014) It has relatively high pay compared to most entry-level career paths, but the hours are extreme and the other rewards are minimal.
With the glut of attorneys in the market, a large number of law school grads are ending up as paralegals anyway—which seldom helps them to pay off their huge student loans. (ibid.) Medical careers are nearly as bad for most young people—at least for the first eight to twelve years.
A recent poll of college graduates showed:
"People who take out significant college loans score worse on quality-of-life measures, a trend that persists into middle age…. Even 24 years after graduation, students who borrowed more than $25,000 are less likely to enjoy work and are less financially and physically fit than their counterparts who graduated without debt.
For more recent college grads, the discrepancy is even more pronounced….
"About 70% of college grads have debt (Douglas Belkin, "Heavily Indebted Grads Rank Low on Life Quality, The Wall Street Journal, August 8, 2014), and those with graduate or professional schooling have even more debt on average than those with a four-year degree.
"Catherine L. Carpenter, vice dean of Southwestern Law School in Los Angeles, tracks curriculum across the country. She said schools are trying to teach their students to run their own firms, to look for entrepreneurial opportunities by finding 'gaps in the law or gaps in the delivery of services,' and to gain specialized knowledge that can help them counsel entrepreneurs." (op cit. Shwartz)
A Return to Apprenticeship
Some of the schools themselves are turning more entrepreneurial as well. The Times reported:
"All law schools, including the elites, are increasing skills training by adding clinics and externships…. [T]he University of Virginia will allow students to earn a semester of credit while working full time for nonprofit or government employers anywhere in the world." (Ethan Bronner, "To Place Graduates, Law Schools Are Opening Firms," The New York Times, March 7, 2013)
This kind of non-traditional learning harks back to the time when most attorneys learned by apprenticing with practicing lawyers—usually with no formal law school at all.
A few law schools are also implementing innovative ways to help their graduates get jobs, or work in firms set up specifically for this purpose by the law schools. For example, Arizona State University set up a special nonprofit law firm so that some of its graduates would have a place to work and learn to practice law.
"[There is] a crisis looming over the legal profession after decades of relentless growth…. It is evident in the sharp drop in law school applications….
"[P]ost-graduate training programs appear to be the way of the future for many of the nation's 200 law schools. The law dean of Rutgers University just announced plans for a nonprofit law firm for some of his graduates." (ibid.)
Entrepreneurship and Life
Other innovations are trying to deal with the crisis.
"At Indiana University's law school, Prof. William D. Henderson has been advocating a shake-up in legal education whose time may have come. 'You have got to be in a lot of pain' before a school will change something as tradition-bound as legal training, he said, but pain is everywhere at the moment, and 'that's kind of our opening.'" (op cit. Shwartz)
"'This is the worst time in the history of legal education to go to law school,' said Patrick Ellis, a recent graduate [of Michigan State University]. 'I am not top of my class, not at a top-10 law school, but I'm confident I'm going to have a meaningful career because of this [entrepreneurial studies] program.'" (ibid.)
Entrepreneurialism is injecting life into many sectors of the economy. In fact, it always has. Without entrepreneurship, free economies cannot flourish. But when the economy is as sluggish as the new market today, entrepreneurs are the main hope.
Note that it's not just law school grads who are facing a tough economy. Don Peck wrote:
"The Great Recession may be over, but this era of high joblessness is probably just beginning. Before it ends, it will likely change the life course and character of a generation of young adults…. The economy now sits in a hole 10 million jobs deep…[and] we need to produce roughly 1.5 million jobs a year—about 125,000 a month—just to keep from sinking deeper.
"Even if the economy were to immediately begin producing 600,000 jobs a month—more than double the pace of the mid-to-late 1990s, when job growth was strong—it would take roughly two years to dig ourselves out of the hole we're in…. But the U.S. hasn't seen that pace of sustained employment growth in more than 30 years…" (Don Peck, "Can the Middle Class Be Saved?" The Atlantic, March 2010)
In addition, to pay for college, many more students are staying home and learning in local schools or talking courses online. (See, for example, Tamar Lewin, "Colleges Adapt Online Courses to Ease Burden, The New York Times, April 29, 2013.)
And over half of college students who go away to earn their degrees have moved back home after graduation in recent years—they aren't finding jobs, and home is their only option in many cases. (Harper's Index, Harpers, August 2011).
Deep Holes Around the World
In fact, this problem is prevalent in Europe as well as the United States.
As one report noted:
"By the time the parents of Serena Violano were in their early 30s, they had solid jobs, their own home and two small daughters. Today, Serena, a 31-year-old law graduate, is still sharing her teenage bedroom with her older sister in the small town of Mercogliano, near Naples." (Ilan Brat and Giada Zampano, "Young, European and Broke," The Wall Street Journal, August 9-10, 2014)
With few jobs available in her field, she "spends her days studying for the exam to qualify as a notary in the hopes of scoring a stable job." (ibid.)
The reason the European economies are struggling is the same as the American challenge–with one difference: the media is more open in saying what is really causing the problems in Europe.
For example, "[the young European's] predicament is exposing a painful truth: The towering cost of labor protections that have provided a comfortable life for Europe's baby boomers is now keeping their children from breaking in [to economic opportunity]." (ibid.)
Dead or Alive
In the United States, such protections include Social Security, Health Care laws, Government Pensions, other entitlements, and the debt necessary to maintain these programs—along with the high levels of regulation that hamper entrepreneurial ventures.
But why are people turning to graduate school to learn entrepreneurship, when the best entrepreneurs tend to learn their craft by application in the real market? It appears to be a matter of trying to avoid risk—of attempting to do what works in the new economy (entrepreneurship) while hedging one's bets by still doing what used to work in the old economy (college degrees).
As one interesting article captured this theme: "College is Dead. Long Live College!" (Amanda Ripley, "College is Dead. Long Live College!" Time Magazine, October 18, 2012, cited in Allen Levie, "The Visual Tradition: The Coming Shift in Democracy," unpublished manuscript.)
Both "college is dead" and "long live college" can't technically be true at the same time, but today's students and their parents aren't sure which to believe. Still, the best road to entrepreneurship is clearly the path of actually engaging entrepreneurialism.
This is a scary reality for a generation that was raised to believe that school was basically the only route to career success.
Watching Results
Alexis de Tocqueville wrote in Democracy in America that as go the attorneys, so goes the United States. Today the cutting-edge trend in legal training is a huge influx of entrepreneurialism.
Ultimately, as another report put it:
"It used to be that college was the ticket to the top. Now graduates are starting from the bottom—buried by student-loan debt that has skyrocketed to a collective $1.2 trillion" in the United States. (Kayla Webley, Generation Debt, MarieClaire, June 2014) Today's college students and graduates are coming to be known less as the Millennial Generation and more as "Generation Debt." (ibid.)
This doesn't mean that higher education is dead. It means that "hire education" is going to be increasingly judged by how well it works—meaning how effectively its users succeed as entrepreneurs.
As a result, a lot of "higher education" innovation and non-traditional types of learning—many of them informal, self-directed and hand-on-building-a-business—are beginning to flourish.
Those who successfully entrepreneur (in law and nearly every other sector of the economy) are going to be the successes of the future. Entrepreneurship is the new Ivy League.
*******************
Oliver DeMille is the New York Times, Wall Street Journal and USA Today bestselling co-author of LeaderShift: A Call for Americans to Finally Stand Up and Lead, the co-founder of the Center for Social Leadership, and a co-creator of TJEd.
Among many other works, he is the author of A Thomas Jefferson Education: Teaching a Generation of Leaders for the 21st Century, The Coming Aristocracy, and FreedomShift: 3 Choices to Reclaim America's Destiny.
Oliver is dedicated to promoting freedom through leadership education. He and his wife Rachel are raising their eight children in Cedar City, Utah
Category : Aristocracy &Blog &Business &Culture &Current Events &Economics &Education &Entrepreneurship &Leadership &Mini-Factories &Mission &Producers &Prosperity &Statesmanship
July 30th, 2014 // 7:53 pm @ Oliver DeMille
The Wrong Size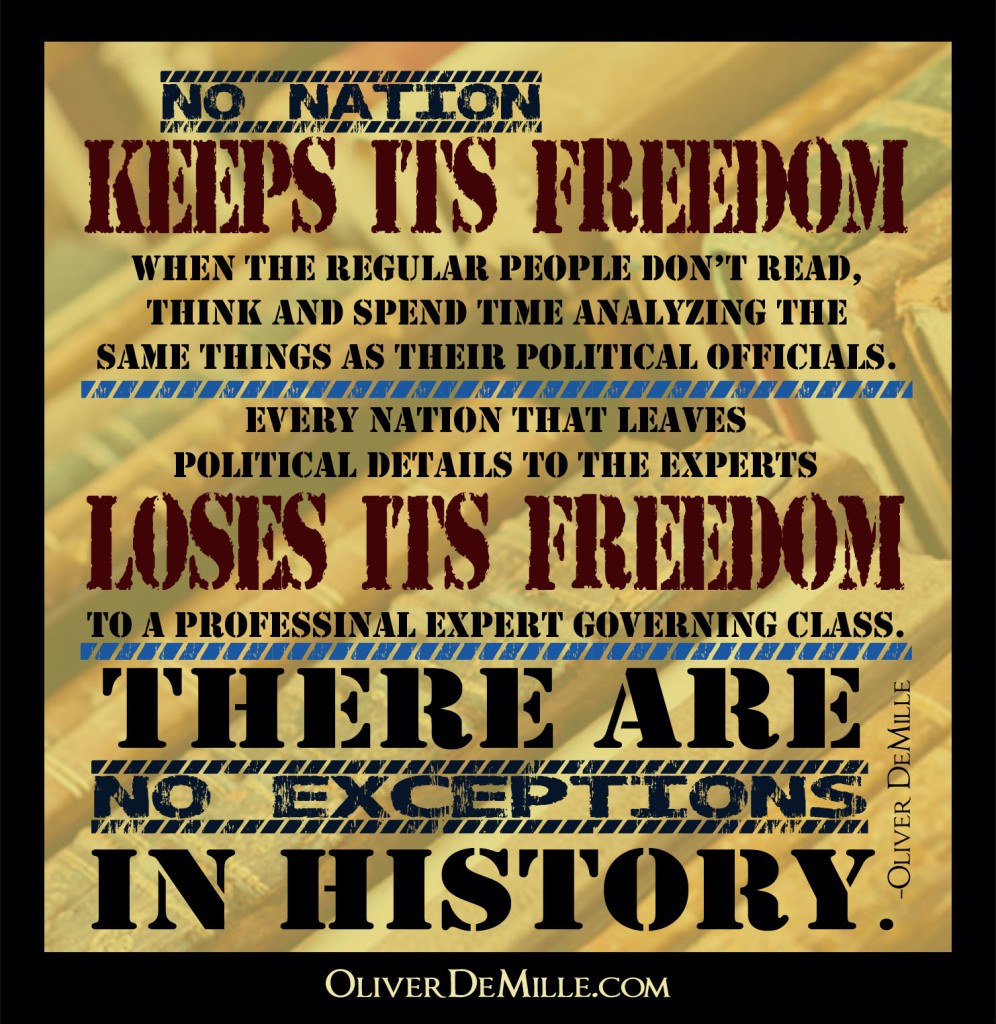 The "BIG" problem isn't just hugely important, it's also the incredible set of challenges that are created when any institution, organization, or endeavor is just plain too big. This problem is predictable, and therefore solvable, but only if the right people are keeping an eye on the right things.
Specifically, our modern government is too big. Period. Until this problem is remedied, we will continue to see crisis after crisis after crisis, each followed by infighting, gridlock, dysfunction, and major mistakes from Washington and both parties. As long as the government tries to do too much on too big a scale, it will continue to do many things poorly.
In fact, our government reached this turning point (too big to be efficient) in the late 1960s. As Micklethwait and Woolridge put it: "By the 1970s, the U.S. government seemed to be spoiling everything it touched…" (Foreign Affairs, vol. 93, no. 4, p. 126) And the size and scope of its endeavors have more than quadrupled since.
The Two Crises
This has created two overarching crises that never seem to dissipate. In fact, they'll continue to fester and grow as long as the government grows. First, a government too big to be effective or efficient tends to infectiously weaken the effectiveness and efficiency of everything it touches—and at the same time it habitually tries to touch more and more. This dull, inevitable march to control more parts of life and the economy (and inadvertently make them all less effective) has killed every great world power in history.
Its occurrence in the United States is now the defining characteristic of our century—for the whole globe.
Second, the bigger the government gets once reaching this point of inefficiency, the less it fulfills its primary mission. For the framers, the role of what they called the "general government" (meaning the federal government, what we now usually call the "national government" or even, tellingly, "the government"), was national security and the protection of freedom.
The framers saw no other role for Washington. It's raison de etre was to protect inalienable rights and defend the nation. Nothing else. In fact, the Constitution was designed specifically to ensure that it did nothing else. Worried that they hadn't quite made this certain, the founding generation then added the Bill of Rights to make absolutely sure that the federal government only did these two things.
Then, just in case they hadn't made it clear enough, they added the Ninth Amendment to the Bill of Rights. But even then they worried that they hadn't done enough to limit the federal government. So they added the Tenth Amendment as well: "The powers not delegated to the United States by the Constitution, nor prohibited by it to the states, are reserved to the states respectively, or to the people."
"We want the federal government to protect inalienable rights and maintain national security, and do nothing else!" they tried to say (the Constitution). Then, "And we mean it (the Bill of Rights). We really mean it (the Ninth Amendment). Seriously, we truly, totally, emphatically, mean it! (the Tenth Amendment)."
Richard A. Epstein wrote: "…the two central concerns of constitutional law" are "institutional structure and individual rights." (Harvard Journal of Law and Public Policy, vol. 37, no. 3, p. 705) The purpose of institutional structure is to secure individual rights, not vice versa.
The People or the Government?
But when the focus of government becomes too big, well beyond the Constitutional powers of protecting rights and maintaining the national defense, the individual rights of the people become a resource to be bargained, traded or sacrificed in the name of institutional structure. "Think not what you can do for your country, but what your country can do with or without your consent for itself," becomes the operating principle.
The people, the individuals, are forgotten in this new arrangement. They become a cypher, expendable, unimportant. Not citizens but voters. Not a nation of, by, and for the people, but now people for, by, and of the nation (meaning whatever Washington says). In other words, an aristocracy, where elites run the nation and control the people who live in it.
This isn't the founding model of Americanism at all. It's the opposite. It's top-down government, not Jefferson's bottom-up democracy. As such, it is fundamentally authoritarian, not a self-governing republic. This has created two natural results: national decline as the world's sole superpower, and the decline of individual freedoms.
Both declines will continue as long as the "BIG" problem (the government is too big) persists.
The Cause
But what can be done, realistically? The federal government can be held to its Constitutional boundaries. It can be limited to national defense and the protection of the inalienable rights of its citizens. This is why the government was created in the first place, and when it tries to do anything else beyond these two roles it is both unconstitutional and also destructive to freedom, prosperity, and happiness.
The people still have the power to remedy this, in every election, if they'll choose to vote wisely.
Note that nearly all nations in both the free and the authoritarian world are facing the "BIG" Problem. Following America's lead, or in some cases simply striking out on their own, modern governments are drastically expanding—not sticking to their wise or constitutional limits. For example, the debt of governments around the world "…reached $50.6 trillion in 2013, compared with just $22 trillion in 2003." (Ibid. p. 130)
At this rate, the fall of individual freedoms to the "BIG" Problem is all but ensured.
This trajectory isn't surprising in the authoritarian nations, where elites openly rule the masses. But in the free nations, it is a relatively new development, one that began in the United States with the advent of the GI Bill after World War II. Before this time, education generally emphasized the classics and the great skills of deep reading (e.g. The Federalist), writing and thinking.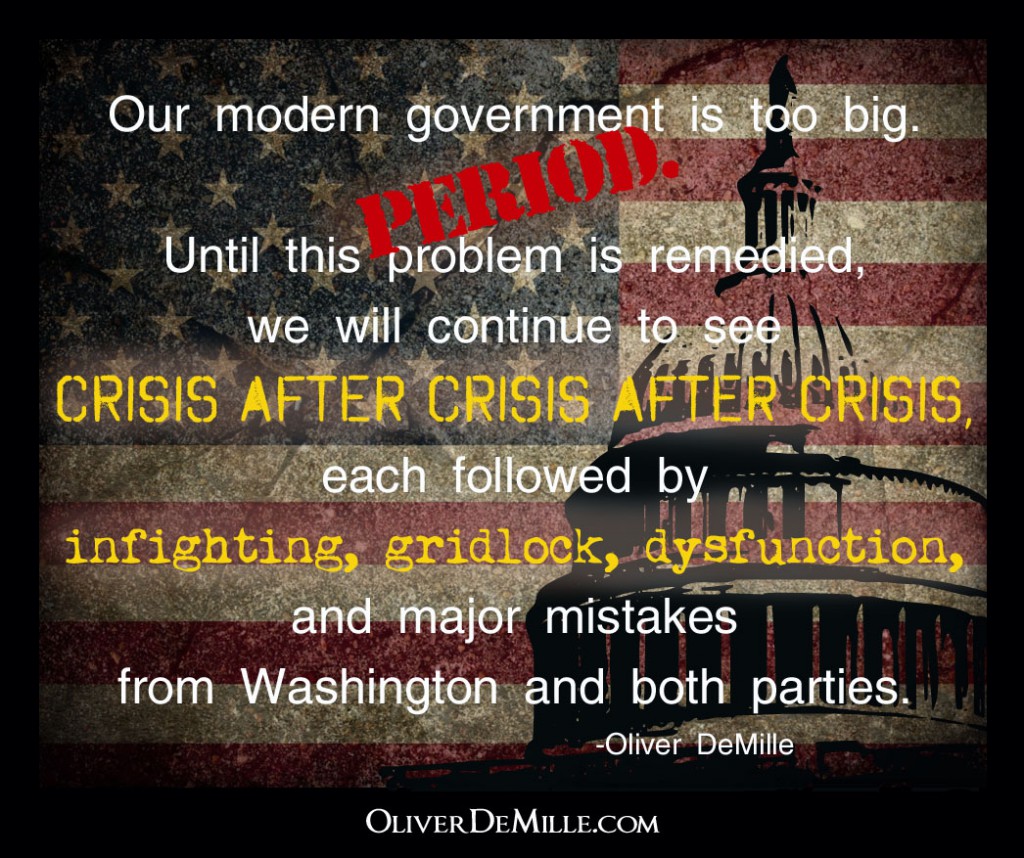 When the government began massively funding higher education, schools changed their emphasis to job and career training, and subsequent generations of Americans stopped learning to read. Of course, they gained literacy, but as a nation we lost our high level of what I've called Leadership Education and what E.D. Hirsch called Cultural Literacy—a deep understanding of the same things our leaders read and think about.
In fact, before 1945, the primary focus of American education was for each child, youth and citizen to read the same books and think about the same ideas and questions as their Presidents, Senators, Judges, and leading CEOs.
Allan Bloom called this momentous shift away from cultural literacy "the closing of the American mind," and he warned that unless we reversed this trend democracy was doomed. We didn't reverse it, and as a result, as mentioned above, "By the 1970s, the U.S. government seemed to be spoiling everything it touched…" (Op Cit)
In the 2010s, the dearth of leadership education is a wholesale national crisis. Very few people know how to really read the fine print of government any more. In such situations, rule by elites is the only historical norm.
If we are merely voters rather than engaged citizens, we vote poorly. We are swayed by media, photogenicism, and campaign popularity contests. We ignore the fact that candidates lie, or more accurately that once in office they routinely fail to live up to their campaign promises.
We become a nation of children, led around by our elite handlers, rather than a nation of adults who closely scan government actions and keep our politicians and their policies on a tight leash.
Again, the fundamental problem is that we aren't in the habit of reading or thinking like leaders. For example, consider the following commentary from a contemporary source:
"Freedom of speech" in "freedom of speech, or of the press" means the freedom of all to speak; this suggests that "freedom…of the press" in the same phrase means the freedom of all to use the press. Reading "freedom" to mean "freedom of every person to engage in an activity" when "freedom" relates to "speech," but reading the same word in the same place as meaning "the freedom of some particular group of people" when it relates to "the press" is not how users of the English language use these kinds of closely connected clauses…" (Harvard Journal of Law & Public Policy, vol. 37, no. 3, p. 733)
Most moderns don't enjoy reading such paragraphs. They wonder what it is about, why it matters, and why they should read it at all. They have to dig to ascertain it's meaning, and even then they feel a bit unsure. They consider it the kind of reading to be done by experts, not every citizen. Yet this is the argument a Supreme Court Justice used to make the case that everyone has the right to share their opinions openly—against some who argued that the only ones with this right are actually professional reporters and journalists.
This is a huge deal, with massive consequences to our freedom. Yet almost the only people who read such paragraphs are experts. In the founder's time, the regular citizens read such ideas and discussed them at length. In our day, we don't.
Then, when we go to the ballot box, we vote very differently than the founders or any other people who actually closely study and understand the fine print. No nation keeps its freedoms when the regular people don't read, think, and spend time analyzing the same things as their political officials. Every nation that leaves political details to the experts loses its freedom to a professional expert governing class. There are no exceptions in history.
Yet today we are two nations: the masses, who focus on their careers (from kindergarten through retirement) and entertainments, and the elites who read the fine print and understand it—and use the education of their children to pass on these same skills and interests. This is aristocracy, pure and simple. Freedom and democracy cannot last in such a climate.
One more example, though there are thousands that could be used:
"…today we have about 5,000 federal criminal statutes on the books, most added in the last few decades [since the shift of the 1970s]. And the spigot keeps pouring, with hundreds of new statutory crimes inked every few years. Neither does that begin to count the thousands of additional regulatory crimes buried in the federal register. There are so many crimes cowled in the numbing fine print of those pages that scholars actually debate their number." (Harvard Journal of Law & Public Policy, vol. 37, no. 3, p. 747.)
This is the "BIG" Problem in a nutshell. If people don't know the law, how can they obey the law? If government becomes so big that only the experts know the law, we are living in an aristocracy. But when government becomes so big that even the experts don't know the law, the nation itself is in danger. Everything the government touches weakens, and the government tries to touch everything. This is today's America.
The Solution
The answer is to teach the current generation of youth how to read. Really read, in the Allan Bloom, culturally literate, Leadership Education way of reading. Such reading empowers the regular people to think about the same ideas the experts, government officials, and top leaders are thinking about. This creates a nation that is capable of a democratic republic, and of freedom.
No other education allows a citizenry to remain free.
This starts by teaching young people (and adults, where needed) to read the classics. Then to read the scholarly journals and other deep writings of experts and government officials. Without this skill, and this habit, freedom is always lost.
Ironically, most people reject this solution because it takes too long, and can compete with their kids' career training. This is exactly the short-term viewpoint that is trained into the masses by conveyor-belt schooling. The elites, in contrast, make this a major priority. They ensure that their youth have a leadership education above all else. They know this is the key to their future power. Elite private schools train leadership through the classics.
People who don't read the classics, the scholarly journals and writings, and important government documents, are part of the masses. Those who do are part of the ruling elites. The goal is to get the majority of citizens reading these things. Only then are the people the rulers, and only then is a nation free.
The "BIG" Problem can only be solved the LITTLE Solution: you reading the classics, journals and other deep writings, and government documents—a little each day. If you don't do this, you will witness less freedom and the major decline of your nation, and even less freedom for your children and grandchildren.
*******************
Oliver DeMille is the New York Times, Wall Street Journal and USA Today bestselling co-author of LeaderShift: A Call for Americans to Finally Stand Up and Lead, the co-founder of the Center for Social Leadership, and a co-creator of TJEd.
Among many other works, he is the author of A Thomas Jefferson Education: Teaching a Generation of Leaders for the 21st Century, The Coming Aristocracy, and FreedomShift: 3 Choices to Reclaim America's Destiny.
Oliver is dedicated to promoting freedom through leadership education. He and his wife Rachel are raising their eight children in Cedar City, Utah
Category : Aristocracy &Blog &Business &Citizenship &Community &Constitution &Culture &Current Events &Economics &Entrepreneurship &Foreign Affairs &Generations &Government &Leadership &Liberty &Politics